Hairy crabs help China's solar industry flourish
XICUN (CHINA) — As she plucks the weeds ensnaring a nascent crop of honeysuckle, farmer Yang Xinfeng makes an unlikely pioneer in the global renewable-energy revolution.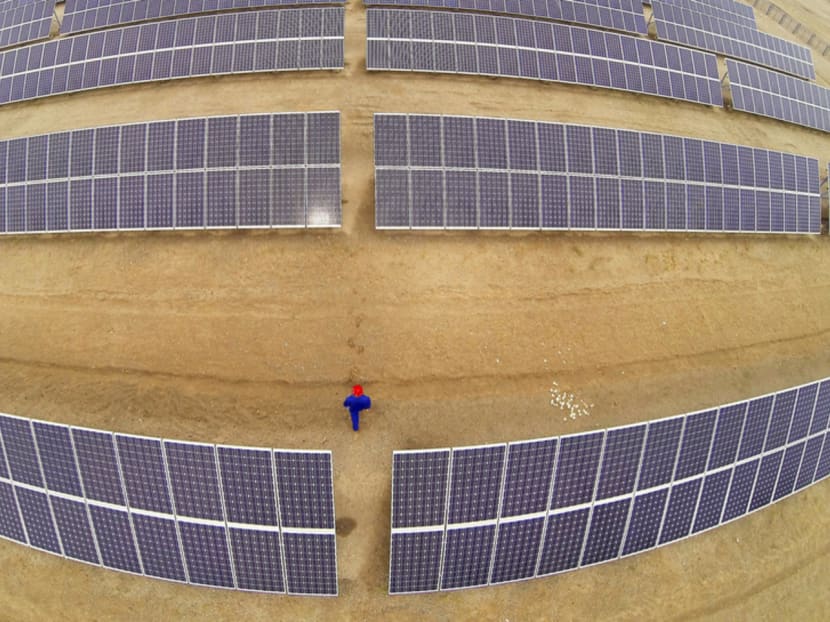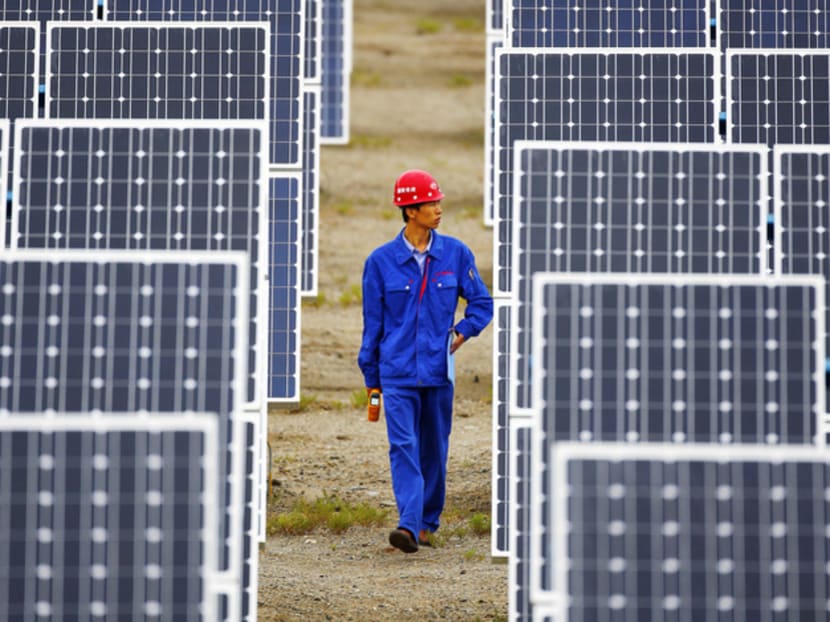 XICUN (CHINA) — As she plucks the weeds ensnaring a nascent crop of honeysuckle, farmer Yang Xinfeng makes an unlikely pioneer in the global renewable-energy revolution.
This year, China will overtake Germany to become the world's biggest installer of solar panels, but as companies increasingly struggle to secure the vast land banks they need for solar farms, they are turning to an innovative solution: Growing everything from plants to hairy crabs underneath the solar cells.
This helps them to get around government restrictions on the conversion of agricultural land, win the support of local farmers and generate an extra income stream.
"This makes a lot of sense as solar can be incorporated into agricultural land pretty effectively and non-invasively," said Mr Charles Yonts, an energy analyst at stockbroker CLSA in Hong Kong.
At the Xicun power plant in Yunnan province, Hong Kong-listed CLP has teamed up with local farmers to grow honeysuckle, which is used in traditional medicine, below the solar cells that sprawl across hill after hill in this mountainous region.
"It's not easy to look after this crop because I didn't know about it before, but I'm making much more money now," said Ms Yang, whose earnings have trebled to 3,000 yuan (S$662) a month since she started working for the honeysuckle contractor brought in by CLP. "In the past, I had to take on extra jobs to survive, but now I'm more secure and I'm planning to buy a new sofa and refrigerator."
As it doubles the capacity of the Xicun plant to 100 megawatts, enough to power thousands of homes in the nearby city of Dali, CLP is also working on a similar project in another part of China, where it will rear hairy crabs, an expensive delicacy, in ponds under its solar panels.
"Solar plants take up a big area, and one of the hardest challenges we face is obtaining land near major population centres," said Mr Roger Yang, the company's director for new energy in China. "Integrating food production helps us to convince the farmers to lease the land at a reasonable price and get local government support."
With the price of solar panels having collapsed because of huge oversupply, a growing number of Chinese companies see an opportunity to make money while also earning political brownie points by helping the government meet its ambitious renewable energy targets.
Market research group IHS predicts that China will add a record 17.3 gigawatts of solar panels this year, slightly less than the total installed capacity of Italy, the world's fifth-biggest generator of power from the sun.
Even after this breakneck expansion, China will be producing only 1 per cent of its power output from solar, but it will be far and away the world's biggest generator.
While China has vast expanses of available land in its western desert regions, it lacks the high-voltage transmission lines to bring electricity to its main cities, and such a network would require billions of dollars and years of planning.
A government drive to solve the problem by putting more "distributed" solar cells on the roofs of houses and factories has stalled because of the lack of a smart-grid system that allows people and businesses to feed power into the grid and get paid easily.
In the meantime, more companies around China are launching integrated agriculture ventures, with plans to grow everything from mushrooms to animal feed under solar cells.
While CLP, which is part-owned and chaired by Hong Kong billionaire Michael Kadoorie, has long-term experience in building conventional and renewable energy plants around Asia, many of the other Chinese companies expanding into solar have a less impressive record.
Recent entrants include Evergrande, a property developer, China Oceanwide, a finance group, and Huiyuan, a juice maker. Solar-panel maker Hanergy regularly appears at promotional forums for greenhouse-mounted solar panels.
As in most other countries, solar plants in China can only turn a profit because of government subsidies, but it can currently take a year or more for new plants to win the necessary approvals before they receive their first payments.
Mr Frank Xie, a solar analyst for IHS in Shanghai, said those with strong financial backing or international businesses can ride out the subsidy delay, but some weaker companies will struggle to complete their projects, particularly given the wider slowdown.
Mr Yonts of CLSA said that despite the potential for financial problems in the short term, China's huge solar investment will transform the industry globally by driving down costs, which are presently about 60 per cent higher than coal-fired power.
"That will make solar particularly attractive for countries such as India and Indonesia," which both currently suffer from damaging electricity shortages, he said. FINANCIAL TIMES