Joint China-Asean naval exercise a way "to build trust"
MANILA - China and Southeast Asian navies aim to hold an inaugural joint maritime exercise next year, Singapore's defence minister said on Tuesday, as they try to build trust amid conflicting claims over the South China Sea.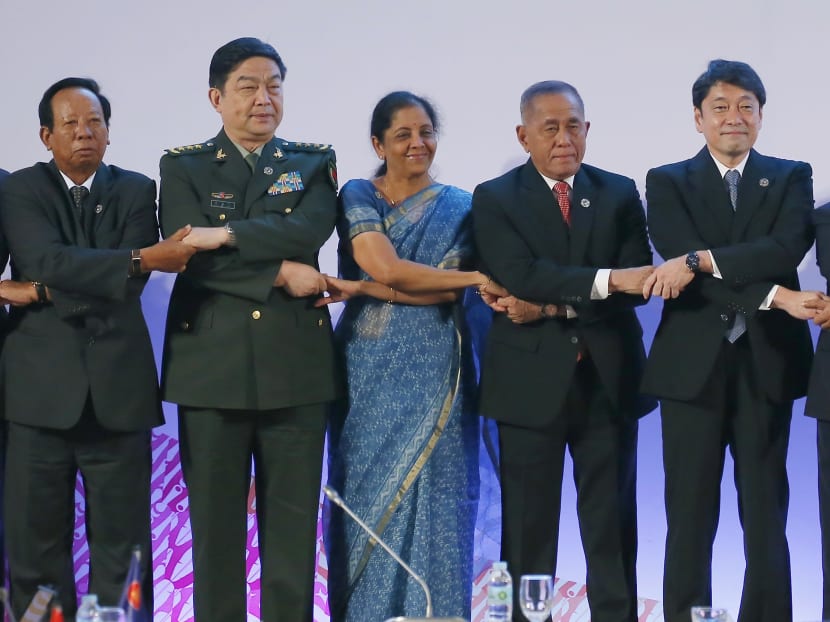 MANILA — China and Southeast Asian navies aim to hold an inaugural joint maritime exercise next year, Singapore's defence minister Ng Eng Hen said on Tuesday (Oct 24), as they try to build trust amid conflicting claims over the South China Sea.
"Singapore supports it," Dr Ng told reporters when asked about China's offer to hold maritime exercises. "We will push it ... for the very reason that all Asean and China want that. If you exercise, you at least build understanding and trust."
The exercises were discussed at a meeting on Monday between China and Singapore on the sidelines of the Association of Southeast Asian Nations (Asean) Defence Ministers' Meeting at the former U.S. air force base at Clark, north of the capital Manila. The the two discussed "further practical initiatives to advance Asean-China relations".
"This includes planning for conduct of an inaugural Asean-China maritime exercise," the Ministry of Defence said in a statement.
Singapore assumes the chairmanship of Asean in 2018 and is the Asean-China dialogue relations coordinator from 2015 to 2018.
"We'll work out the details. See the logistics... and find a suitable area where ASEAN and China navies can exercise together," Dr Ng said on Tuesday, as Singapore also took over the chairmanship of the Asean Defence Ministers' Meeting (ADMM) in a ceremony. 
China claims almost the entire strategic waters through which about US$3 trillion (S$4.09 trillion) in ship-borne trade passes every year. Brunei, Malaysia, the Philippines, Taiwan and Vietnam also have claims, with tensions exacerbated by Beijing's island-building and Washington's increasing freedom of navigation patrols.
Dr Ng said Singapore also had a proposal to "reduce risk of actual conflict" by agreeing to a new code of unexpected encounters in the air after ASEAN adopted a code to avoid sea encounters.
Asean and its eight regional partners, the United States, Russia, China, South Korea, Japan, India, Australia and New Zealand, had agreed to set up a "direct communications link" among them to ease tension.
Ng said the United States and Japan also welcomed the idea of exercises.
"Secretary (of Defense Jim) Mattis welcomed the exercises together with ASEAN countries," he said.
Dr Ng also hoped for the early conclusion of a code of conduct in the South China Sea after a framework agreement was reached this year to reduce conflicts and misunderstanding. 
The inaugural maritime exercise between China and Asean is a sign of positive engagement between the region and its leading economic power, say analysts.
China had proposed the exercise last year.
Details of the exercise have not been announced, but observers said it was likely to involve the nations' militaries engaging in non-combat drills, such as navigation, signalling, and search and rescue exercises.
Carlyle Thayer, a regional defence expert at the University of New South Wales, said the exercise would mean Southeast Asian countries were "signalling that China is not the enemy".
"This is a marker: do [Asean nations] want to cooperate with China or not?" he said.
"China is putting out this cooperation, and is saying are you going to treat us like Japan, the US, Australia, or other countries?"
Ties between China and Southeast Asian nations have long been complicated by territorial disputes in the South China Sea. However China has increased its military engagement in Southeast Asia, supplying arms to Indonesia, providing rifles and ammunition to the Philippines for its anti-drug and anti-terrorism efforts, and signing a 1.17 billion ringgit (S$376.5 million) defence contract with Malaysia.
Chin-Hao Huang, head of studies for global affairs at Singapore's Yale-NUS College, said the exercise was likely to put into practice the Code for Unplanned Encounters at Sea (CUES) – an agreement reached in 2014 to reduce incidents at sea – in the South China Sea for the first time.
The exercise also reflected a more proactive and cohesive approach from Asean towards Beijing, he said.
"[Asean] is now in a position where what it says and does matters," Dr Huang said.
"There is a collective interest in the 10 Asean nations to pool together their influence to ensure that Chinese activities in the South China Sea are going to be in line with regional interests."
At the Philippines meeting, Mr Chang said China wanted to engage in more multi-level cooperation with Asean such as joint sea drills and counterterrorism efforts.
"China is ready to … make contributions to further strengthen ties with Asean countries to build a community with a shared future," Mr Chang was quoted as saying by Xinhua. 
Dr Ng said that as ADMM chair, Singapore will focus on three key thrusts in 2018 – promoting regional counter-terrorism collaboration, growing collective capability for chemical, biological and radiological threats, and promulgating the use of practical confidence-building measures in the aviation and maritime domains.
"The first on top of everybody's mind is terrorism, and for good reason," he said, adding that the siege by Islamic State-linked militants in Marawi, southern Philippines "was a wakeup call to all Asean countries".
"So I said that one of our focus would be on terrorism, and we are going to hold special sessions on terrorism in the highest levels of leadership." AGENCIES