S China Sea issue set to be high on G20 summit agenda
TOKYO/KUALA LUMPUR — The situation in the South China Sea looks set to be a major topic at several regional summits taking place this week, as Japan, Australia and Malaysia each expressed concerns regarding the disputed waters over the weekend.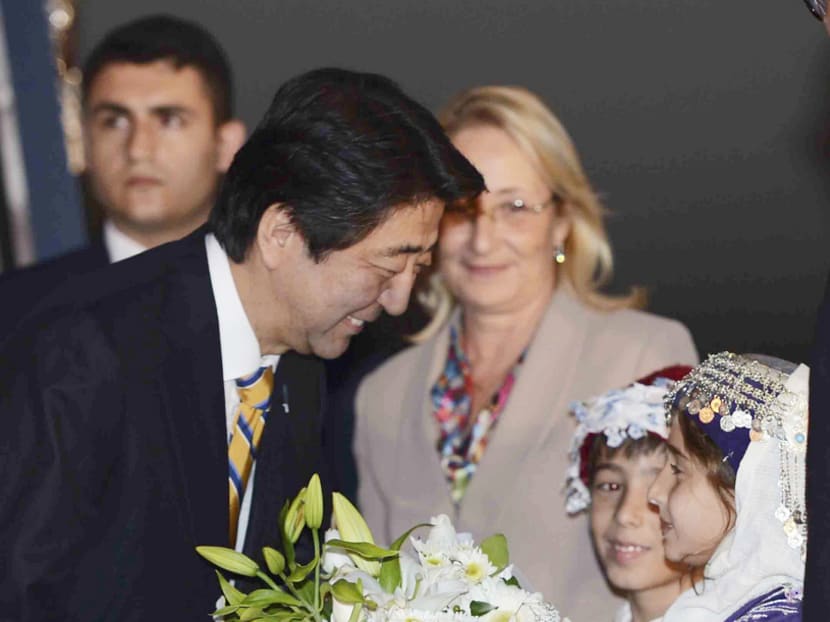 TOKYO/KUALA LUMPUR — The situation in the South China Sea looks set to be a major topic at several regional summits taking place this week, as Japan, Australia and Malaysia each expressed concerns regarding the disputed waters over the weekend.
Japanese Prime Minister Shinzo Abe and Australian Prime Minister Malcolm Turnbull shared their concerns over China's unilateral activities in the South China Sea during talks on Saturday in the Turkish resort of Antalya, an aide to Mr Abe said. Mr Abe met with Mr Turnbull ahead of the summit of the Group of 20 major economies, which began yesterday.
The Abe-Turnbull meeting on Saturday was the first time the leaders have met since Mr Turnbull took over the Australian leadership in September.
Both leaders are also expected to attend the Asia-Pacific Economic Cooperation (APEC) Leaders Meeting in Manila on Wednesday and Thursday, as well as the 27th Association of South-east Asian Nations (ASEAN) Summit and Related Summits in Kuala Lumpur this weekend.
Chinese activities in the East China Sea and the South China Sea are "a big source of regional concern," Mr Abe told Mr Turnbull, referring to the operation of Chinese ships within Japanese territorial waters near the Japan-administered Senkaku Islands — also claimed by China as Diaoyu Islands, as well as land reclamation work being carried out in the disputed Spratly Islands in the South China Sea.
Mr Abe also supported the recent sailing of an American naval ship to assert freedom of navigation in international waters, according to Japanese Deputy Chief Cabinet Secretary Hiroshige Seko.
Beijing, which claims almost the entire energy-rich South China Sea, through which US$5 trillion (S$7 trillion) in ship-borne trade passes yearly, has stepped up land reclamation and construction of military installations in the disputed islands and reefs.
Washington has challenged the territorial limits around the reclaimed Chinese islands.
Last month, American guided-missile destroyer, the USS Lassen, challenged territorial limits around one of China's man-made islands in the Spratlys with a so-called freedom-of-navigation patrol, triggering an angry rebuke from China.
Last week, Pentagon spokesman Bill Urban said that a pair of B-52s flew routine missions in international airspace in the vicinity of the Spratly Islands and received two verbal warnings from a Chinese ground controller — in what is perceived as a show of strength by Washington ahead of President Barack Obama's trip to Asia this week to attend the summits.
China responded on Friday that it respects freedom of navigation and overflight in the South China Sea, despite reports that its ground controllers has issued warnings to the US bombers.
Foreign Ministry spokesman Hong Lei said on Friday that China opposed flights that used such freedoms as mere legal cover, implying that Beijing considered the flights by the B-52 bombers as an excuse to challenge China's territorial claims. China "firmly opposes violating international law and undermining China's sovereignty and security interests under the pretext of navigation and overflight freedom,'' Mr Hong told reporters at a news conference.
Meanwhile, Malaysian Deputy Prime Minister Ahmad Zahid Hamidi said over the weekend that Malaysia must defend encroachment of its sovereignty — in what is a veiled swipe at China's territorial claims, as tensions flared ahead of the regional meetings.
Without directly referring to China, Mr Zahid questioned why land was being reclaimed on coral areas close to Malaysia's shores.
"If our country is threatened or being encroached, we Malaysians should rise to defend our country," he told a gathering in Kota Kinabalu.
Malaysia, which will host the 27th ASEAN Summit and Related Summits this weekend — to be attended by US, China and other world powers — claims a portion of the disputed waterways along with Vietnam, the Philippines, Taiwan and Brunei.
Regional states have also raised objections on China's claims. The Philippines has taken China to the Permanent Court of Arbitration in the Hague. Beijing refuses to recognise the court's authority.
Indonesia has also said it could take China to an international court if dialogue over the islands failed. "The international community should see this is not just a matter of economy but sovereignty," Mr Zahid said.
"South China Sea is only the name, but 200 nautical miles in the Exclusive Economic Zone (EEZ) is under our borders," he added, referring to how countries are entitled to exploit the resources found in their EEZs under the United Nations Convention on the Law of the Sea.
During the meeting between the Japanese and Australian leaders, they also discussed the possible joint development of Australia's new submarine. Mr Abe reportedly told Mr Turnbull of Tokyo's continued efforts to meet Canberra's requests, but the Premier did not make any significant new proposals.
Both public and private sectors in Japan involved in submarine design and construction are working "in a serious manner" so the envisioned vessel can be built in Australia with the participation of as many local contractors as possible, Mr Abe was quoted as telling Mr Turnbull. AGENCIES