Transcript of China's Zhang Zhijun's remarks after Xi, Ma meet
SINGAPORE – The leaders of Taiwan and China have wound up a brief meeting that marked the first top-level contact between the formerly bitter Cold War foes since they split amid civil war 66 years ago.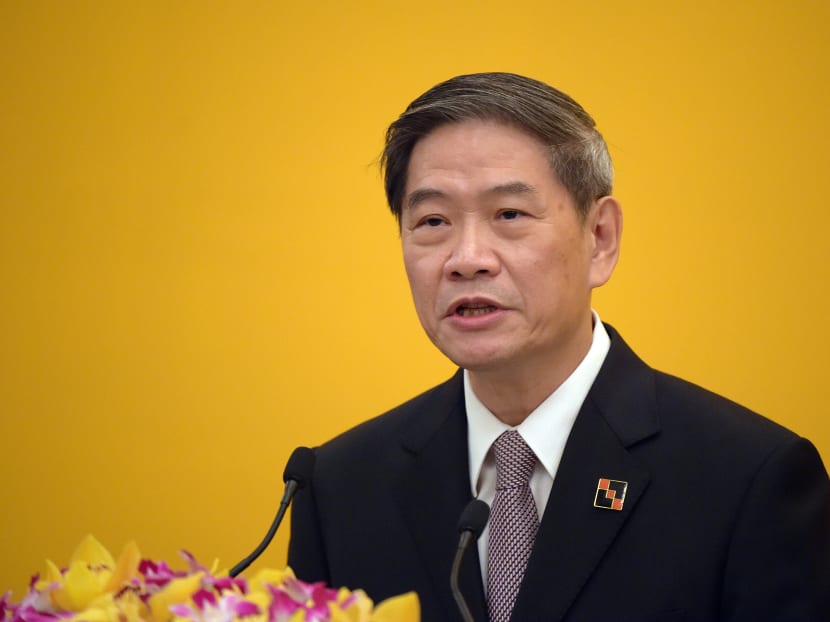 SINGAPORE – The leaders of Taiwan and China have wound up a brief meeting that marked the first top-level contact between the formerly bitter Cold War foes since they split amid civil war 66 years ago.
Including their historic handshake, brief opening remarks before reporters and a closed-door session, Chinese President Xi Jinping and Taiwanese President Ma Ying-jeou met for an hour on neutral ground today (Nov 7) in Singapore. Chinese Minister of the Taiwan Affairs Office of the State Council, Mr Zhang Zhijun, hosted the press conference that came after.
Here's the transcript of what Mr Zhang said at the press conference after the hour-long meet:
Both sides waited 66 years since 1949 for the first meeting between the leaders of both sides - Mr Ma and Mr Xi. Both sides met in the spirit of mutual respect and a commitment to peaceful development. Both sides had a sincere and in-depth exchange where they reviewed the last 66 years of the relationship.
Both sides have, in recent years, moved towards peaceful development, and we have seen the results of this.
Mr Xi said that this meeting has opened a new chapter. Cross-Strait relations have been marred by conflict, separation and much anxiety among the people, leaving scars on many families. But since 2008, when both sides began the path for peaceful dialogue, the situation has changed. Mr Xi has said that no matter how much tribulation both sides have to face, nothing can separate us. We are closely knit kinsmen and blood is thicker than water.
We are now at a historical crossroads in our relationship. Today, we want to talk about how to avoid the tragedy of the past from occurring once again, so that our next generation may enjoy a better future.
We will stick to the 1992 consensus and work towards peaceful development of ties. We will enhance cross-Strait exchanges and cooperation.
During the closed door session, Mr Xi listened to Mr Ma and said that now we are faced with a new situation, and we should bear in mind the well-being of the people and move with the times such that we can rejuvenate the Chinese nation.
On that note, Mr Xi came up with four points. First, we should stick to the political foundations of the cross-Strait relations. Over the past few years, it is our willingness to stick to the 1992 consensus and our opposition to Taiwanese independence that made a peaceful development of cross-Strait ties possible. Without that, the whole relation across the Straits would have collapsed. The 1992 consensus is very important in that it clarifies the fundamental nature of the cross-Strait relationship, according to Mr Xi. Taiwan and the Mainland China actually belong to one Chinese nation, and it is not a relation between two countries. It should always be deemed as one sovereignty. Mainland China and Taiwan belong to one nation, and one country and this cannot be changed. This is a fundamental principle that we should honour.
According to Mr Xi, it is our wish that the Taiwanese political parties will honour the 1992 consensus no matter what we have done in the past. As long as the 1992 consensus and the co-ideas can be honoured, we will be more than willing to communicate with our counterparts, and we shall never accept separationists.
Secondly, cooperation between both sides must also be enhanced, said Mr Xi. Since the historic developments from 2008 onwards, relations are at its best since 1949 with much exchanges and cooperation. It is not adversarial like in the past, with no enmity and conflict now.
We must strive for win-win cooperation, and resolve the feelings of enmity. We must stick to the path of peaceful development.
On the idea of a hotline between both sides, Mr Xi said we must strengthen exchanges and dialogue, as well as look at how to solve long running problems while resolving differences. This will help with timely communications and prevent misunderstandings. The two ministers can link up.
Both sides must mutually respect each other. So that this does not get in the way of exchanges and hurt people. Mr Xi said that he knows Taiwan wants to participate in international events, and as long as it doesn't go against the One China policy, we can actually arrange through friendly consultation. Both sides can coordinate on this without hurting ties.
However, currently the biggest impediment to improving ties further is talk of independence. This will only bring harm to people, and the people must unite together.
Thirdly, both sides must be united. Let people have better lives. That is the basic principle. As long as we can help keep peaceful relations and maintain Chinese sovereignty, both sides should try their best. We are happy to share the benefits of economic developments with Taiwan. To that end, we should expand our economic cooperation.
Mr Xi said that we must try to seek consensus on a trade agreement, and invite Taiwan to participate in the Chinese One Belt, One Road project, and we are agreeable with Taiwan participating in AIIB using the relevant methods.
Many Taiwanese people have not been to China. We welcome them, and we hope for more cross-Strait exchanges.
We are inseparable entities. A strong nation is to the benefit of our people. We must have a strong Chinese nation, and we are closer to reaching the goal of Chinese Rejuvenation now than ever before.
This is the 70th anniversary of the end of WWII, which we won through great sacrifice. Mr Xi says that we need to encourage the scholars on both sides to collaborate on historical materials so that we can work together better to safeguard the honour and dignity of our people. In this meeting, we have reached a consensus on propelling relations forward.
We acknowledge the outcomes of 2008. What has been achieved since then is peaceful development, regional stability, increased exchanges and enhanced cooperation. Both sides mutually benefit from this. All our people are kinsmen. We must rejuvenate China. This consensus will be meaningful towards the development of cross-Strait ties in future.