Xi's pick for futuristic city recasts a backwater
HEBEI — For residents of the sleepy county of Xiong in smoggy Hebei province, last week's announcement by China's state news agency that it would become the centre of a new special economic zone, handpicked by President Xi Jinping, was a bolt out of the blue.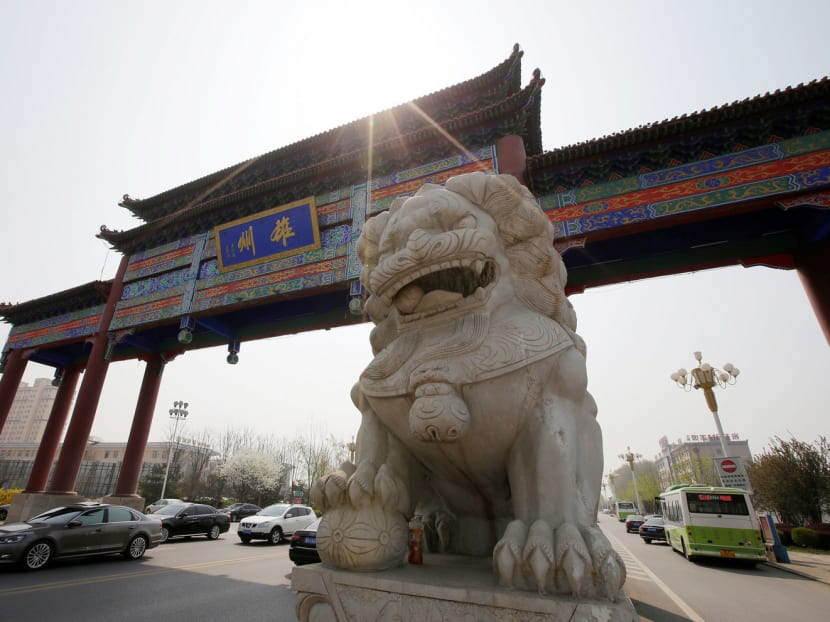 HEBEI — For residents of the sleepy county of Xiong in smoggy Hebei province, last week's announcement by China's state news agency that it would become the centre of a new special economic zone, handpicked by President Xi Jinping, was a bolt out of the blue.
The county, called Xiongxian in Chinese, rocketed overnight from a forgotten backwater spot on China's economic map to the darling of mainland investors after Xinhua said the Xiongan New Area, covering three rural counties — Xiong, Rongcheng and Anxin — would be as important for China in the future as Shenzhen was in the 1980s and Shanghai Pudong was in the 1990s.
Local Mo Xiaohuan, driving an Audi A8, could barely hide her smile. She bought a three-bedroom flat in the town for 8,000 yuan (S$1,623) per sqm in November. Four months later, she was confident she would be able to sell for 25,000 yuan per sqm.
"You can't find any (property) sellers," she said. Potential buyers, on the other hand, were everywhere.
Luxury vehicles with Beijing or Tianjin number plates filled the dusty streets of Xiong county, causing traffic jams at main intersections and parking beside small noodle shops and donkey burger stalls.
At a restaurant selling a bowl of noodles for eight yuan, the boss said business had boomed after the government's announcement. "Many of my new customers came from Beijing, trying to speculate in property here," he said.
A potential investor from Beijing, who gave his surname as Hong, said he drove all the way to Xiong county, 120km south of the capital, to explore business opportunities. "After all, it is a zone created by our top leader," he said.
Xiongan literally means "a hero ensures peace and prosperity".
The local government was put on the defensive by the waves of property investors. In the town centre a huge screen displayed the slogan "property is for living, not for speculation".
At the Mid-Hebei Grand Homes property project, a sign had been pasted on the locked glass door of the sales reception area. It read: "The project is sealed! No visitors will be received!"
To the left of the sign were two notices from the county's construction authority warning potential buyers not to make any payments in the name of "subscription fees", "preliminary down payments", "pre-sale deposits" or "VIP qualification fees".
It is not clear why Mr Xi picked the underdeveloped area as the spot to bring his vision of a futuristic city to life. Mr Xi visited the area to give guidelines on the new zone in late February, although his trip was only made public on Saturday.
But it appears he is trying to create a legacy like that of former paramount leader Deng Xiaoping, who turned Shenzhen from a fishing village into a boomtown, and that of former president Jiang Zemin, who turned Pudong from a riverside wetland into China's financial hub. The Xinhua report went to rare levels of rhapsody, describing the new zone as "a thousand-year strategy" for the country.
Mr Shen Jianguang, the chief Asia economist at Mizuho Securities, said the Xiongan New Area was at the heart of Mr Xi's Beijing-Tianjin-Hebei integration plan. The "Jing-Jin-Ji" plan is one of the President's two main development initiatives, alongside the One Belt, One Road trade and infrastructure strategy.
Mr Shen said Mr Xi might relocate many state-owned enterprise head offices and universities in the new district. "I think in the future, Beijing could be more like Washington DC," he said. However, there are doubts and concerns about whether the new zone will be successful. The Caofeidian New Area in Hebei remains a ghost town and the Yujiapu financial district in Tianjin's Binhai New Area remains half empty. And just last week the Chinese government added four "new free-trade zones", giving the country a total of 11.
Mr Liao Qun, chief economist at China Citic Bank International, said there were many factors that went into deciding a special zone's prospects. "Coastal areas, in most cases, grow faster," he said.
In Mr Xi's vision, the inland area surrounding Baiyang Lake, a rare wetland in northern China, will turn into China's dream city. It will be green, smart, well-managed and open, Xinhua reported, citing Mr Xi's instructions.
Former Shenzhen mayor Xu Qin was appointed Hebei's deputy Communist Party secretary on Saturday to help the new district's development, which will change the face of Xiong county.
A visit by the South China Morning Post found the county's town centre made up of drab, low-rise buildings, the streets lined with small shops selling agricultural hardware, dumplings and foot massages. There was no sign of big-name companies or even fast-food chains such as McDonald's or KFC. The region's best-known product is preserved duck eggs.
Many residents were surprised the place found favour with Mr Xi. According to Xinhua, the zone will start with an initial area of 100sqkm, slightly bigger than Hong Kong island, and eventually cover an area of 2,000sqkm, about the same size as Shenzhen.
Mr Liu Genming, a welder who runs a small shop in Xiong county, said when he first heard reports of Mr Xi's decision on Saturday he thought it was "an April Fool's joke", but he now welcomed the change because it would bring more job opportunities for his 25-year-old son, who works as his assistant. SOUTH CHINA MORNING POST