What's next for Asean as it turns 49?
Perhaps the biggest miracle of all is the fact that Asean is still standing despite its occasional wobbles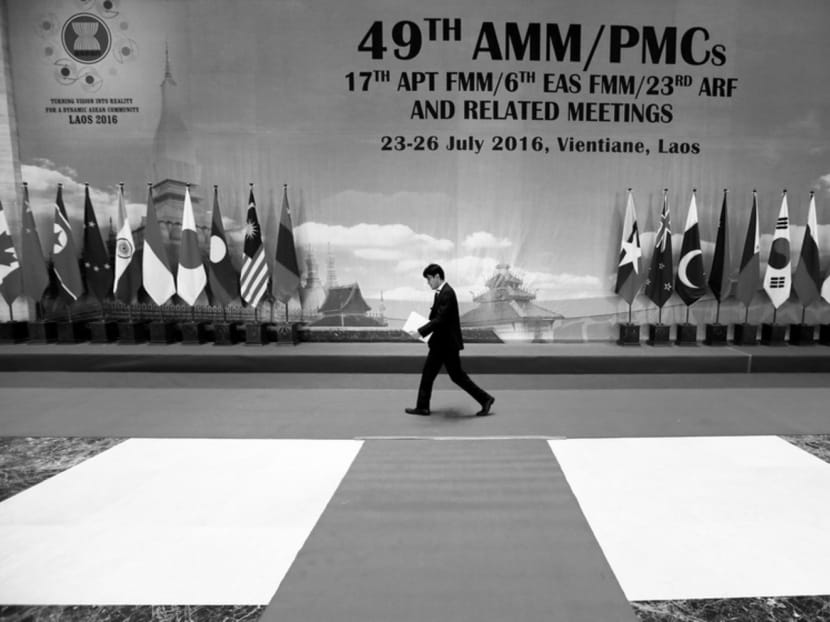 The Association of South-east Asian Nations (Asean) celebrates the 49th year of its foundation today. It is no small miracle that a grouping of five small South-east Asian states has succeeded in not only holding its own during the turbulent decades of the Cold War, but went on to anchor the fledgling organisation at the centre of regional diplomacy today. Perhaps the biggest miracle of all is the fact that Asean is still standing despite its occasional wobbles, including at the recently concluded Asean Foreign Ministers' Meeting in Vientiane last month.
Indeed, it has not been all plain sailing for Asean.
At the height of the Cold War, even the United States distrusted Asean for its purported neutral stance, which did not sit well with the prevailing ideological struggle between liberal democracy and communism. The world back then was coloured in the binary shade of "you are either with us or against us".
Asean also suffers from the occasional idealistic streak. In a similar sense, the Asean Charter is often unfairly criticised as riddled with "aspirational" goals, while the Asean Intergovernmental Commission on Human Rights (AICHR) is panned as toothless in sticking to the safe path of promoting, as opposed to protecting, human rights.
In hindsight, Asean's purported shortfalls lie in the nature of the institution. Established as an inter-governmental organisation, Asean will always be seen through the thick lenses of national interests, which often blind its members to regional concerns and interests. One prominent Singaporean diplomat defends Asean by reminding us that "it is utterly pointless to criticise a cow for being an imperfect horse".
Today's Asean is a different animal compared with its early days. Between 1984 and 1999, Asean grew from five to 10 members. Brunei started the ball rolling by joining the fold in 1984, followed by Vietnam (1995), Laos and Myanmar (1997), and Cambodia (1999).
The new members made Asean more appealing by linking all the South-east Asian states under a regional umbrella, culminating in the Asean Economic Community (AEC) today, where the promise of a single market of 630 million makes it one of the most dynamic economic regions in the world.
The membership expansion also coincides with what could be termed as Asean's golden age for multilateralism with the establishment of several Asean-led processes — the East Asia Summit (2005), the Asean Defence Ministers' Meeting (2006), and the Asean Defence Ministers' Meeting (ADMM) Plus (2010). Some critics have dismissed these initiatives as proof of Asean's status as "talk shops", and for failing to exercise leadership to bring about substantive change.
But these criticisms fail to recognise the strategic function that these processes play in setting a neutral and conducive environment for the Asean members to cooperate among themselves as well as with external parties. More importantly, processes such as the ADMM Plus allow the major powers, who do not always see eye to eye, to cooperate among themselves and with Asean in functional security matters, such as humanitarian and disaster relief, search and rescue, and anti-terrorism.
Although Asean has often been described as being in the "driver's seat" for its role in establishing the myriad regional processes, it never had the illusion of regional leadership. Asean's primary and most important function in regional affairs is to facilitate intra- and extra-regional cooperation. The East Asia Summit is a prime example of Asean's uncanny ability to pull in important extra-regional states such as China, India, Japan and the US in a cooperative framework without undermining Asean's strategic interests.
However, these successes are unable to mask Asean's ongoing midlife crisis, which was laid bare at the 2012 Asean Foreign Ministers' Meeting (AMM) in Phnom Penh. At that meeting, Asean failed to issue a joint communique for the first time in its history. The very public display of disunity was a wake-up call for Asean. The regional organisation's fragility was again in evidence at the 49th AMM held in Vientiane last month.
It is now more challenging for Asean to find common ground on major strategic issues, and the much-vaunted consensus is becoming increasingly more elusive. This is an existential threat to Asean. It will be paralysed without consensus, and the paralysis may lead to its irrelevance and eventual breakup. Accepting a consensus for the sake of having one, to keep the "peace" and appearance of unity within Asean, is untenable in the long run.
A consensus, whether it is based on the lowest or highest denominator — comes at a cost for all involved. Neither options are "Asean-like" and will, in all likelihood, create more ill-feelings and discord among the 10 members. The compromise of "walking" at a pace that is comfortable to all holds the key for a robust consensus system. A consensus decision derived from compromises prevents a zero-sum outcome while preserving regional goodwill and trust. In this respect, the veto must be applied responsibly not for the sole purpose of blocking discussions but to be used constructively as the starting point of negotiation.
Yet, events in the past few months make one ponder if the Asean member states understand and accept their responsibilities and obligations as a member of the Asean herd.
It bears reminding that Asean's primary reason for being is to harness the collective resources and political capital of small states so that the voices of member states will be heard.
There is an overriding collective and regional imperative in Asean. Thus, compromises and, if required, sacrifices need to be made in order to preserve Asean's strategic space and independence. Asean member states need to constantly remind themselves that membership in the regional organisation does not only entail showing up at Asean meetings and paying the annual contribution to fund the Secretariat. It also means, above all, subscribing to the creed and living up to the spirit of the regional organisation.
As Asean marches towards the milestone of its golden jubilee next year, perhaps it would do well to remember the spirit of cooperation and compromise that first brought its five founding fathers together in that fateful meeting in Bangkok way back in 1967. Ultimately, it is this spirit of 1967 that will be the lodestar to safely guide these 10 disparate South-east Asian states through the turbulent storms ahead.
ABOUT THE AUTHOR:
Tang Siew Mun is Head of Asean Studies Centre at ISEAS-Yusof Ishak Institute. The views are his own.