All eyes on how new Muhyiddin government handles three issues in Malaysia
With Muhyiddin Yassin sworn in as the eighth Prime Minister of Malaysia, he will now seek to expand Perikatan Nasional's (PN's) reportedly narrow and uncertain majority in Parliament.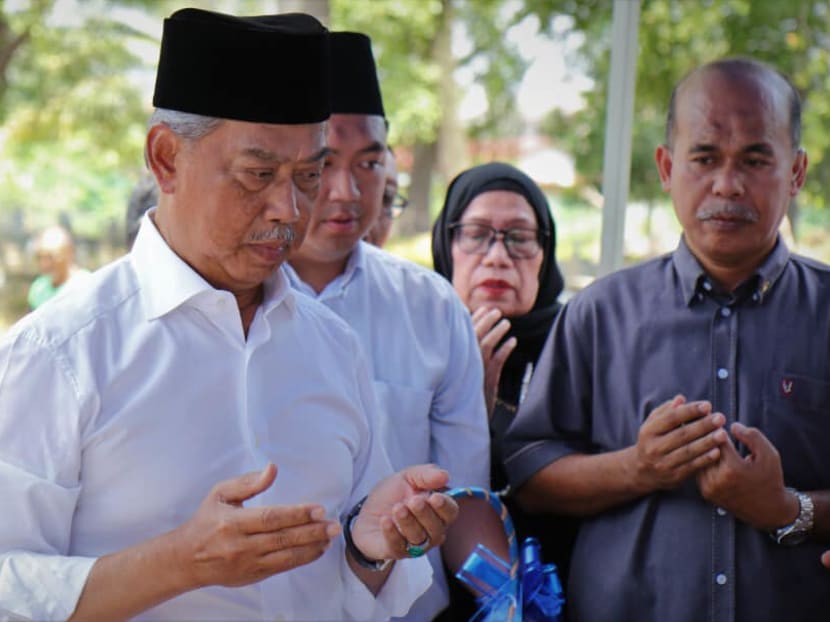 With Muhyiddin Yassin sworn in as the eighth Prime Minister of Malaysia, he will now seek to expand Perikatan Nasional's (PN's) reportedly narrow and uncertain majority in Parliament.
The deposed Pakatan Harapan (PH) has lost the initiative but will similarly seek out more Members of Parliament and rally the public. 
Malaysia is headed towards a period of political uncertainty. But as a maturing democracy with longstanding public institutions and a resource-rich economy, the country will begin to find its footing once a majority government settles in. 
Malaysian politics, however, could take a dramatic and historic turn.       
RISING IMPORTANCE OF INSTITUTIONS
Malaysia has experienced two dramatic power transitions in the last two years, peacefully and constitutionally. In the recent crisis, the King had gained the confidence and respect of the public with his efforts to resolve the situation in an impartial manner. 
The office of the King and the Council of Rulers could become more critical in the maintenance of peace and stability in the coming months and years. 
Malaysia's key financial, economic, and security institutions as well as essential services like public health are run by competent and experienced public servants. 
Should political disruption become a norm, these institutions may gradually develop a more independent personality built for resilience to manage political changes. 
On the other hand, if a stronger political coalition gains control after the next election, things could return to the status quo ante under decades of Barisan Nasional (BN) rule.
In the short term, the stocks market and ringgit will wobble. Growth remains anaemic given the global impact of Covid-19, but will recover somewhat when political stability returns. 
Some Malaysian businesses which were adjusting to the tighter implementation of regulations and revenue collection efforts of the PH government might be relieved to return to the old ways of business under PN.
PN has strengths that will help it to restore confidence. Most of its component parties were part of the previous BN government and are familiar with one another.
They count among them experienced and competent cabinet ministers who could work together.
All eyes would be on how PN handles three critical issues in the near term.
REFORM AND CORRUPTION
First, PH had won the election in 2018 on a platform of reform — including to prosecute those involved in the 1MDB scandal, fight corruption, promote transparency and checks and balances in governance, equitable economic growth, and a greater political say and allocations for the East Malaysian states of Sabah and Sarawak. 
This platform still has significant support among the urban, educated and young Malaysians, and PN cannot entirely set this aside.     
In particular, there is the ongoing trial of former Prime Minister Najib Razak on his handling of 1MDB. 
His wife, Rosmah Mansor, has also claimed trial, while a number of United Malays National Organisation (Umno) leaders are facing charges for corruption and criminal breach of trust. 
Mr Muhyiddin would have to handle this carefully. He used to be the second in command in Umno, but now leads a smaller group of just over 30 MPs (as of March 2) from Bersatu and Azmin Ali's breakaway faction which left PKR. 
Umno is the largest party in PN, with 39 MPs.
RISE OF EAST MALAYSIAN PARTIES AND PAS
Secondly, two players which have seen their influence rise as kingmakers are the East Malaysians (54 MPs) and Parti Islam Se-Malaysia, (PAS, 18 MPs).  
The support of Gabungan Parti Sarawak, which holds 17 seats, for Mr Muhyiddin was what pushed him over the finishing line. 
The East Malaysians, whether supportive of the PN government or the opposition, will continue to press their demands for more state rights, oil royalties, federal allocations, and a greater say in the running of their states on matters like public service, education and law enforcement. 
The PH government had established a Special Cabinet Committee for the review of the Malaysia Agreement 1963 (MA63), and then Prime Minister Mahathir Mohamad was said to have agreed to a number of concessions. The new government would have to carry those discussions forward.
What then about PAS? Founded by Muslim clerics who left Umno in 1951, it was briefly part of the ruling BN from 1974 to 1978. 
Apart from winning a seat at the table now, it would have to clock in some wins for its Islamist agenda, with perhaps the implementation of hudud — Islamic criminal law — in Kelantan and Terengganu as a start. 
PN would have to proceed on this carefully to avoid upsetting the non-Malay parties and voters, including the East Malaysians. 
Sabahans and Sarawakians are increasingly resisting the "Malayan" Islamisation and Malayisation of the governance and way of life in the two states.  A states-based approach to this might be a possible compromise, if PAS would agree to focus its cause on the northern states for now.
After successfully collaborating in a slew of by-elections, Umno and PAS cemented their cooperation with a pact, the Muafakat Nasional, last year. 
While most analyses focused on the difficulty that the two former rivals would face in determining seats for contest in the next election and the working arrangements in state governments they will control, the more fundamental question is: will Umno now adopt PAS' Islamic agenda? 
To many in Umno, working with PAS was the easiest way to compensate for the loss of Chinese support, but the price could be a fundamental shift in Umno's approach on Malay identity and its leadership of the Malay community.
This would in turn determine PN's approach. 
The religiosity of Mr Muhyiddin, a conservative Malay-Muslim, was on full display upon the announcement of his appointment as PM by the King.
The new government may be tempted to focus on its Malay base, but it would also have to avoid alienating the non-Malays to sustain broader national stability. 
After all, its political commitment to Malay interests could be safely assumed now, with no rivals to the right of them.     
HOW ARE YOUNG VOTERS WIRED?
Thirdly, PN will have to get to know young Malaysian voters.
According to a study by Iseas-Yusof Ishak Institute, the recent lowering of the voting age in Malaysia from 21 to 18 will increase the number of new voters in the next general election, which has to be held by 2023, by close to 16 per cent. 
While the Bumiputra would constitute a larger share of this cohort, they are not a monolithic group and not much is known about their political dispositions. 
If more of them vote like their older relatives, Umno and PAS will gain; if they are more urban and fired up for reforms, they may lend some support to the opposition, which will seek to galvanise the youth as they did in the 1998 Reformasi movement.
Preparations for the next election are likely to begin soon.  PN expects to reclaim the Malay base, while PH will have to motivate their demoralised supporters and ignite support among the young.
ABOUT THE AUTHOR:
Ariel Tan is Deputy Head of Policy Studies and Coordinator of the Malaysia Programme at the S. Rajaratnam School of International Studies, Nanyang Technological University.