Art education holds some lessons on the way we teach
I am always struck by how students who study together cooperate to create a learning environment that suits them well.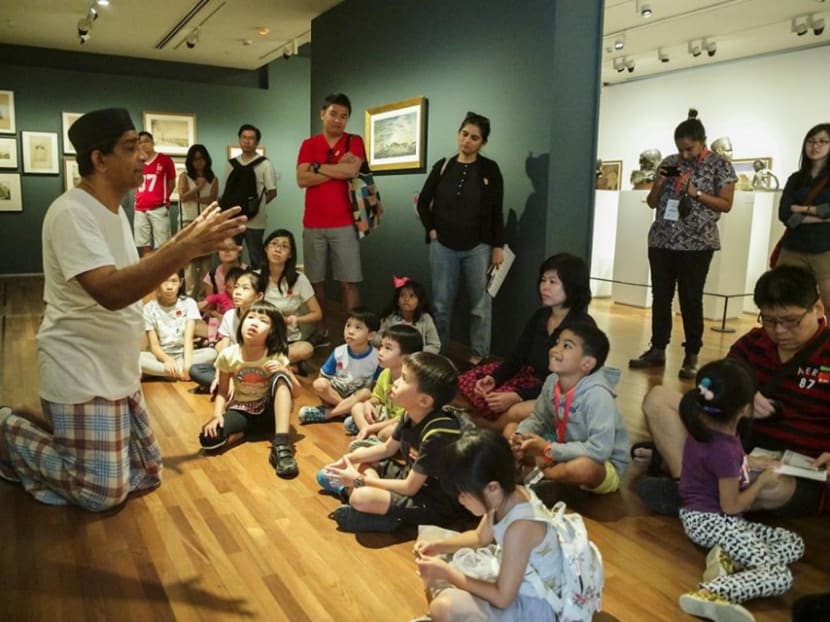 I am always struck by how students who study together cooperate to create a learning environment that suits them well.
A handphone is playing music, another two are used to search for information online while a fourth phone is for sending text messages to other study groups to share the information learnt and help one another complete the assignment.
As a parent and educator, I often wonder how they concentrate and retain their learning with such "distractions" around them.
Children and students are quick to make use of the latest technologies for learning.
They create and share content, comment on other shared content, enhance and share their own content again; sometimes in a span of just a few minutes.
A decade ago, in response to how technology will change the way we learn and teach, researchers like Clayton Christensen, Thomas Arnett and Ron Ritchhart challenged educators to rethink their roles as knowledge or subject experts.
They suggested that educators should start thinking of themselves as facilitators of good discussions.
With this in mind, how can parents and educators better facilitate learning and help transform information into knowledge and well-deliberated thinking? How do we encourage, guide and enable good discussions, while relying less on model answers?
This is where art education comes in. Art education provides many different entry points to kickstart good discussions.
Artists communicate their thoughts on personal, historical and current issues differently from historians, journalists and writers.
When looking at and discussing art, each of us, children included, can contribute differently to the interpretation and discussion of an artwork with our diverse backgrounds and cultures.
Art inquiry requires us to analyse and deliberate on the meaning of the visual imagery we encounter, as well as to consider the concepts and perspectives expressed by the artist.
At the same time, we also study the social, cultural and historical contexts of the artwork when it was first created, against the current landscape to deepen our understanding of it.
Through this process of inquiry, our children develop visual literacy, analytical skills and critical thinking.
This strong connection between art inquiry and critical thinking has been studied and is well documented in many educative research projects like 'Artful Thinking', 'Project MUSE' and 'The Studio Thinking Project' by the Harvard Graduate School of Education.  
At the National Gallery Singapore, education is learner-centred with the long-term goal of developing self-motivated independent individuals.
For instance, young children get many opportunities for self-guided imaginative play and art-making to nurture curiosity and imagination.
A close collaborative relationship with the Ministry of Education has enabled the gallery to co-develop a museum-based learning programme for primary school children, with the aim of developing knowledge, visual inquiry and appreciation of Singapore art and artists.
On a gallery tour, students are guided to look at art, ask questions, and share their interpretations and responses with one another.
A gallery education facilitator may start with a question such as: "What is the first thing you noticed about this artwork?" or "Imagine you were one of the figures in this painting, what would you hear?"
Such open-ended questions encourage students to respond in a personal and imaginative manner, while reducing the expectation of a right or model answer.
The facilitators then continue to build on the students' thinking by asking more in-depth questions such as: "What do you think inspired and compelled the artist to create this work?" or "If you were the artist, how would you title the work differently and why?"
Given the space and time to share their responses, the children feel affirmed that their opinions matter and their voices are heard.
As a result, they feel motivated and empowered to ask questions too. Some questions that children have asked at the gallery include: "Why don't artists smile in their self-portraits?" and "What happens to the art after a long time?"
Their questions show us that children are observant, capable of making connections between the past and their present, and thinking beyond the subject at hand.
The learner-centred approach acknowledges the learner's voice as being central to the learning experience. This approach has been adopted by many museums and education institutions.
For example, the Children's Book Museum at The Hague — a fellow shortlisted institution for the Children in Museums Award 2018 — enables children to experience the power of stories and learn to make connections to their own lives and the world around them.
Designed to include children as young as babies and toddlers, the experiences aim to develop language, creative expression, and motor skill development among the visitors as they listen, read, imagine and write stories freely.
The Young Museum in Frankfurt similarly encourages young visitors to explore the artefacts with their parents as they go on designed family trails where they experience collaborative, hands-on activities, without model answers to them.
In 2018, Grand Rapids Public Museum High School in Michigan welcomed its first cohort of high school students who learn and study inside a museum in close proximity to artefacts and exhibits.
The innovative curriculum fosters a culture of co-learning where students learn collaboratively together in small groups under the guidance of teachers. In the process, students take on roles that involve acquiring, researching, cataloging artefacts and curating exhibits.
As today's parents and educators, we do not necessarily need to establish ourselves as the content or knowledge experts to help our children and students learn. Instead, we can co-learn and search for the answers together with them.
We can engage in thoughtful discussions and debate our opinions with an open mind. We can also facilitate good discussions as we acknowledge their responses and accept differences in opinions.
In this way, we aspire for, and look forward to, our children and students showing us new ways of interpreting and understanding the subject at hand, including art.
More importantly, while these unique viewpoints and different perspectives may not be similar to ours, this learner-centred, model-answer-free environment will help us nurture self-motivated independent learners ready for the future. 
ABOUT THE AUTHOR:
Ye Shufang is Deputy Director, Education at National Gallery Singapore.