Assessing Singapore's performance at the Tokyo Olympics and what must be done to achieve sporting success
The Tokyo Olympics is just over, but the thoughts of many in the sports world have already turned to the Paris Olympics in 2024.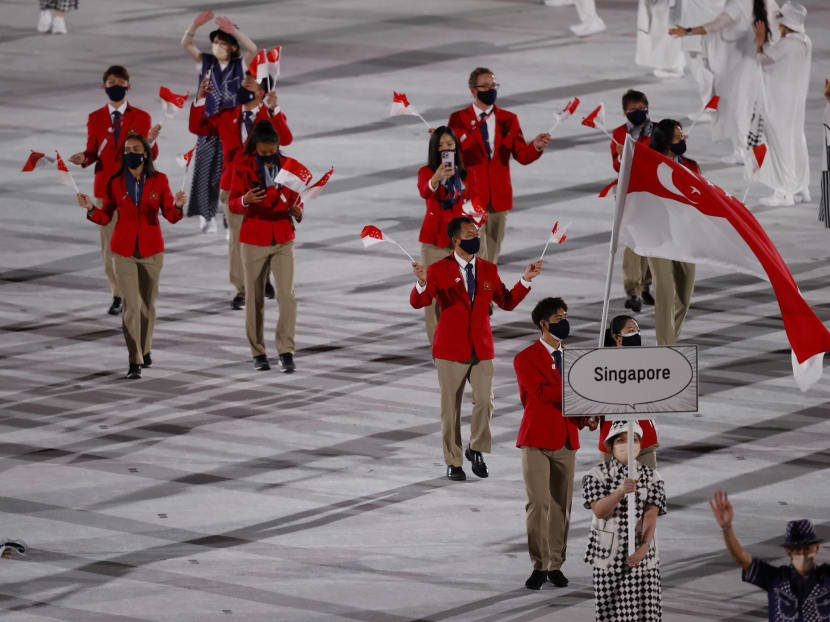 The Tokyo Olympics is just over, but the thoughts of many in the sports world have already turned to the Paris Olympics in 2024.
As Team Singapore and the individual sporting federations conduct their reviews of the performances in Tokyo, it is imperative that gaps be addressed, shortcomings dealt with, and positive progress and momentum maintained in the 1,000-odd days before the next Olympics.
HOW DID TEAM SINGAPORE DO?
First, to have had 23 athletes competing in a record 12 sports, including first-time appearances in equestrian, marathon swimming and diving events, is a strong testament to the athletes and the ecosystems that support them.
Secondly, among the 23 athletes in Tokyo, 20 are below the age of 30, and 13 are younger than 25, meaning that we have much to build on.
With 17 of the athletes making their Olympic debuts, nine, or more than half of the debutants, were able to win either their opening matches or some of their pool stage matches, with seven progressing to the next stage of the competition.
Veteran paddler Yu Meng Yu defied time and injuries to make it to fourth position in the women's singles, outperforming expectations.
That being said, Singapore did end its streak of winning a medal at every Olympiad since 2008. Of the four medals won between 2008 and 2016, three were from our table tennis team, with the lone gold coming from Joseph Schooling in the pool.
While the athletes are competing in more events, Team Singapore seems to have missed the mark in building world-class talents in all these events.
There will be suggestions that we should stop spreading ourselves too thinly and focus on a select group of sports that give us the best chances of success.
As a sports fan, I am reluctant to agree with this view as I would hope that we can think bigger and encourage our athletes to pursue excellence in all the events they have potential to excel in, as this would give us increased chances of success.
The harsh reality is that both approaches require hard work and commitment by all stakeholders.
And we do not have the excuse of being a small nation.
Looking at other similar nations and territories competing in the Olympics, we see Hong Kong with a gold, two silvers and three bronzes, and New Zealand with seven golds, six silvers and seven bronze medals.
Even tiny San Marino, with a population of just over 33,000, or about one quarter that of Toa Payoh, won three medals after sending just five athletes to Tokyo.
Relatively speaking, Singapore has not matched up.
Taking all these issues into consideration, I would rate Team Singapore's performance in Tokyo as a B-.
I am well aware that any such unscientific evaluation can and will be disputed, but it leads on to a more important discussion — what comes next.
WHERE DO WE GO FROM HERE?
If we are to continue our journey as a sporting nation, build on the past and recent successes of our elite athletes, and establish ourselves on the global sporting stage as medal contenders and winners instead of mere participants, much more needs to be done.
The benefits of doing so are many — it will help to build a strong sports culture which can contribute to a healthy, united and resilient society; it will continue to enhance Singapore's brand as a mature global city with citizens who enjoy and excel at a range of different pursuits.
If we use the Olympics as a barometer of the pursuit of sporting glory, there are some key areas that we need to address in the build-up to Paris and beyond.
Looking at the experiences of our Team Singapore athletes at this and past Olympics and other major games, and also at the systems and processes of other more successful sporting nations, it's clear that sporting success is more forthcoming when a country is united in supporting its athletes.
This cuts across the public, private and people sectors, be it in terms of funding and infrastructural support or a community that pulls together to back our sportsmen and women.
There are a number of Team Singapore athletes who, due to less than optimal conditions, have had to balance or juggle other pressures and priorities from school, work, national service and other competing demands for their time, energy and resources.
Can we expect them to be able to match the best in the world who live and breathe sport?
As with many things, the Government can take the lead in setting the tone and direction, as it has in the past with its Vision 2030 sporting road map.
It can rally and unite all sectors behind a common goal of sporting excellence through a variety of channels.
Among the key gaps currently is the need for more effective storytelling across all media to ensure that a broad audience of stakeholders understands and appreciates the value and beauty of sports, and gets behind our local sporting heroes.
PRIVATE SECTOR FUNDING NEEDED
The Government invests some S$400 million annually toward sports and sports development in Singapore.
This includes S$70 million each year on the High Performance Sports system to support the development of national athletes and national sports associations, as well as investing in new and existing public sports infrastructure.
While nothing to sniff at, this is a fraction of the country's gross domestic product, and does not measure up to that spent in other countries.
This reflects the reality of national priorities when stacked up against sectors like defence, the economy, and in recent months, health services and efforts to combat Covid-19.
In Singapore, there is a lack of private sector funding and sponsorship for sports compared to countries where sports is a key national priority and passion.
If the private sector can be convinced to step up and support sports in Singapore in a more significant way, we might be able to close the gap to our competitors.
This requires a deeper understanding about the value of sports and how sporting development works. If one applies a traditional risk-return analysis approach to investing in sports, then I fear it would deter many would-be private sector supporters.
The likelihood of such understanding growing in our society depends a lot on the nature of that society as it pertains to sports.
IS TRYING THEIR BEST ENOUGH?
Much has been written about whether the performance of Schooling and other athletes in Tokyo deserved criticism, or whether they should be commended just for "trying their best" for Singapore, with national leaders weighing in as well.
What this shows is a need for Singapore society to develop a deeper understanding of elite sports development and athletes.
It is not enough for us to say that we will back our athletes unconditionally just because they have committed to their sport or have tried their best.
Elite athletes hold themselves to high standards as part of their pursuit of excellence.
And when it comes to the pinnacle of international sport such as the Olympic Games, the reasons and motivations for being there become honed to a more singular focus — delivering one's absolute best performance in the hopes of winning.
Significant resources of the individual and the state will have been committed to this cause.
As such, we should not shy away from taking a hard look when they don't meet the mark, while also ensuring that the critiques and analyses do not devolve into personal attacks, slurs and abuse.
Building a more enlightened sports culture among us fans and supporters can have a multiplier effect, with employers becoming more empathetic to the athletes among their staff, more volunteers stepping forward to help in the national sporting associations, and even more friends and families offering emotional support to the athletes in their midst as they chase sporting glory.
The path to achieving sporting excellence is complex, with the need to master technical, physical and mental skills. Sports science and medicine also play an important role in achieving athletic excellence.
If all these factors come together, and the stars align during a two-week period once every four years, then maybe we will hear Majulah Singapura ring out on the Olympic stage once again.
It is not an easy journey, but Singapore and Singaporeans have been able to punch above our weight in building a first-world country in a short period of time and establishing ourselves on the global stage in fields such as finance and education.
Surely we can apply that drive and verve to our sporting pursuits.
Getting there does not come down to one person or one organisation, but to us as one united nation.

ABOUT THE AUTHOR:
Nicholas Fang is a former national fencer and triathlete and has helmed Singapore's fencing and modern pentathlon federations. He was a member of the Singapore National Olympic Council and was Chef de Mission for Team Singapore at the 2015 Southeast Asia Games. He currently runs a sports management consultancy.