Can Indonesia's anti-corruption agency survive the latest attack by its powerful enemies?
On Sept 5, Indonesia's House of Representatives (DPR) passed a motion to rewrite the 2002 law which created the country's anti-graft agency, the Corruption Eradication Commission (KPK).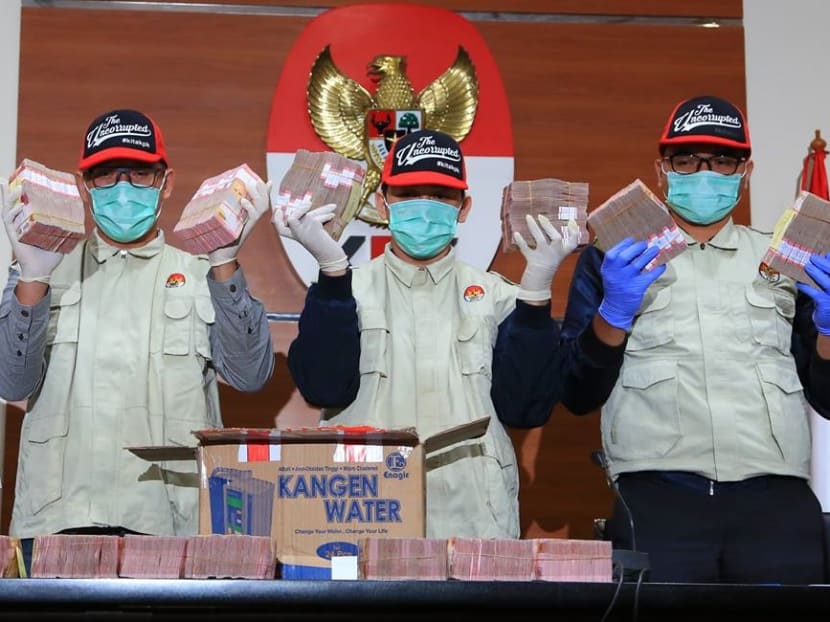 On Sept 5, Indonesia's House of Representatives (DPR) passed a motion to rewrite the 2002 law which created the country's anti-graft agency, the Corruption Eradication Commission (KPK). 
In response, KPK chief Agus Rahardjo said his agency would fight the proposal, arguing that the new draft contained clauses which had the potential to weaken KPK's ability to combat corruption.
Mr Rahardjo added that KPK was also embattled on another front, namely the ongoing process to select his successor. The selection committee, already branded by corruption watchdog organisations as the worst ever in KPK's history, has settled on candidates with dubious track records, whose names are to be submitted to President Joko "Jokowi" Widodo.
Three out of the 10 candidates have been singled out. Jasman Panjaitan, a candidate from the Attorney General's Office, has a history of failing to file his declaration of assets. The other two, Antam Novambar and Firli Bahuri of the Indonesian Police, were reported for intimidation against KPK investigators and ethical misconduct respectively.
So, how serious are the problems besetting KPK? Is there really a concerted effort by other state actors to undermine it?
This is not the first time KPK has found itself embattled under the Jokowi administration.
In 2015, KPK was embroiled in a tug-of-war with the police after it named the president's sole candidate to become police chief, Budi Gunawan — now Indonesia's intelligence chief — a graft suspect.
As a result, the president withdrew Mr Gunawan's nomination. The police retaliated by dredging up charges against several of KPK's top brass, eventually forcing a change of KPK leadership due to the multiple resignations that ensued.
Two years later, in the midst of the corruption saga involving DPR Speaker Setya Novanto, the police announced it was conducting an investigation into a report by Novanto's lawyer of possible misconduct by two KPK leaders, Agus Rahardjo and Saut Situmorang.
Tensions between KPK and the police go back a long way. In 2009, the police arrested and charged two KPK leaders, Chandra M. Hamzah and Bibit Waluyo, with corruption after it was revealed that KPK had been bugging a police general implicated in a graft case.
In 2012, the police stormed KPK's headquarters after KPK named Police Inspector General Djoko Susilo as a suspect over a dubious government tender.
While these episodes were serious enough to disrupt KPK, the proposed revision bill by DPR presents an unprecedented threat to its very existence. If the revised bill indeed becomes law, KPK as we know it will cease to exist.
KPK itself has identified 10 major problems in the draft. Chief among them is the change of status for KPK from an independent body to one operating under the central government. Another is the formation of a supervisory board appointed by DPR from which KPK will have to seek permission to start an investigation.
The bill also seeks to turn KPK into a lackey of the police and the Attorney General's Office, both of which have long seen KPK's existence as encroaching upon their domain as law enforcers. 
It stipulates, for instance, that KPK cannot recruit investigators from outside the police force and that KPK cannot prosecute independently without coordination with the Attorney General's Office.
What could have led to such a damning set of proposed changes against KPK?
For one thing, the Indonesian legislative certainly has an axe to grind against KPK. In the last five years, 254 parliamentarians, both at the national and regional levels, have been arrested for graft, 22 of whom were members of DPR, including its speaker Novanto and deputy speaker Taufik Kurniawan.
Since its institution in 2002, KPK has prosecuted 72 DPR members.
The resentment held by both the police and the Attorney General's Office for KPK may have been inflamed further when KPK recently unveiled plan to expand its operations. While KPK started out tackling sizeable corruption cases at the national level, it has gradually sought to further its outreach.
In 2017, President Jokowi, responding to a report that 900 village chiefs had already been arrested by KPK, announced that he planned to involve KPK in ensuring accountability for the Village Fund Programme (Dana Desa).
Legislated in 2014, Dana Desa is a central government annual grant to every village in Indonesia. The grant is meant to be spent on productive projects to support the village economy such as infrastructure. In 2018, a total of US$8.5 billion was distributed to Indonesia's 83,931 villages.
For KPK to perform an effective supervisory role for Dana Desa, its operation would have to be expanded considerably, eventually giving it a presence at the village level, emulating and rivalling the structure of the police force.
Such a development would certainly be an anathema to both the police and the Attorney General's Office.  As if to preempt further expansion of KPK's powers, the police in 2017 also announced it would set up its own graft-busting branch, known as the Anti-Corruption Detachment.
But it denied the new branch would rival KPK. Instead, Police Chief Tito Karnavian claimed that it would act to support KPK and extend its reach.
According to last year's public survey by Indonesian pollster LSI, KPK ranked first as the most trustworthy state institution in Indonesia, followed by the presidency. While public approval is with KPK, its operation over the years has earned it many enemies, too. Thus repeated attempts to undermine it should not come as a surprise.
The question remains whether there exists a strong enough will to combat corruption in Indonesia by defending KPK. Currently faced with the existential threat posed by DPR's revision bill, can KPK weather the latest storm?
Alone, KPK is easy picking for the parliament. Its fate now lies with the president. Under the Indonesian system, while both the executive and legislative may initiate a bill, the acquiescence of both is mandatory at every stage of the legislative process.
Thus the president can veto the bill by withholding his support for it, essentially nipping it in the bud. As for the botched selection process for the next KPK chief, the president also has it within his power to rectify it by refusing unsuitable candidates.
The president has stated repeatedly that he supports KPK's function in combatting corruption. The last time KPK came under threat between 2015 and 2016, he was seen as slow to act even though he eventually came to its rescue by appointing a committee to select a new board of directors.
The world will be watching as President Jokowi decides how to handle this latest crisis.
It will be nothing short of a test for the strength of his commitment to fighting corruption, especially when the sponsoring DPR members for the revised bill come from parties within his coalition, including the Indonesian Democratic Party of Struggle, the largest faction in parliament. 
ABOUT THE AUTHOR:
Johannes Nugroho is a writer and political analyst from Surabaya whose commentaries have appeared in the Jakarta Post and Jakarta Globe since the 1990s.