Can the latest Jack Neo film bring Singaporeans back to cinemas?
When was the last time you went to a cinema? Friends and people I spoke to have, if they are cinema goers, progressively gone back to the movie theatres.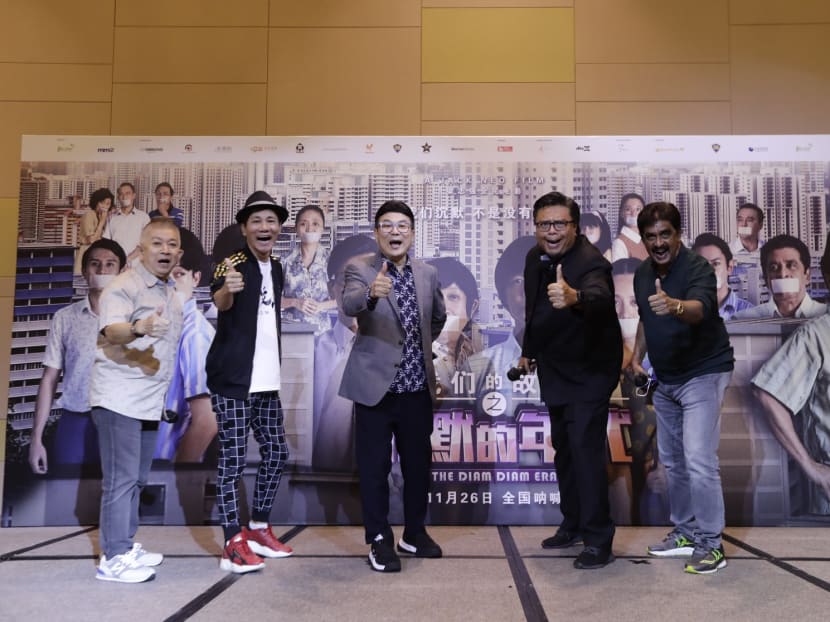 When was the last time you went to a cinema? Friends and people I spoke to have, if they are cinema goers, progressively gone back to the movie theatres.
Yes, there is the concern of being in a contained air-conditioned hall with fellow patrons breathing the same air.
Yes, there were at least two cases of Covid-19 patients visiting a cinema chain while infectious.
There was also, before the pandemic, a gradual decline in cinema attendances as the convenience of watching a movie online and the evolvement of lifestyles push Singaporeans away from making the time and taking the trouble of going to the cinema.
Yet the pull of watching a movie on the big screen has prevailed, time and time again. Just that this time, with a global pandemic, will this pull be strong enough?
This is a timely question to ask with the recent release of the musical comedy Number 1 starring Mark Lee and the twice-delayed two-part comedy drama The Diam Diam Era by Jack Neo.
The Diam Diam Era is keenly watched by local film practitioners. At this critical time, can a Jack Neo film reverse the present trend of declining cinema attendance?
When cinemas were allowed to reopen on July 13 after being closed since March 26 to curb the outbreak, the first big movie released was the South Korean action-horror film Peninsula, the sequel to Train To Busan.
The mammoth success of the first film made this an eagerly awaited title. It opened in more than 100 screens.
Considering the restriction of limiting 50 seats per cinema hall, it did spectacular business, grossing just under S$3 million. 
"We are very, very thankful for this result," said Lim Teck, managing director of Clover Films, which brought the two films to Singapore.
He pointed out that the other two tentpole attractions, Hollywood's science action thriller Tenet and action drama film Mulan, while opening with more screens, each grossed about S$2.7 million.
These numbers are underwhelming, although the rampant piracy of Mulan online was likely a contributing factor.
So what gives, and what can we read from the mixed signals?
The original Train To Busan earned S$5.3 million.
Without the pandemic, cinema operators predicted Tenet and Mulan could have doubled their takings to over S$5 million.
Peninsula did better than these two as it was the first film to satisfy the repressed demand for a big film at the cinema.
Both Peninsula and Mulan also have the Asian appeal, which brings me to local films. 
When Mark Lee was nominated for best actor at the Golden Horse Awards for his role in Number 1, the film was pushed into release in late October.
The nomination and its unusual story of a retrenched middle-age man who accidentally becomes a night club drag queen intrigued audiences.
It opened on 44 screens and Shaw, Cathay and Golden Village have all reported steady box office performance week after week.
It has grossed over S$600,000 and may cross the S$1 million mark. While not exactly a breakout, that would still be a commendable achievement during this period of limited cinema seatings.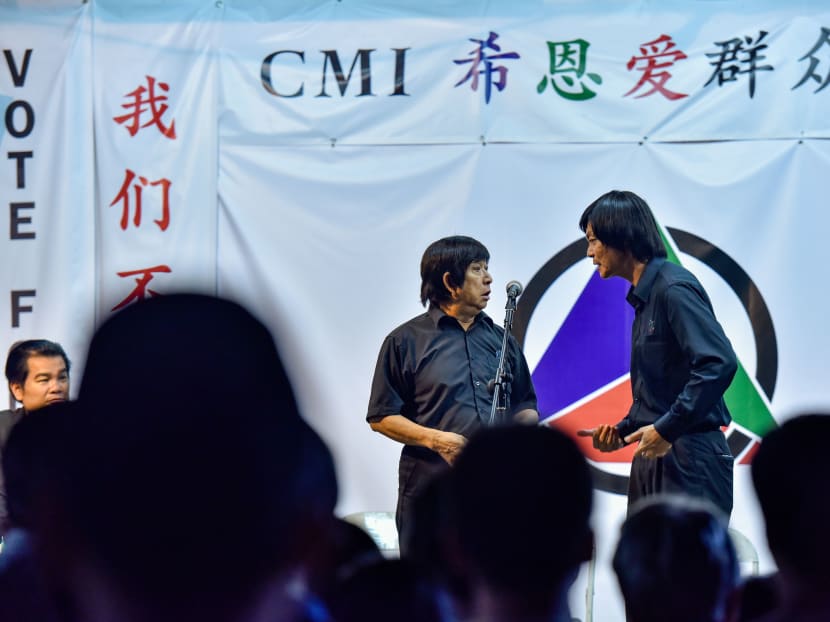 JACK NEO'S HITS (AND MISSES) 
How will The Diam Diam Era, which opened across cinemas on Thursday (Nov 26), fare?
I remember seeing the poster for the first time. People wearing what look like masks at first glance.
They are white tape plastered across the mouth to mute someone, alluding to its theme of an era when the voices of Singaporeans were perceived to be silenced in the name of social harmony and economic progress.
The title and this image resemble classic Jack Neo films with hard-hitting satire laced with uproarious laughter. 
The trailer shows fast and furious social political commentary on government policy making, a parent admonishing her son to stay out of trouble by keeping silent and the Mark Lee character pronouncing the creation of an opposition party.
These are similar topics and formulas in earlier Jack Neo films that have grossed S$3 million to S$6 million.  
Every film industry can look back at that one film that sparked a transformation. 
I remember when Neo's Money No Enough became the phenomenon it was in the late 1990s.
It could be the popularity of his Comedy Night television shows.
It could be the extensive use of dialects, something of a linguistic catharsis for a whole generation. It could be the subject matter of money which touched a nerve in a society just coming out of the 1997 Asian financial crisis.
It could be the straight talking characters, the irreverent social satire before the advent of social media.
I think it was all these. The stars were aligned and Money No Enough became a surprise breakout hit.
It would revolutionise cinema attendances, bringing people who have not set foot in a cinema for over a decade back to the movie theatres. 
The subsequent I Not Stupid was proof that Neo was no fluke nor a one hit wonder. In what some fans call a vintage Jack Neo film, it speaks to and speaks for the man in the street. 
With Raintree Pictures, then MM2 Entertainment, Neo has almost single-handedly created the Singapore commercial film from scratch.
A cinema patron told me: "These films make me laugh and make me cry at the same time. Jack calls a spade a spade, he says it as it is. No pretences. I don't need to see beautiful cinematography.
"I want to see an honest film about Singapore, about our problems, but because I go to watch a film to enjoy myself, I (also) want to laugh. And Jack can make me laugh."
Not all Jack Neo films, however, are hits.
His Chinese New Year offerings —  2018's Wonderful! Liang Xi Mei and last year's Killer Not Stupid, a big budget collaboration with Taiwan —  were box office disappointments.
They were both hybrids of hit materials, but their execution missed the mark.
To his supporters and detractors, these two films are uninspired and a far cry from the vintage Jack Neo films.
HAVING A DISTINCT VOICE
So how does The Diam Diam Era measure up? While most who have watched the film enjoyed it, there is a collective remark that the film only starts to pack a punch from the second half. 
Some viewers will also question the decision to have a second part of the film scheduled for release next Chinese New Year.
Neo told me that "Part One is a warm up for Part Two" and there is a need to get the audience "into the look and feel" of the 1980s to appreciate the issues then.
"You will understand when you watch it."
The sneak previews of The Diam Diam Era over three days last week with limited screenings and restricted seatings grossed S$130,000, which Mr Toong Soo Wei, the general manager of the movie production and distribution company MM2 Entertainment, says is "a very encouraging sign". 
Yet projections of the box office for this film — which is shown on 60 screens — by cinema operators, MM2 Entertainment and Neo himself are from S$2 million to S$2.5 million.
This is far lower than what a vintage Jack Neo film could gross in the past. I asked why this was the case and why limit it to only 60 screens.
This is the end of the year with more studio titles, I was told. And the number of screens is just a number. If the demand for the film is high, cinema operators will increase the sessions.
All the industry players I spoke to see The Diam Diam Era as a product with compelling content for a wide spectrum of audiences, though it will appeal particularly to those more interested in local content.
Projections are conservative as seatings are limited and there are still sectors of the population who will stay away from the cinema halls.
Shaw's vice-president (Asian Films) Toh Lan Sin said the older generation of Singaporeans are more worried about Covid-19 infections.
"So we may lose them (as an audience). But I feel if there is a good movie, people will come."
Others, such as Golden Village's film distribution and marketing manager Song Ting and MM2 Entertainment's corporate marketing and business development director Bianca Leong feel that entertainment-starved Singaporeans will fill up cinema seats, even in a health crisis.
No one can really predict how the cinema landscape in terms of movies and attendances will be in the coming year. But The Diam Diam Era looks set to be one of the top five films of 2020, a most difficult year for cinema operators and filmmakers.
Most cinema operators are nevertheless thankful they are now allowed to fill 50 per cent of a hall of up to 150 seats. 
As viewing patterns evolve, filmmakers taking the theatrical route will have to work harder to differentiate their content from those on terrestrial, cable and streaming platforms.
Neo's motto is to push the envelope to speak up and to have a distinct voice. 
"Those who know the 1980s will understand why this film is called The Diam Diam Era. For this film I have stretched the satire to a point some people think it is a political film. It is not," he told me.
"It is about the politics of implementing official languages, the cultural and social price we pay," he added.
"Mostly it is about the politics of silence, how keeping quiet is tacit agreement to everything whether we agree or disagree."
ABOUT THE AUTHOR:
Daniel Yun is a filmmaker and life coach. He has no commercial interest in The Diam Diam Era and Number 1.