The case for optimism in 2018
The year 2018 is beginning with economic and geopolitical indicators pointing in very different directions.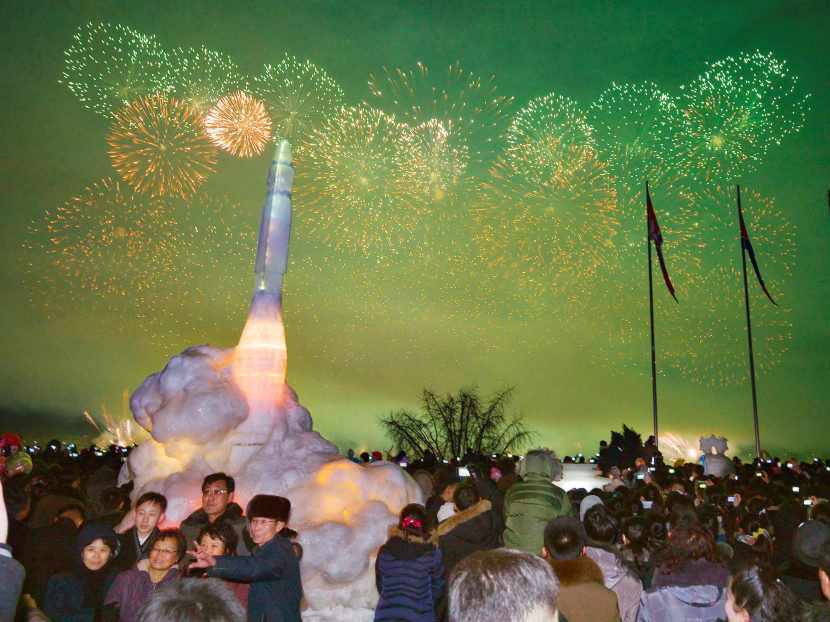 The year 2018 is beginning with economic and geopolitical indicators pointing in very different directions.
Global stock markets are at record highs and economic confidence is growing across most of the developed world. But while investors are bullish, followers of international politics are very nervous.
In recent years, it has tended to be the Middle East that delivers bad news, and Asia that specialises in optimism. This year could reverse that pattern.
The biggest geopolitical risk is a war on the Korean peninsula.
If the United States carries through on President Donald Trump's threat to use "fire and fury" to disarm North Korea it will be the first time that America has gone to war with another nuclear-armed state. The risks are literally incalculable.
By contrast, there are several big things that could finally go right in the Middle East. The combination of turmoil in Iran, liberalising reforms in Saudi Arabia and the final defeat of Islamic State on the battlefield would all be serious setbacks for the most fundamentalist and confrontational forms of Islamism.
Investors and economists seem to be discounting the risk of war in North Korea. But national security experts are much less sanguine.
Many say that the atmosphere in Washington now is uncomfortably reminiscent of the mood before the invasion of Iraq in 2003 — when the US foreign policy establishment talked itself into believing that a pre-emptive war against Saddam Hussein was a good idea.
In a similar manner, war with North Korea is moving from the unthinkable into the thinkable column.
Senator Lindsey Graham, a Republican member of the Senate Armed Services Committee, says that war is "inevitable" — if North Korea does not halt its nuclear weapons programme.
General HR McMaster, the president's chief national security adviser, is also sounding increasingly hawkish. He has pledged that the US will "do anything necessary" to stop Pyongyang's nuclear programme.
These uncompromising statements need to be weighed against the factors that have always deterred an American attack — above all the threat that North Korean retaliation could cause hundreds of thousands of casualties in neighbouring South Korea.
One possibility is that the US military has told the White House that it can keep casualties in South Korea to an acceptable level — by pre-emptive strikes that target the North Korean missiles aimed at Seoul, the South Korean capital.
But, even if that worked, it would leave open the question of how to find and secure the regime's nuclear weapons — a mission that would probably have to involve ground troops. It still sounds too dangerous to contemplate, particularly given that America's closest Asian allies — Japan, South Korea and Australia — would be very unlikely to back a pre-emptive strike.
A New Year's message from Kim Jong Un, the North Korean leader, played upon this division — threatening the US with nuclear weapons, while offering dialogue with South Korea.
So my starting assumption for 2018 is that there will not, in the end, be a war on the Korean peninsula. A conventional president would worry deeply that US "credibility" would be compromised by a failure to deliver on his solemn promise to stop North Korea's nuclear programme.
But President Trump invents his own reality, so is much less likely to be concerned by appearances.
In any case, one good rule about geopolitical predictions is that the truly world-changing events — from the fall of the Berlin Wall to the terrorist attacks of 9/11 — are the ones that the experts had not foreseen. This week's unanticipated outbreak of demonstrations on the streets of Iran is a useful reminder of that fact.
Pessimism is usually the best bet in the Middle East.
From the Iraq war to the Arab spring to the Israeli-Palestinian peace process, the most gloomy assessments are often vindicated. So it should be acknowledged that in Iran, the likeliest outcome is that the current rash of protests will fizzle out or be crushed, as they were in 2009.
On the other hand, Islamist fundamentalism is an economic and social dead-end — and people stuck in a dead-end eventually try to reverse their way out. Something of the sort may already be under way in Saudi Arabia, where the impetuous crown prince Mohammed bin Salman seems genuinely determined to take on the Wahhabi establishment.
If the rivalrous groups of Islamist hardliners lose ground in Riyadh and Tehran — and on the battlefields of Syria and Iraq — then 2018 could go down as a year of historic setbacks for Islamist fundamentalism.
After a dismal run in world politics, it is certainly time to be reminded that there can be good, as well as bad, surprises.
My own new year's resolution is to try to snap out of Trump and Brexit-induced gloom.
In that spirit, I will predict that most of the big risks that currently worry pundits will not happen. There will not be a war on the Korean peninsula, nor will there be one in the South China Sea or in eastern Europe.
The European Union will not fall apart, Brexit negotiations will not break down and markets will not crash. By contrast, there will be big and positive change in the Middle East.
And England will win the World Cup. THE FINANCIAL TIMES
ABOUT THE AUTHOR:
Gideon Rachman is chief foreign affairs columnist for the Financial Times.