The challenges in resetting US–Southeast Asia relations
The incoming Biden administration needs to be ready for a Southeast Asia that is more sceptical of US commitment and careful about Beijing's reactions. Southeast Asian capitals interested in cooperation need to be prepared to show initiative as Washington finds its footing amid the Covid-19 pandemic, economic woes and political turmoil.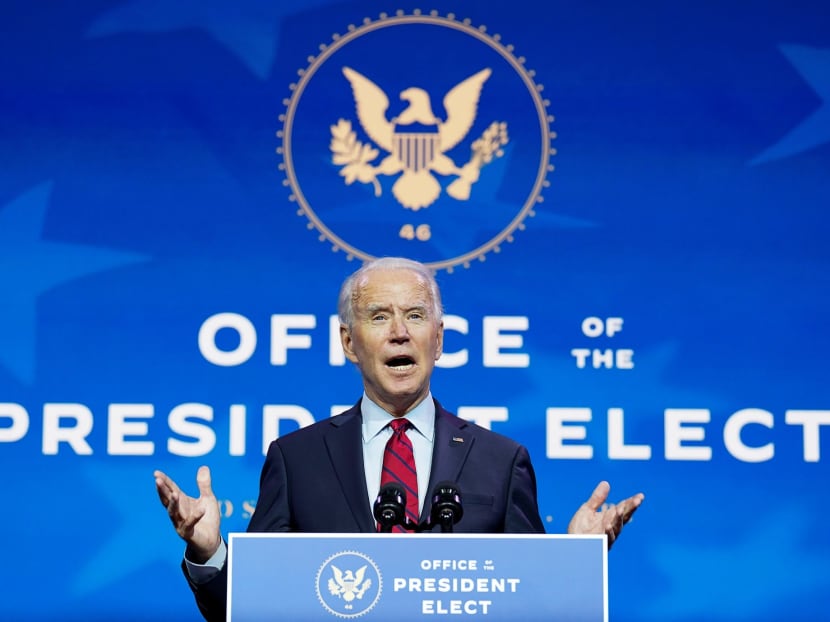 The incoming Biden administration needs to be ready for a Southeast Asia that is more sceptical of United States commitment and careful about Beijing's reactions.
Southeast Asian capitals interested in cooperation need to be prepared to show initiative as Washington finds its footing amid the Covid-19 pandemic, economic woes and political turmoil.
Trans-Pacific relations will also be difficult to sustain if the US wants engagement more than their Southeast Asian counterparts, or if Washington believes that it can ease its way back into a region without putting in the effort.
Leaders in both Washington and Southeast Asia need to manage their own and each other's expectations to make cooperation work.
Apprehension about the lack of US commitment and abandonment of the region is the mood among Southeast Asian countries after four years of the Trump administration.
The regional perspective sees Washington — across recent presidential administrations — as talking a big game with little practical gains to offer when push comes to shove.
The George W Bush administration seemed to care little about Southeast Asia unless it concerned counter-terrorism.
The Obama administration talked up "rebalancing" but these efforts apparently fizzled out when China pressed its South China Sea claims, including Beijing's reclamation and fortification of maritime features.
US President Donald Trump's withdrawal of the United States from the Trans-Pacific Partnership affirmed the lack of US commitment to Southeast Asia.
The US remains conspicuously absent from and silent about the recently concluded Regional Comprehensive Economic Partnership.
These perceptions are unfair to Washington and its longstanding US cooperation in Southeast Asia, but they are part of the landscape that the Biden administration must navigate as it seeks to revitalise regional ties and multilateralism.
Of concern to US partners in Southeast Asia is the potential for backlash should Beijing see collaboration with the US as deleterious to China's interests.
China is the largest external trading partner for Southeast Asian economies and a major investor through the Belt and Road Initiative and other projects — characteristics that give Beijing's actions particular prominence at a time of depressed economic growth resulting from the Covid-19 pandemic.
Beijing is a disputant to the South China Sea and possesses by far the largest and most powerful military in Asia.
China also has a demonstrated willingness to punish states it deems to be insufficiently deferential, most recently penalising Australia and Canada over differences, including political influence, technology and legal cases.
Coupled with worries about US staying power — which Beijing is wont to remind Southeast Asia — this has dampened regional enthusiasm for siding too close to Washington and led to more caution about actions that give impressions of overt geopolitical affinity.
Southeast Asian states desiring more robust and consistent US ties should be alert to the fact that the incoming Biden administration's emphasis on multilateral engagement means that Washington expects active participation.
The Biden administration's stated priority is managing the Covid-19 pandemic inside the United States and its fallout, and Washington may initially look to supporting the initiatives of partners and allies in Asia rather than insisting on leading them.
These circumstances afford more opportunities for regional actors to enhance ties with the US but implies that they should be ready to advance cooperation rather than rely on Washington's leadership.
Partnerships may be hard to sustain in the new era if regional states are less than forthcoming in engagement efforts and think that Washington will underwrite the full burden of cooperation.
Successful regional cooperation requires active participation — even by smaller actors — and does not simply materialise on demand.
Visibly fostering US participation in Southeast Asia risks triggering Chinese apprehensions about encirclement and containment that can invite adverse responses from Beijing.
Deeper and more productive cooperation between the US and partners in Southeast Asia will not emerge just because the Biden administration wishes it to be so and some desire for engagement with Washington exists in the region.
History is littered with collaboration attempts where collective action problems and competing concerns overwhelmed the best of intentions.
Distrust from the uncertainty and unpredictability of the Trump administration's foreign policy — together with regional unease about punishment from Beijing for going against its will — complicate relationships between Southeast Asia and the US in ways that cannot be easily undone.
Efforts to "build back better" collaborative trans-Pacific ties (to use a Biden campaign slogan) requires patience, political will and some appetite for risk based on a clear-eyed appreciation of the limitations set by mutual expectations.
These conditions provide the basis on which tough conversations about how the renewal of Southeast Asia–US cooperation can proceed — moving beyond showing up for regional meetings, saying the right things and running freedom of navigation operations in disputed waters.
Re-engaging Southeast Asia on more substantive, multilateral terms, reinvigorating ties and forging new areas of collaboration will be difficult if leaders in Washington and Southeast Asian capitals do not fully grasp these realities. EAST ASIA FORUM
ABOUT THE AUTHOR:
Chong Ja Ian is associate professor of political science at the National University of Singapore.