How can Changi Airport recover to 50% of pre-Covid passenger levels in 2022?
Singapore is aiming to recover to at least 50 per cent of its pre-Covid air passenger traffic by the end of 2022, an ambitious but achievable target now that borders have reopened on April 1 to all vaccinated travellers, along with the easing of local Covid-19 restrictions.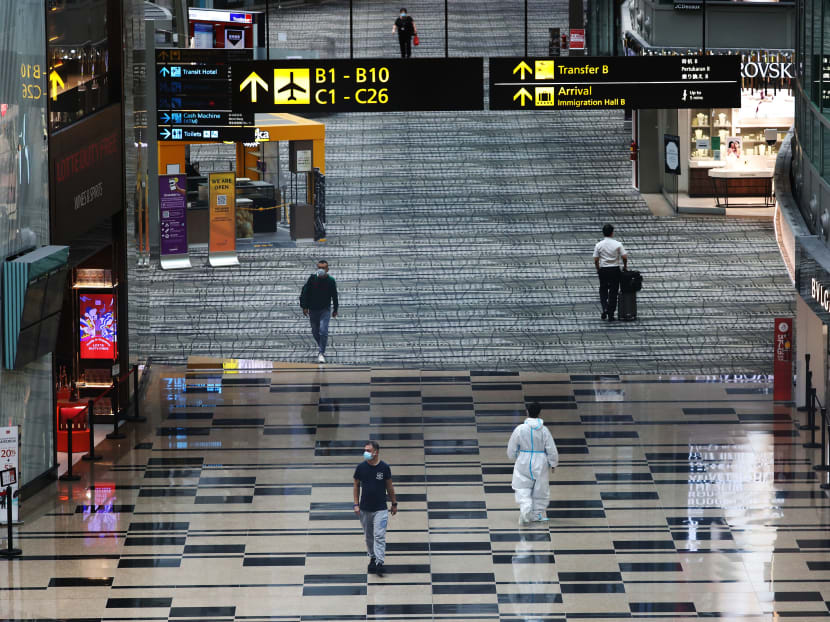 Singapore is aiming to recover to at least 50 per cent of its pre-Covid air passenger traffic by the end of 2022, an ambitious but achievable target now that borders have reopened on April 1 to all vaccinated travellers, along with the easing of local Covid-19 restrictions.
The new vaccinated travel framework replaced the vaccinated travel lane (VTL) scheme, which began in September 2021 with two countries and had expanded to 53 countries, including 31 served nonstop from Singapore.
VTLs drove some improvement in passenger traffic, with Changi Airport traffic reaching 5 per cent of 2019 levels in October 2021, 7 per cent in November 2021, 13 per cent in both December 2021 and January 2022 and 14 per cent in February 2022.
However, the VTL scheme was complex and burdensome for travellers as well as airlines.
In March 2022, Changi had more than 25 destinations that still did not have any quarantine free options and was handicapped by a cap limiting the number of VTL travellers to 15,000 per day.
There is now no limit on the number of travellers that can enter, and stay-home notices or quarantine is no longer required here for fully vaccinated travellers from any country.
Meanwhile, the easing of domestic restrictions make Singapore a more attractive destination as visitors can now walk outside without masks, dine in groups up to 10, enjoy live music and continue drinking beyond 10.30pm.
Singapore also has eliminated all arrival testing although a pre-departure antigen rapid test is still required.
While encouraging, these measures will likely not be enough to enable Changi to recover to 50 per cent of its pre-Covid passenger traffic.
In particular, a lot of work is still needed to rebuild the inbound segment, which consists of overseas visitors.
This was Changi's largest segment of traffic before Covid-19, accounting for about 44 per cent of total passengers in 2019.
In comparison, the outbound segment, which consists of Singapore residents, accounted for about 25 per cent in 2019 while transit traffic accounted for about 31 per cent.
DRAWING TRAVELLERS TO SINGAPORE
In the six months from September 2021 to February 2022, the inbound segment accounted for less than 20 per cent of passengers.
Singapore initially mainly targeted visitors from Europe and North America as most of Asia had not yet reopened their borders, making two-way quarantine travel impossible.
However, there were fewer than 55,000 visitors from Europe and North America in the period from September 2021 to February 2022, accounting for less than 4 per cent of the 3.1 million passengers Changi handled during this period.
And those 3.1 million passengers were already a small fraction of the 34 million passengers handled in an equivalent six-month period prior to the pandemic.
Many of the visitors who entered Singapore under the VTLs had friends or relatives in Singapore, resulting in an even less significant impact on the economy as this type of visitor is less likely to stay at hotels or go to tourist attractions.
Singapore should see a pickup in leisure and business visitors this month, but the visiting friends or relatives sub-segment will continue to dominate, making it difficult for hotels and tourist attractions to recover.
While Singapore is now more attractive as a destination compared to just a couple of weeks ago it will suffer from the continued challenges of multi-country itineraries, which has always been a staple for Singapore's tourism sector.
Singapore traditionally has been combined with other Southeast Asian countries or Australia and used as a stopover for visitors from outside the region.
Travellers are now preferring single country itineraries due to the hassle of crossing borders and shifting travel preferences that have resulted in tourists spending more time in one destination.
It is difficult for Singapore to compete for visitors seeking to spend a long time in a single country.
However, Singapore still has an opportunity to promote stopover packages and jointly market with other destinations, particularly in Southeast Asia and Australia.
Borders have been closed for much longer in Southeast Asia and Australia than other regions of the world, prompting travellers to holiday in other destinations.
All of Australia and most of Southeast Asia is finally open again and it is now critical to win back travellers from Europe, North America, the Middle East and South Asia.
It will not be easy as all destinations globally are competing fiercely for a slice of what is a smaller pie. Also, many travellers already made their summer 2022 plans before Southeast Asia or Australia reopened.
However, as popular destinations in Australia and Southeast Asia gradually win back travellers, many will have the option of flying through Singapore.
Attractions, hotels and other tourism industry stakeholders should work closely with government authorities and airlines to promote stopover packages and make short stays in Singapore hassle free and attractive.
For example, not requiring pre-departure testing for stopover passengers and offering discounted rates for hotels and attractions
Covid-19 testing requirements have already been lifted for all transit passengers and for travellers crossing to Malaysia by land, but still apply to stopover passengers and travellers flying to Malaysia, impacting demand for both these segments.
THE CHINA AND HONG KONG FACTOR
Singapore has invested heavily in restoring its status as an air hub, resulting in a resumption of more destinations compared to other Asian hubs.
Changi currently has nonstop passenger services to more than 100 international destinations, including 35 in Southeast Asia and eight in Australia — compared to 150, 45 and nine respectively prior to Covid-19.
The Southeast Asia and Australia figures are greater than those for any other hub by a wide margin.
Southeast Asia and Australia connectivity is Changi's biggest strength and needs to be capitalised across all three market segments (inbound, outbound and transit) for Singapore to successfully recover 50 per cent of its passenger traffic this year.
This is particularly important given China is unlikely to reopen until at least 2023.
Prior to Covid-19, China accounted for 30 of Changi's destinations and 17 per cent of total visitor arrivals.
Changi currently has only seven destinations in mainland China, most of which are served with only one weekly flight due to Chinese government restrictions.
Mainland China currently accounts for less than 1 per cent of seat capacity at Changi compared to over 10 per cent prior to the pandemic.
Hong Kong, which accounted for about another 4 per cent of seat capacity and 3 per cent of visitor arrivals prior to Covid-19, is another major market that will likely remain closed for at least several months.
Singapore will need to recover about 60 per cent of passenger traffic excluding China and Hong Kong to meet its 50 per cent target.
This will not be easy but is feasible given the capacity that is already in place and the pent-up demand for outbound travel.
Changi is already at over 40 per cent of pre-Covid seat capacity or over 50 per cent when excluding China.
The next phase of the recovery is therefore mainly about filling the empty seats, particularly with Singapore Airlines (SIA) Group, rather than resuming more services.
The SIA Group currently accounts for nearly 70 per cent of seat capacity at Changi, up from slightly over 50 per cent pre-Covid, but its load factor is still well below 50 per cent.
In January and February 2022, the SIA Group filled only four out of every 10 seats on average, including just two out of every 10 seats at low-cost subsidiary Scoot.
Flights to non-VTL destinations, of which Scoot had proportionately more, were particularly empty but should start to perform better now that all vaccinated travellers can enter Singapore and most other countries in Southeast Asia without quarantining.
Singapore's new vaccinated traveller framework will initially mainly impact the outbound segment with both outbound leisure and business demand already picking up considerably.
Companies that use Singapore as regional bases are again encouraging their employees to travel to reconnect with clients, partners and colleagues.
Many Singapore residents are also now starting to again frequently holiday around the region.
The outbound segment could recover to 50 per cent of pre-Covid levels by the middle of this year.
Transit could also hit the same milestone by the middle of this year given the markets Changi has traditionally relied most on for transfer traffic — Southeast Asia, India and Australia — are now open again.
The inbound segment will be the last to reach 50 per cent and this is not a realistic scenario for this year without China and Hong Kong.
However, a recovery to 40 per cent of pre-Covid levels for inbound travellers is possible with the right focus, enabling a recovery to 50 per cent of pre-Covid levels for overall traffic once factoring in stronger outbound and transit recoveries.
Singapore will need to be proactive and cannot assume visitors will simply return now that the borders have reopened.
Singapore needs to step up and compete aggressively for overseas tourists in a Covid-endemic marketplace that is extremely competitive and challenging.
ABOUT THE AUTHOR:
Brendan Sobie is the founder of Singapore-based independent aviation consulting and analysis firm Sobie Aviation.