Chinese plane incident — Malaysia caught between a rock and a hard place
On June 1, the Royal Malaysian Air Force (RMAF) released a media statement, with photographic images and a map, on its detection of 16 Chinese planes of the People's Liberation Army Air Force flying in "tactical formation" off the coast of Sarawak the day before.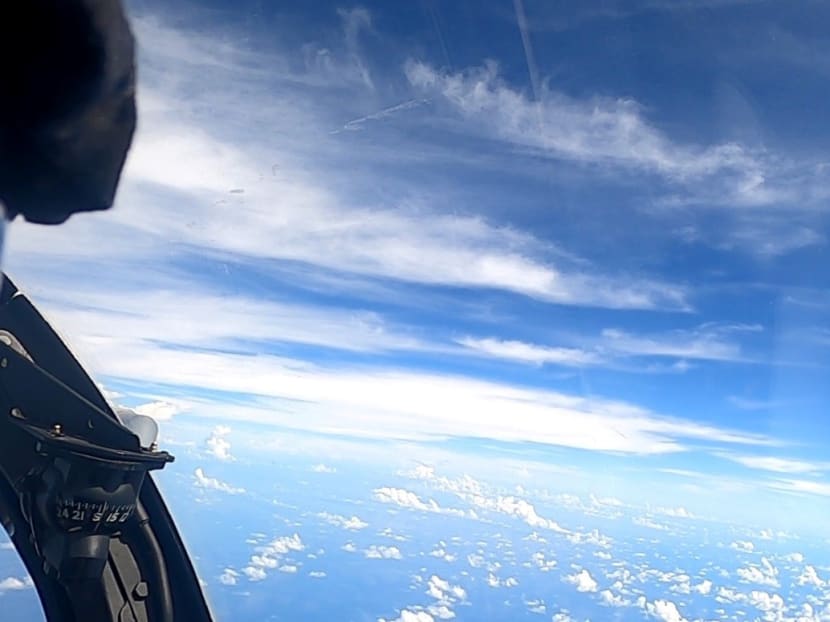 On June 1, the Royal Malaysian Air Force (RMAF) released a media statement, with photographic images and a map, on its detection of 16 Chinese planes of the People's Liberation Army Air Force (PLAAF) flying in "tactical formation" off the coast of Sarawak the day before.
The RMAF statement stated that "the incident was a serious threat to national sovereignty and aviation security".
It was notable that the statement had come from the Air Force, rather than the Ministry of Foreign Affairs. 
Traditionally, Malaysia has sought to resolve bilateral issues with China through quiet diplomacy behind closed doors.
It was thus a surprise that the RMAF had promptly brought this to public attention, initiating a strong public reaction and necessitating further official statements and follow-up from the foreign ministry.
This suggests frustrations amongst security agencies at the frontline of the country's territorial dispute with China in the South China Sea.
Should such Chinese activities continue to come to public attention, Malaysian public sentiment could turn against warmer Sino-Malaysia ties.
This will add complexity to the Malaysian government's balancing act in protecting its interests in the South China Sea and advancing its overall relationship with China.
WHAT HAPPENED?
The characterisation of the incident and veracity of claims about it have since been parsed by security analysts and practitioners alike.
Asked about it at a press conference, Chinese foreign ministry spokesman Wang Wenbin said: "This is a routine training activity carried out by the Chinese air force in waters south of the Nansha Islands (Spratly Islands) and is not targeted at any country".
The South China Morning Post cited a Chinese military source with "direct knowledge of the situation" who claimed that only two transport planes had been dispatched "to the South China Sea to deliver supplies to troops stationed there".
A spokesman for the United States Pacific Air forces maintained that the number of airplanes was "closer to what the Royal Malaysian Airforce is tracking".
Separately, US Pacific Air Forces Commander General Ken Wilsbach condemned Chinese military flights off Malaysia.
In Malaysia, a statement by Foreign Affairs Minister Hishammuddin Hussein on June 1 arguably went further than the RMAF statement, calling for an explanation from China's ambassador for this "breach of the Malaysian airspace and sovereignty".
It added: "Having friendly diplomatic relations with any countries (sic) does not mean that we will compromise our national security". 
Security analysts have questioned Mr Hishammuddin's claim of a breach, noting that no actual breach of territorial airspace had occurred in this instance. At the same time, most analysts agree that a strong official protest was justified.
This is not the first time Malaysia has come under public pressure concerning Chinese activities in areas claimed by Malaysia in the South China Sea.
In July 2020, a report by Malaysia's Auditor-General revealed, to the public's alarm, that Chinese coast guard and navy vessels were detected to have encroached into the country's waters 89 times from 2016 to 2019.
Then newly-appointed Foreign Affairs Minister Hishammuddin responded that China's coast guard and navy vessels had not done so in the preceding 100 days.
But a fellow United Malays National Organisation lawmaker rebutted the assertion, stating that under Mr Hishammuddin's short stewardship of the ministry, a Petronas contracted drill ship (West Capella) had been repeatedly harassed by the Chinese coast guard and paramilitary vessels accompanying the Haiyang Dizhi 8 survey vessel. The Chinese claimed that West Capella was operating within China's nine-dash line, which refers to a line drawn by China on maps of the South China Sea to support its claims there. 
Mr Hishammuddin's response was criticised by former foreign minister Anifah Aman, who questioned why  Mr Hishammuddin had not "openly and categorically [registered] our displeasure on the activities of the Chinese survey vessel Haiyang Dizhi 8 and its flotilla in Malaysia's maritime areas in April and May (2020)".
The backlash in Malaysia towards these Chinese activities, while episodic for now, should be a cause for concern for the two governments.
In The State of Southeast Asia: 2021 Survey Report conducted by the Iseas-Yusof Ishak Institute, respondents who felt that China's relations with their country would improve in the next three years were asked for reasons that could potentially worsen their positive impression of the relationship with China.
The top two reasons cited by Malaysian respondents were "China's strong-arm tactics in the South China Sea and the Mekong" (65.2 per cent) and "China's growing economic dominance and political influence in my country" (39.1 per cent).
BALANCING ACT
China is an increasingly important economic partner for Malaysia.
China has been Malaysia's largest trading partner for 12 consecutive years, and Malaysia remains China's second largest trading partner among the Association of Southeast Asian Nations countries.
China is the largest foreign investment source of Malaysia's manufacturing industry. China's ambassador to Malaysia recently said that bilateral trade had grown by 5.7 per cent to US$131.16 billion last year, despite challenges posed by the pandemic.
Vaccine supply from China has also become an important consideration for Malaysia, although it has been careful in diversifying its sources.
Malaysia is expecting to receive in the coming months 12 million doses of China's Sinovac vaccine, alongside 25 million doses of the Pfizer-BioNTech vaccine and 12.8 million doses of AstraZeneca's vaccine.
The importance of China for the Malaysian economy is well understood by the public.  However, repeated incidents over Chinese activities in the South China Sea will push the public to demand explanations and a firmer stance from the Malaysian government.
Thus far, the Malaysian government has assiduously sought to tamp down nationalistic sentiments against China over its activities in waters disputed with Malaysia.
Nationalism certainly is a greater complicating factor in China's relations with Vietnam, Indonesia and the Philippines. Still, given Malaysia's vibrant media sector and the sometimes rabble-rousing nature of its online space, public emotions towards China might become vitriolic.
The opposition Pakatan Harapan's call for a "clear action plan" in the aftermath of the incident weighs further on the need for a firm response from the Perikatan Nasional government which has a weak hold on power.
The Muhyiddin Yassin administration wishes to have a constructive relationship with China.
But it has little wherewithal to shape public discourse should bilateral tensions continue to spill into the public domain.
Barely two months ago, controversy erupted amongst the Malaysian public over whether Mr Hishammuddin had addressed China or the Chinese Foreign Minister Wang Yi as "big brother" during a live televised press conference in Beijing. 
Mr Hishammuddin had to take to Twitter to explain that the phrase was simply expressing respect for an elder, more senior statesman.
The Malaysian government has its work cut out as it tries to work with China to keep relations on an even keel.
Prospects for this do not appear bright for now.
Just four days after the detection of the 16 PLAAF planes, a Malaysian Maritime Enforcement Agency official said that a Chinese coast guard vessel encroached into Malaysia's Exclusive Economic Zone near Beting Patinggi Ali, located 84 nautical miles from the coast of Miri (in Sarawak) on June 4.
ABOUT THE AUTHOR:
Nawaljeet Singh Rayar is a Singapore-based foreign policy analyst with a special interest in the international politics of Southeast Asia.