Commentary: Cat owners, here's why your pets need preventive care more than you think
We mark International Cat Day this week to celebrate the unique bond between humans and cats, which are gaining popularity as pets in Singapore.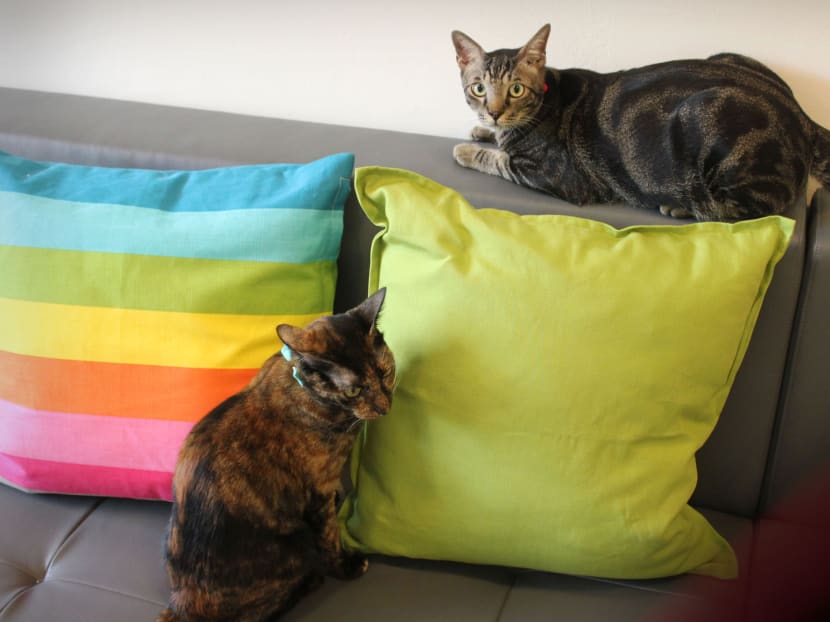 We mark International Cat Day this week to celebrate the unique bond between humans and cats, which are gaining popularity as pets in Singapore.
According to an Euromonitor International report, the pet cat population in Singapore currently stands at 94,000, almost 10 per cent higher than in 2019.
Despite their popularity, cats typically do not receive the same level of veterinary care as dogs.
While the reasons for this are complex, a key factor is the stress that cats may experience during a veterinary visit.
Cats tend to prefer routine activities and familiar environments, so some won't even get into their pet carriers and hide themselves well before the trip to the vet.
Taking them to the vet irregularly is considered a surprise to them and surprises translate to stress such as nervousness and anxiety.
Some cats would display behaviours such as hiding, timidness, vocalising, urinating, defaecating during the transport to the clinic, as well as aggressiveness and "escape attempts" at the vet consultation room.
After-visit effects of stress include hiding, inappetence for days, reluctance to approach owners, and even reduced immunity.

However, less traumatising experiences and frequent visits to the vet would soon acclimatise our feline friends to such a routine.
A common misconception held by cat owners is that indoor cats do not need regular veterinary check-ups because they are home and protected indoors.
However, just because cats stay indoors doesn't mean that they are generally safe from diseases and don't require preventive care. Owners go out and can potentially bring home pathogens, virus, parasites home in their clothing and footwear known as fomites.
One often overlooked health issue in cats is parasite infections. These infections can lead to serious complications such as bloody diarrhoea, dehydration, skin inflammation along with the associated respiratory diseases, and anaemia.
In Southeast Asia, a recent study conducted by Boehringer Ingelheim Animal Health found that approximately 47 per cent of dogs and 43 per cent of cats were infected by parasites.
Other studies have also found that more than one in three cats are infested with the fur mite, lyxnacarus radovskyi, which can cause papular dermatitis, a type of eczema and almost one in five cats are infested with ear mites.
Cats in this region are also commonly exposed to feline leukemia virus, a retrovirus associated with fatal disease in cats with infection in its progressive form.
These numbers are likely to rise with worsening climate change, urbanisation and globalisation.
Many pet owners are unaware of how parasites are transmitted and the impact they can have on animals and their owners, mistakenly believing that these infections are self-limiting and do not cause serious health issues.
Cats have the potential to host multiple parasites and even feline heartworm, which can be transmitted through mosquito bites and potentially lead to sudden death in cats.
Besides external parasites such as fleas and mites, cats can also be infested with internal parasites such as intestinal worms. All of these can weaken cats' general health and cause serious health issues if left untreated.
Additionally, some parasites such as hookworms can be transmitted from cats to humans to cause health complications such as abdominal pain and diarrhoea, and in heavy infections, weakness due to anaemia.
If cats are allowed to roam outdoors, they face an even higher risk of parasitic infections. They can be exposed to contaminated soil or water contaminated with eggs or larvae, and can acquire parasites from their prey, such as lizards, rodents, or birds.
Whether indoor or outdoor, what remains a rising concern is that parasite infections can affect cats and can potentially spread to humans. So, it is important to protect both.
It's often said that cats have nine lives, but this doesn't mean they can cure themselves of parasite infections.
There is therefore a need for a shift in pet owners' behaviour and mindset to adopt preventive healthcare through early diagnosis and treatment for their cats.
While veterinary visits can aid in identifying parasite infections, it is crucial to maximise what you get out of such visits and develop a preventive care plan with the right kind of parasiticide which could reduce the chances of severe infections and potentially high veterinary medical bills.
Rather than using a trial-and-error approach to identify the right over-the-counter treatment for pets, broad-spectrum parasiticides that offer protection against the most common internal and external parasites should be the go-to option for pet owners.
As many cat owners know, administering oral treatment can sometimes be difficult.
Topical solutions that can be applied on a cat's skin offer minimal stress and broader protection against a wider range of parasites is key to ensuring that pet owners remain adherent to the monthly treatment.
With regular veterinary visits and a good preventive care plan, owners can have better assurance that their beloved feline companions are protected.
ABOUT THE AUTHOR:
Kenneth Tong is a veterinary surgeon at Animal & Avian Veterinary Clinic.