Commentary: Co-living with youths among ways Singapore can expand, improve assisted living options for seniors
Singapore is rapidly ageing.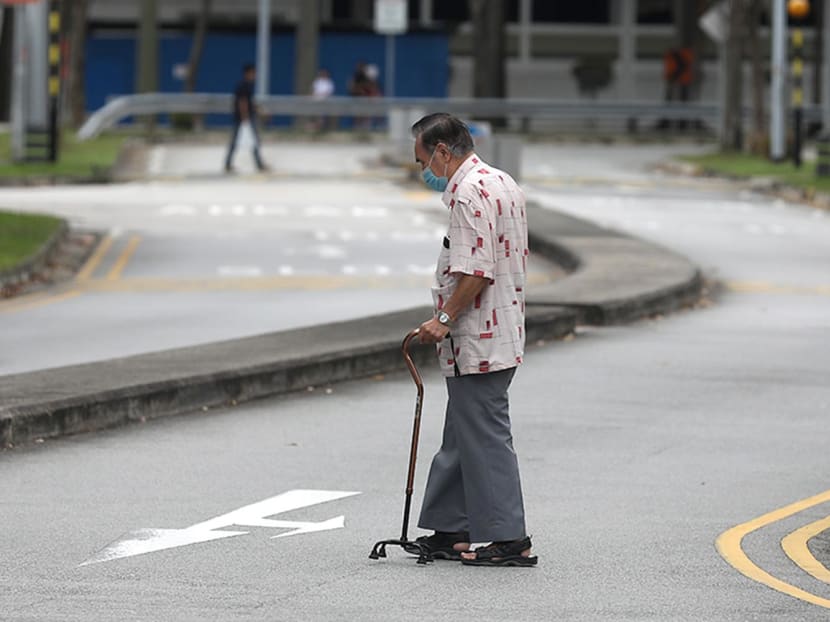 Singapore is rapidly ageing. 
Alongside declining family sizes and fertility rates, these demographic shifts challenge expectations that families can continue shouldering the bulk of the caregiving required for their elderly family members.
Support is particularly needed for seniors living alone or only with their elderly spouse, and those who lack family support.
Beyond nursing homes, which are meant for seniors who require round-the-clock care, there is a burgeoning need for residential options to support seniors who have some health or care needs but are still largely independent.
There have been a few initiatives to expand options for such seniors, including Housing and Development Board Community Care Apartments and private assisted living facilities such as St Bernadette Lifestyle Village and Red Crowns Senior Living.
However, these developments have largely been on a small scale and pilot basis.
As TODAY recently reported, there is a lack of "capacity, capability and affordability" in the senior housing options available here. 
There is much we can learn from our neighbours in Asia who are also facing rapidly ageing populations.
Taiwan has similar ageing trends to Singapore — in 2030, both territories expect almost one in four citizens to be aged 65 and above.
Many people in Taiwan live in apartments without lifts.
There is therefore a strong demand for the development of senior-friendly housing, and this has contributed to Taiwan's vibrant senior living landscape and many innovative models.
Malaysia is another country moving fast to develop housing options for seniors.
The number of seniors in Malaysia aged 65 and above is expected to triple from two million to over six million by 2040. 
Over the past two years, several private senior living developments have been launched in and around Kuala Lumpur.
Given the variety of senior living facilities that has sprung up across Asia, they offer some features to expand our imaginations on the housing and care models Singapore could develop to support seniors to age well.
Here, I will discuss three such features which Singapore can learn from and build on.
First, several senior living developments in Asia are conceptualised as villages, resorts or hotels which support seniors to age well.
Examples include Ruen Fu New Life Retirement Village in Taiwan and Domitys Bangsar Kuala Lumpur in Malaysia.
These are suitable for seniors who are largely independent. 
Such residences offer a wide range of leisure and exercise activities geared towards enhancing wellness and enabling seniors to enjoy their golden years, including pottery, mahjong, tai chi, and strength training.
Shuttle buses to nearby shopping and medical facilities encourage seniors to continue being independent and engaged in the community.
A key characteristic of Taiwanese silver housing is its warm hospitality and care. Ruen Fu New Life Retirement Village's philosophy is to care for residents as they would care for their own elderly family members.
This housing approach focused on empowering seniors to enjoy their retirement years has not yet been developed in Singapore.
Instead, the discussion around senior living here has been largely focused on how we can meet deficits in care needs and enable seniors to maintain their existing lifestyles.
While it may seem more pressing to focus on care needs, a shift in perspective could reap benefits.
In Taiwan, providers shared that many older adults were reluctant to move to senior housing due to the stigma around nursing homes.
Framing senior housing as retirement communities where they could enjoy their golden years flipped seniors' perspectives to see that they were moving to live better and age well.
This perspective shift could be useful in Singapore to overcome stigma and increase seniors' appreciation of silver housing.
Second, some senior residences set aside space for intergenerational housing.
In Taiwan, Taipei Yang-Ming Senior Apartments rents out rooms to both seniors and university students. Rental for university students is set at affordable rates.
In return, student residents organise activities for seniors such as healthy dessert cooking and digital literacy workshops.
Le Tao Chu Senior Happiness Home (Zhonghe) in New Taipei welcomes family members of all ages to live with their elderly family members.
In Kuala Lumpur, Komune Living & Wellness not only caters to independent and assisted seniors, they also welcome guests and residents from all backgrounds, including families, digital nomads, and tourists.
Intergenerational residences inject vitality and dynamism into the environment, encourage interactions between the young and old, and foster greater understanding across generations.
The third feature is housing which caters to seniors across the care continuum. This enables providers to leverage on synergies between services and economies of scale.
Some senior housing projects in Singapore have also focused on integrating services across the care continuum, such as Kampung Admiralty which is co-located with a polyclinic and an Active Ageing Centre.
An upcoming development at Parry Avenue will house assisted living apartments, a nursing home, a wellness clubhouse and a geriatric care centre.
Beyond what is available in Singapore, it is worth exploring other models of co-locating services.
For instance, Taipei Zhongshan Senior Residence and Service Centre is a three-in-one facility providing senior housing, dementia day care and home visits to seniors in the neighbourhood.
Extending services to seniors in the neighbourhood enables the provider to operate at a larger scale, afford more manpower and resources, and reduce cost through economies of scale.
This is one model which Singapore could benefit from, particularly in mature estates.
In Malaysia, ReU Living offers senior living as well as post-operative recovery.  
Since the care needs of patients recovering from a surgery can be similar to seniors who need help with activities of daily living, they could be co-located and served by the same care team.
Meanwhile, Sunway Sanctuary, an independent and assisted senior living residence, is co-located with Sunway Medical Centre, enabling Sunway Sanctuary to tap the hospital's healthcare ecosystem and manpower.
Such models enable a more efficient use of healthcare manpower, streamline service provision, and enable seamless transitions of care.
Besides interesting senior housing models which Singapore can reference, there is also much to learn from Asian senior living providers about how they have evolved to best serve their residents' needs and preferences.
Several providers shared that as pioneers, they learnt through trial and error, adapting quickly to address their residents' feedback.
For example, one provider designed its menu to maximise the variety of dishes served but found that some seniors preferred to eat the same food every day.
Having learnt this, the kitchen would accommodate residents' requests for specific dishes. These pioneers' experiences will be invaluable in accelerating our learning as Singapore's Community Care Apartments prepare to welcome their first batch of residents next year.
The senior living sector in Malaysia is certainly one to watch closely given the similarities in culture.
It is my hope that our imaginations would be expanded and inspired by the possibilities demonstrated by our neighbours, and we could step up to develop new housing and care models to support our seniors to age well.
ABOUT THE AUTHOR:
Chia Hui Xiang is a researcher at the Leadership Institute for Global Health Transformation at the Saw Swee Hock School of Public Health, National University of Singapore.