Commentary: Diversity and inclusion — mere buzzwords or life skills to be taught in school?
I often wonder if diversity and inclusion are utopian ideals, an important life skill or just a buzzword.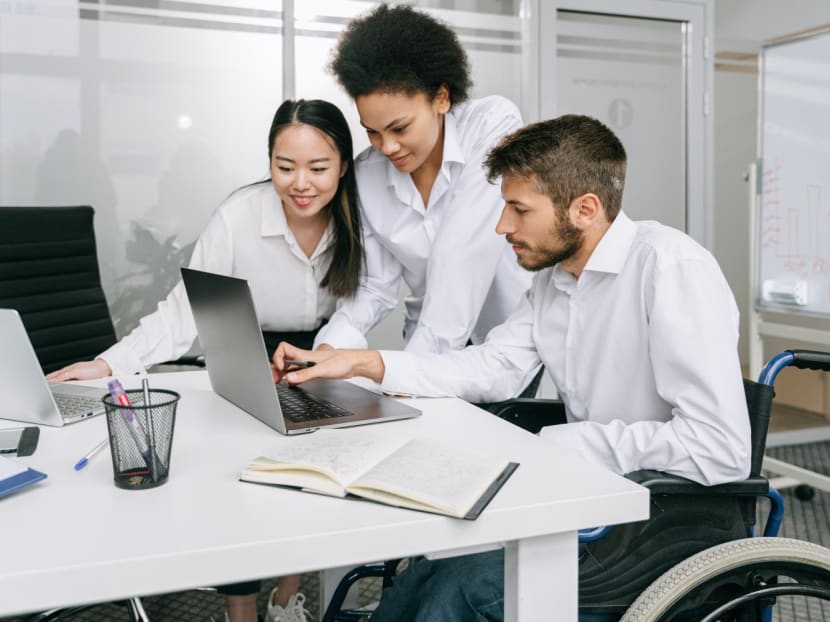 I often wonder if diversity and inclusion are utopian ideals, an important life skill or just buzzwords.
As an instructor in the human resource management programme at the Singapore University of Social Sciences (SUSS), I teach a course titled "Diversity and Inclusion in the Workplace".
To set the tone of this commentary and also my classroom interactions for this course, I like this quote from sociologist Andrea Tapia: "Diversity is the mix. Inclusion is making the mix work."
It is a routine practice for me to take stock of the semester that has gone by and think of ways I can enhance my students ' learning experiences in future iterations of the course.
While the student feedback about the course content and its delivery is usually encouraging, there is a feeling of incompleteness within me! I feel that as an educator, I should do more. Let me explain.
The diversity and inclusion course that I teach delves into the psychological underpinnings of non-inclusive behaviours.
By understanding why people tend to stereotype, how prejudices develop, how the dynamics of power and privilege play out in society, which dimensions of diversity are more pertinent in the Singapore context and how to become active allies of inclusion, students are likely to bring this knowledge to others domains of their social and professional lives.
The vision of an inclusive and discrimination-free Singapore is not the sole responsibility of the government.
The Government's intentional push is enshrined in the publicly available toolkit issued by the Tripartite Alliance for Fair and Progressive Employment Practices (Tafep) to promote fair, responsible and progressive employment practices.
Legal remedies have been put in place to redress the grievances of those who face discrimination in the workplace.
However, reports about racial discrimination incidents, social class barriers and workplace discrimination continue to surface.
MORE NEEDS TO BE DONE
Clearly, more needs to be done. Institutes of higher learning bear a special responsibility to nurture young adults with inclusive mindsets. By exposing students to diversity curricula, they can arm them with the requisite skills needed to be inclusive colleagues and business leaders.
While there is impetus to diversity education in primary and secondary schools via racial harmony day celebrations and character and citizenship education curricula, I believe strongly that there is a need to re-kindle the conversation around diversity dimensions that young Singaporeans are likely to encounter and expected to embrace in the workplace.
Pre-employment educational institutions, referring to institutes of higher learning, represent a critical period for the absorption of such knowledge as they play an instrumental role in shaping the ideas of young adults.
It is a fact that today almost every Fortune 500 company engages in some form of diversity or bias training.
Several friends in the corporate world have shown a general disgruntlement with their company's diversity and inclusion training initiatives, seeing them as a "check the box" activity for image building, taking away valuable time from their core work tasks.
As such, it may be too late in the day to try and intervene and change people's work attitudes and behaviours to become more inclusive especially when they believe that they don't need the reminder.
Perhaps, a prior mental conditioning to diversity and inclusion challenges may help to improve receptivity to diversity training at the workplace.
Hence, university education can do the upstream work of preparing future-ready young adults with just and equitable ideologies developed through exposure to diversity courses.
So, why am I dissatisfied? Why that sense of incompleteness? The feeling stems from the realisation that Singapore has not been able to keep pace with the need for university-level diversity education in an era when such global competencies will act as a differentiator.
Singapore's workforce consists of a sizable expatriate population, so working and interacting with this diverse set of people is unavoidable.
Furthermore, by utilising an experiential and practical teaching pedagogy, diversity education may act as an action lever to tackle the social inequality and exclusion challenges that Singapore continues to face.
Undergraduate diversity education is part of the general education requirements in several Western countries. This means that these courses are offered to all students irrespective of their major discipline as part of the university's core education mission.
Currently, very few diversity and inclusion courses for pre-employment students exist in Singapore and those that do exist are not offered under the university's general education/core curriculum offerings.
HUGE WINDOW OF OPPORTUNITY
There is a huge window of opportunity to extend the salutary effects of attending such a course to a larger student population by offering diversity courses as widely as possible.
Simply put, diversity education must be a part of the university's core course/general education offerings for wider outreach.
Even though I feel that more can be done to support diversity education in universities, I take comfort in the fact that I'm able to make a positive impact on the learning journey of students who take my diversity and inclusion course.
As they say that the proof of the pudding is in the eating, I share here some responses from my students when I asked them to name one action/behaviour that they will STOP, START and CONTINUE as part of their journey to become more inclusive.
Here's what some said:
"Start — with the courage to speak up for the less privileged, Stop — cannot stop because allyship is an ongoing process, Continue — to be active allies of D&I to achieve D&I goals for self and others around me."
"Start — actively seek out and listen to diverse voices and perspectives, both personally and professionally. Engaging in respectful conversations with people who hold different viewpoints. Stop — making assumptions that my experiences and perspectives are universal and ignoring or dismissing those of individuals from different backgrounds. Continue — speaking out against bias or discrimination, supporting underrepresented individuals and advocating for policies or practices that promote equity."
"Start — be more aware of my unconscious bias, Stop — microaggressions, reflecting back I might have used them myself when talking to people belonging to other groups, Continue — to be passionate about D&I!"
I urge educators, researchers and curriculum developers to come forward and build a community around diversity education so that it can get its due place in Singapore's higher education landscape.
The gap between diversity and inclusion can be bridged by sensitive and mature responses to bias-ridden situations.
The good news is that it is a skill that can be taught, an attitude that can be fostered. Hence, it is more than a buzzword to me!
ABOUT THE AUTHOR:
Tania Nagpaul is a senior lecturer in the Human Resource Management Programme at the S R Nathan School of Human Development at the Singapore University of Social Sciences. She is interested in uncovering the psychological underpinnings of social phenomena and is a strong advocate for diverse and inclusive workplaces.