Commentary: DPM Lawrence Wong's Budget 2023 speech reveals glimpses of a future Singapore and his leadership style
Mr Lawrence Wong promised a "Valentine's Day present" to Singaporeans in his Budget 2023 speech this year, but many political observers, myself included, were on the look-out for another kind of gift – a glimpse into the future Singapore under his charge at the helm of the country's fourth-generation leadership team.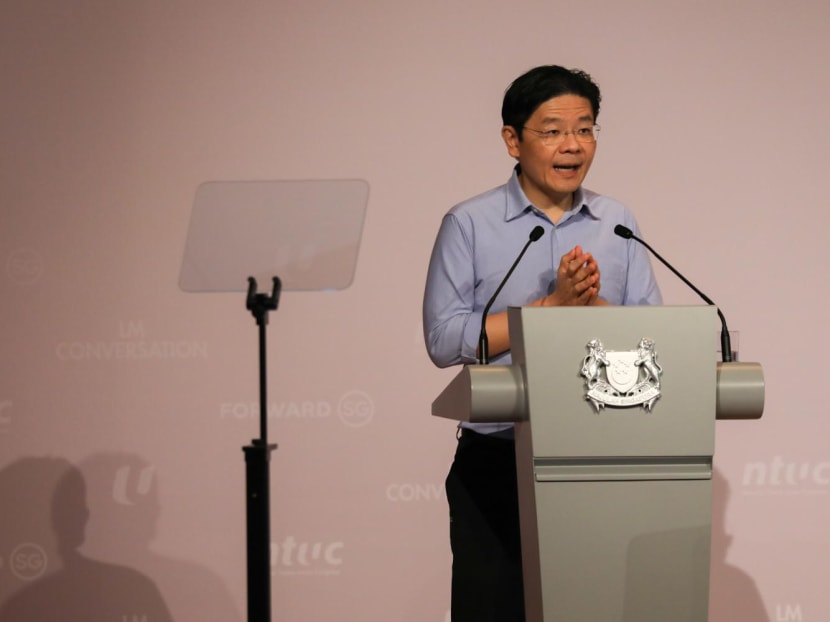 Mr Lawrence Wong promised a "Valentine's Day present" to Singaporeans in his Budget 2023 speech this year, but many political observers, myself included, were on the look-out for another kind of gift – a glimpse into the future Singapore under his charge at the helm of the country's fourth-generation leadership team.
Ever since the Deputy Prime Minister and Finance Minister emerged as the presumptive choice of his peers to helm the country, pundits both at home and abroad have been watching his speeches and statements for insights into what the potential 4G leadership have in mind for the direction of Singapore in the years ahead.
This year's Budget speech is the first since Mr Wong was designated Prime Minister-in-waiting in April last year.
While he largely followed past Budget speeches in terms of structure and content, there were definitely some hints of what he might want to see in a future Singaporean society.
THOSE WHO CAN SHOULD DO MORE FOR THOSE WHO CAN'T
Of the measures announced by Mr Wong, among those which raised the most eyebrows were some of the changes he made to the country's tax structures, or more specifically what the Government has described as Singapore's system of "wealth taxes".
In terms of buyer's stamp duty for residential properties, the portion of the property's value in excess of S$1.5 million, and up to S$3 million, will be taxed at 5 per cent, up from the current 4 per cent.
The portion in excess of S$3 million will be taxed at 6 per cent, up from the current 4 per cent. This means that those in the middle class, and not just those in the top financial tier of society, would face a higher tax burden as well.
Buyers of luxury vehicles with open market value (OMV) of more than S$40,000 will pay higher marginal additional registration fee (ARF) rates than they do today. For the highest OMV tier, the revised ARF rates will be 320 per cent, up from 220 per cent. 
In his speech, Mr Wong said that, even if the Government has to look at different ways to raise revenues in future, it would still focus on keeping the overall system of taxes and benefits "fair and progressive".
"Our system is based on collective responsibility. Every citizen has a part to play in nation building," he said. "Everyone contributes something, but those who are better off contribute more. Likewise, everyone benefits from the state's spending, with the vulnerable benefiting more. This is a fair and inclusive approach."
The notion that the best off in society should contribute the most to help the most disadvantaged is not new for Singapore and has been articulated by government leaders in recent years.
But it is a theme which has come to the fore and coincided with Mr Wong's rise to become the next leader, with him placing it at the heart of his vision for the society and country.
In last year's Budget speech, his first as finance minister, he said a fair and progressive system in Singapore required that "those with more will contribute more taxes than the benefits they receive".
"Those with less will still contribute, but a lesser amount, and they will receive more benefits in return," he said, adding that this reflects our values and who we are as a society.
It was a theme he returned to in June last year at the launch of Forward Singapore, a national conversation exercise aimed at renewing and refreshing Singapore's social compact.
In his speech, he said he envisioned a future Singapore where "all Singaporeans contribute their fair share to the common good, with those who are fortunate to do well in life willingly contributing more to uplift their fellow citizens with less".
This would then create a society "where every man and woman is valued, every child treasured, and every senior respected".
While it's unlikely that this direction is Mr Wong's idea alone, given the collaborative and whole-of-government approach that is normally taken when making national policy, his consistent emphasis of the idea suggests it is an ideal he espouses.
The latest Budget measures relating to property and cars, which arguably went further than those introduced last year, not only reinforced this view, but also hinted that it is a direction likely to continue under his premiership.
PRAGMATISM FIRST
Another observation that could be made from the Budget speech is Mr Wong's apparent preference for a more pragmatic approach to developing economic and finance policy, that focuses more on immediate issues.
From the start of his speech, he took pains to address critical issues that have been foremost on the minds of most Singaporeans, including the emergence from the Covid-19 pandemic, economic uncertainty and rising inflation, and a challenging geopolitical outlook.
He announced that Singaporeans would get higher cash pay-outs under the Goods and Services Tax (GST) Voucher scheme and the Assurance Package, which was aimed at helping people tide through the current period of higher inflation and cushion the impact of the higher GST rate, which rose from 7 per cent to 8 per cent this year.
Additional one-off support measures will also be rolled out to address immediate cost-of-living concerns. All the enhancements to the Assurance Package will cost S$3 billion, raising government expenditure for the package from S$6.6 billion to S$9.6 billion.
Mr Wong also unveiled other initiatives that focused on tweaking the Central Provident Fund (CPF) system, and provided more support for parents, families and first-time home-buyers.
While he also unveiled new efforts to enhance Singapore's international competitiveness in the longer-term and also to deal with future threats such as climate change and global warming, there was definitely a tilt in this Budget towards providing tangible immediate help that citizens have been calling for.
This would suggest that Mr Wong will be a leader who leans towards addressing the most pressing needs and concerns of the people, especially during challenging times or crises, over loftier or more intangible goals.
RIGHT TIME, RIGHT PLACE
But does this suggest that Mr Wong as the 4G Prime Minister would eschew long-term vision over short-term expediency? I think not.
Mr Wong did devote significant portions of his speech to sketch out the challenges facing Singapore in the years ahead, and detailed plans to boost the country's competitiveness, centred on enhancing the core workforce of Singaporeans.
Again, this is consistent with the Government's position over the past few decades, and is likely to reassure investors and stakeholders, both at home and abroad.
And while there was no "grand vision" per se, perhaps it is a question of the appropriate setting, the right time and place.
Mr Wong is the premier-designate, but he has not yet taken over the reins completely, something that is expected to happen in and around the next general election due by 2025. So it might not be appropriate to roll out his vision now.
There is also the question of whether a Budget speech, which should naturally focus on finance and the economy, is the right time to speak deeply of broad visions and ideals, especially as the country emerges from one crisis in the pandemic and faces multiple challenges such as geopolitical uncertainty and rising costs.
A more appropriate and likelier platform for Mr Wong to reveal more of his vision is when the Forward Singapore exercise concludes and its recommendations are presented later this year.
With that in mind, it is safe to conclude that this year's Budget speech has given us some hints into the mind and thinking of Singapore's next Prime Minister, but there is definitely more to come. Political watchers and citizens alike will have to continue watching this space.
ABOUT THE AUTHOR:
Nicholas Fang is managing director of strategic communications consultancy Black Dot, and a former Nominated Member of Parliament.