Commentary: Here's how S'pore can 'get real' and be psychologically prepared for possible conflict in region
For Singaporeans who have grown up in an era of relative peace and prosperity, the prospect of armed conflict in Singapore's immediate neighbourhood may seem unimaginable.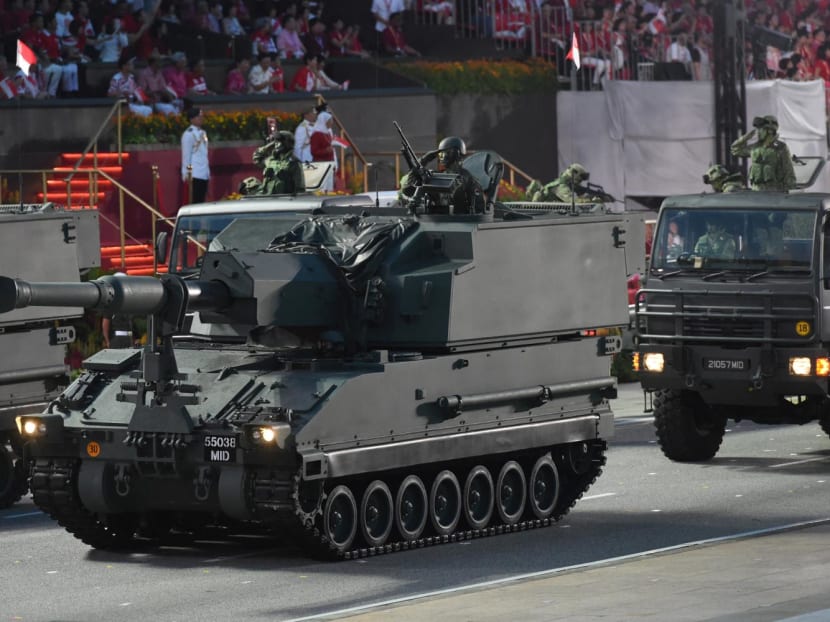 For Singaporeans who have grown up in an era of relative peace and prosperity, the prospect of armed conflict in Singapore's immediate neighbourhood may seem unimaginable.
The state of geopolitical undercurrents, however, suggests a starker reality.
As Sino-United States (US) relations worsen and tensions heighten, the prospects of great power competition escalating into unintended conflict have never been greater in the Asia Pacific region.
Against this backdrop, Prime Minister Lee called for Singaporeans to "get real" and be psychologically prepared for regional conflict in his National Day Rally 2022 speech.
This reality check could not have been more timely. Singaporeans must be prepared to ride what Senior Minister Tharman Shanmugaratnam described as a "perfect long storm" — a confluence of lasting structural geopolitical, economic and existential insecurities that reinforce one another.
As Singapore emerges from Covid-19, there is no guarantee of a breather before we feel the effects of yet another external shock.
Prolonged heat waves and drought in the Northern Hemisphere this summer have further weakened a global supply chain that is already struggling to cope with the effects from Covid-19 and the war in Ukraine.
It is certain that these and further disruptions to the global supply chain will elevate inflation throughout 2022. 
Much of the developed world is at the cusp of a cost-of-living crisis as the cost of food, housing and utilities remain at 40-year highs.
Singapore's long-term planning in food, water and energy security and diversification of sources have dampened some of the negative impacts, but Singaporeans should not underestimate the gravity of the perfect long storm that we have to weather.
We are living in troubled times, and we should not be under any illusion that it will be business as usual.  
PREPAREDNESS FOR FOOD INSECURITY
The past may not always be prologue, but the risk of intense great power competition spiraling into armed conflict with severe consequences for Singapore's food security is real.
In times of conflict and immense supply chain stress, Singaporeans should not be surprised that governments will prioritise the needs of their citizens, even to the extent of closing markets at the expense of global trade rules.
Such actions will have a major impact on Singapore's food security, given that the nation imports more than 90 per cent of its food.
Panic buying and the emptying of supermarket shelves in the early days of the Covid-19 pandemic provided Singaporeans a glimpse of what a global shortage may look like.
Singaporeans must be psychologically prepared for the effects of similar global shocks, particularly their impact on essentials such as food and energy.
The amount of food waste disposed has gone up from 539,000 tonnes in 2020 to 663,000 tonnes in 2021. Food waste now accounts for 12 per cent of total waste generated in Singapore, while the recycling rate of food waste remains at 19 per cent.
Government-led efforts in diversification of sources can only go so far. Behaviour and attitudes towards sustainability and consumption will have to change.
Preparedness in food security goes beyond stocking up on essential food items for two week's consumption.
Singaporeans need to be prepared to change their consumption patterns to reduce wastage and include more staple foods that require less resources to farm and grow.
We have to be mentally prepared for the possibility that future external shocks and crises may result in a different kind of food preference choice — not one between chilled kampung chicken and frozen chicken in our chicken rice, but between chicken and an alternative protein source.
CONSISTENT NATIONAL SERVICE POLICY
Pre-independence Singapore was no stranger to food insecurity caused by geopolitical upheavals.
In February 1942, the rapid advance of the Japanese Imperial Army through the Malay Peninsula culminated in the capture of Singapore. This had severe consequences for Singapore's population.
Many in Japanese-occupied Singapore faced severe food shortages. Rice and wheat substitutes had to be found in the form of tapioca and sweet potato. Food in times of global conflict was about survival, not taste or texture. 
The fall of Singapore is commemorated every year as Total Defence Day.
On that day, we are reminded of our enduring structural vulnerabilities and the need to take the world as it is — not what we wish it to be.
If we as Singaporeans do not make a commitment to our own defence and protect our way of life, no one will.
Not only do we need to take National Service (NS) seriously, but we should resist irresponsible calls to significantly reduce the duration of NS.
Taiwan has a population of close to 24 million people, yet it has struggled in the last decade to build a credible all-volunteer force.
In light of worsening cross straits tensions, Taiwan is considering extending compulsory military service from four months to at least one year.
Singapore's consistent NS policy based on the critical need of national security and survival guarantees our existence as a sovereign nation state.
National security is a matter of life and death for the state. Singapore cannot afford to take the "feast or famine" approach to NS and ramp up our capabilities in the Singapore Armed Forces and the Home Team only at the eleventh hour.
HYBRID WARFARE  
More than ever, Singaporeans must be better prepared to deal with the demands of hybrid warfare and grey zone conflict where the dichotomy between war and peace are no longer so clear.
In both theory and practice, hybrid warfare in the political, information and economic domains ignore the boundaries between war and peace.
Even in times of relative peace, both state and non-state adversaries can use hybrid warfare to weaken the will and cohesion of their target over time.
What this means is that it may not be possible nor desirable to adopt a hard approach of constant over-protection.
Hence, building national resilience and social cohesion is key.
In order to do this, Singaporeans must develop a greater cognitive awareness of our threat environment, and an adaptive response that is aligned to our national interests.
Here, Singapore's mainstream media plays an important role in shaping the cognitive domain.
On matters of national security, Singaporeans need to be able to trust and look to the mainstream media to accurately inform on the basis of Singapore's national interest — this is a function and public good that cannot be replicated in alternative and social media.
In the fragmented information space of the digital age, forging public trust in MSM to inform on critical national security issues is paramount to Singapore's national resilience and social cohesion.
Younger Singaporeans may get tired of the vulnerability narrative, but Singapore's fragility and susceptibility to global shocks is real.
We should not be under the illusion that the Covid-19 pandemic will be the last global security challenge.
Just as Singaporeans demonstrated the collective resilience to overcome the pandemic, the same psychological strength and preparedness can be harnessed to weather the looming storm of further global shocks.
ABOUT THE AUTHOR:
Ong Wei Chong is Assistant Professor at the S. Rajaratnam School of International Studies (RSIS), Nanyang Technological University and head of RSIS' National Security Studies Programme.