National Day Special: Home, truly, and finally for this global citizen
What is home? Is it the country you were born or raised in? TODAY supervising editor Karen Lim, who was born in Australia and has lived in Singapore for 24 years, tries to define what "home" means to her.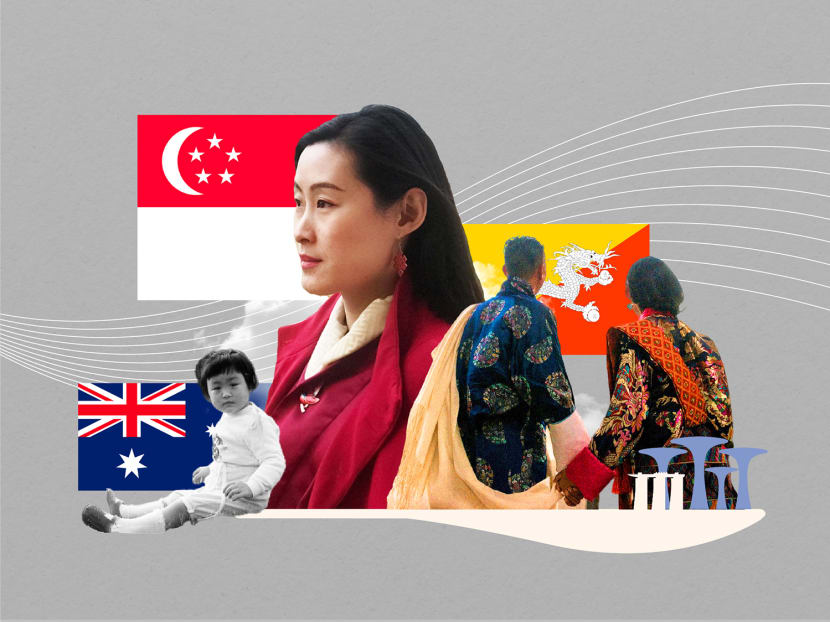 For many, "home" is about more than just a roof over our heads, yet it can mean different things to different people. The events of recent years, including the rise of identity politics around the world, the pushback against globalisation and the Covid-19 pandemic, have also forced some to rethink what "home" means. As part of TODAY's National Day Special this year exploring the sense of belonging, supervising editor Karen Lim, who was born in Australia and married a man from Bhutan, shares how she has decided on Singapore as home for her family.
What is home, truly? It is a question I ask myself in recent years every time National Day comes around.
Is "home" the country where you were born in or raised in? For those who have migrated or have been living overseas for a couple of years — is that country considered "home" too?
See, I've been a permanent resident living in Singapore for the past 24 years. I was born in Australia to a Singaporean mother and a Malaysian father, and was raised there before moving to the Republic at 10 years old.
Although I later returned to Down Under for my tertiary education and could continue living and working there, I chose to come back to Singapore to kickstart my career.
So, except for a tax file number, an Aussie driver's licence and some university certificates, I do not have anything else going for me there.
My dad continues to live in Australia till this day and I have a handful of relatives who migrated there from China. I also still have some close friends there, but guess what? They're Singaporeans too.
WHAT IS HOME?
Because of my somewhat unique situation, I have always felt a sense of displacement. Where exactly is home? Am I what one would call a "global citizen"?
Amid my hectic and busy work life here, this question about "home" took a backseat for me for many years.
I had also believed that whatever passport I held should not matter. Because in this globalised world, why should the nationality of your passport or the country in your birth certificate determine where you consider home?
It wasn't only till 2018 when I married my husband who's from Bhutan that I began to seriously question the notion of "home".
I had also spent a year living and working in the Himalayan kingdom, falling in love – not only with my future spouse — but also with the country that had welcomed me and "adopted" me as their own.
In just a year there, I was given an opportunity to become fully immersed in their culture, a little bit of their language, and also gained a deeper understanding of their developmental philosophy of Gross National Happiness.
It felt like home, almost. Every Bhutanese I encountered mistook me as one of their own. I learned to adapt to life there, to literally acclimatise myself to the altitude and attitudes of the Bhutanese.
But beyond that, the Buddhist nation has taught me many lessons in compassion, mindfulness and empathy. They embraced me, and in turn, I too regarded Bhutan as my third home.
WHERE SHOULD HOME BE?
So when my husband and I had a child, who is turning two this year, we finally sat down and asked the serious question: "Where should home be: Australia, Singapore or Bhutan?"
Being a parent became a turning point in my life. All of a sudden, what citizenship I held and where I lived mattered greatly because it would have a huge impact on our child.
I consulted friends, ex-colleagues, acquaintances, and many responded: "Home is where the heart is." To which my response was always: "Yes. But what if the heart is split across many places?"
With family spread across three countries, it became challenging to decide where to call home. We weighed the pros and cons of all the places we were considering. We looked at practical matters such as finances, housing, education, policies and political stability.
But we remained in a dilemma. Using such factors to decide where to establish our home in was futile. Every country had its pros and cons, and it only made our decision-making process even more confusing.
So I turned inwards instead and looked into my heart. Australia was my so-called native country since I was born there. Bhutan is a lovely country that anyone who steps foot in would love simply for what it is.
But Singapore is where I grew up, where I paved my own life and fortunes, where I lived, loved, lost, laughed and cried. Unbeknownst to me, Singapore has always held a special place in my heart.
It is the country I have always identified with, and it was only while deciding where home was that it hit me.
All this while, I had misunderstood the adage "home is where the heart is". I used to think "heart" meant my family members and loved ones, and that home was wherever they are.
Now, I realise that "heart" meant the country that I love, and it is and always has been Singapore.
HOME IS WHERE THE HEART IS
During National Day, no matter which country I was in, I always tuned in to the National Day Parade via livestream. I wore red and white to celebrate the occasion wherever I was.
While in Bhutan, I even donned their local costume in the colours of the Singapore flag, a subtle way to mark National Day.
Every time someone had good things to say about Singapore, my heart would swell with pride. I would chime in and share everything I knew about the history, culture, and of course, the food.
Whenever I saw Singapore's magnificent cityscape captured on video, I would marvel at the beauty of this Garden City and boast to people what Singapore has achieved, what it's like to live here and how appreciative I have become of the smallest necessities that most take for granted — something as simple as clean water from a tap that never fails to run.
I was a non-Singaporean who had always identified myself as Singaporean. In fact, when Australians or Bhutanese people ask me where I'm from, I always replied: "I'm from Singapore."
Never have I responded by saying I was actually born in Australia. It was what I naturally identified with. Moreover, if you ever saw or met me in person, you would never guess that I am not a Singaporean.
This realisation of my deep love for Singapore, together with a recognition that it is most suitable for raising our son in, explained why I've recently decided to apply for citizenship here.
I'm also thankful for my husband who agreed wholeheartedly with my decision to call Singapore home. He too has grown fond of the country over the past years.
If you do a search for "what is home" in Google, a dictionary definition states that it is a "place where one lives permanently". Another website defines home as "safety, security, stability".
In 2020, the Housing and Development Board released a video titled "What does home mean to you?". In it, people defined home as "heart, loyalty, love and care", where it is "comfort, joy, and a place where you're not afraid to be yourself", and "where the memories are".
Perhaps my own definition of home came a bit late in life, but I seek comfort in knowing that when I see the various meanings of what home meant for Singaporeans, I too share their sentiments.
Singapore is the country where I have created memories. Now, it is the home where I will be raising a human being in, generating new memories, and embarking on new journeys.
And no matter what happens, Singapore will always be my home, truly.