Commentary: How to boost Singapore's recycling rates? Improving last-mile delivery is key
Singapore's woes with recycling continue as the domestic recycling rate in 2022 fell to 12 per cent, the lowest in more than a decade. In 2021, the recycling rate stood at 13 per cent.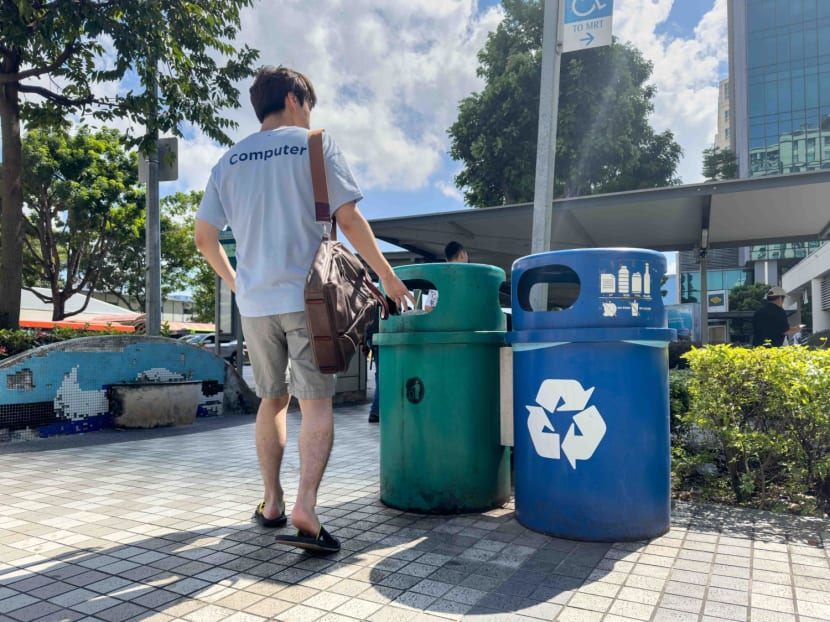 Singapore's woes with recycling continue as the domestic recycling rate in 2022 fell to 12 per cent, the lowest in more than a decade. In 2021, the recycling rate stood at 13 per cent.
Between 2012 and 2018, Singapore's domestic recycling rate was 19 per cent and 22 per cent respectively.
Compared to 2021, 0.04 million tonnes more domestic waste was collected in 2022. More waste was also generated in 2022 compared to 2021; 6 per cent higher.  
According to the National Environment Agency (NEA), the low domestic recycling rate for 2022 was attributed to less paper, cardboard, textile, and leather exported for recycling due to higher shipping costs associated with transporting materials overseas for recycling, especially for items such as paper that have a lower market value.
Singapore aims to boost its domestic recycling rate to 30 per cent and its overall recycling rate, which includes household and industrial waste, to 70 per cent by 2030 as part of its Zero Waste Masterplan.
On top of that, Singapore intends to reduce its waste to landfill per capita per day by 20 per cent by 2026 and by 30 per cent by 2030 as part of its Green Plan.
Based on current progress, Singapore will need to more than double its domestic recycling rates to meet its target by 2030.
The supply chain complexities and associated cost increases around transboundary transportation of waste for recycling have been issues for recyclers globally post Covid-19, but it's been anticipated that the situation should ease in the coming years ahead.
While these goals are by no means lofty and we have a decent runway of approximately seven years to achieve them, more needs to be done.
BOOST INFRASTRUCTURE, FORMALISE JOBS
One way is to boost domestic infrastructure for recycling.
Investing in recycling plants will eradicate associated freight costs for exports of recyclables to regional markets. Recycling operations need large amounts of space for storage, sorting, baling and shredding.
With space shortage, coupled with a lack of manpower, operational costs rise and economies of scale cannot be attained.
It is timely that NEA has called for a tender to study the proposed redevelopment of Sarimbun Recycling Park, which is home to several recycling facilities, to improve land use and land productivity of recycling in Singapore. The 30-hectare park currently handles a fifth of Singapore's recycling.
The increase in glass recycling rates in 2022 by 1 per cent with the operation of Singapore's first glass recycling facility is testament to the fact that local recycling facilities boost domestic recycling rates.
NEA is also seeking to set up a plastic recovery facility that sieves through general waste to gather plastics for chemical recycling.
The facility is expected to be ready by 2027 and has the potential to recycle about 240,000 tonnes of domestic waste annually.
This should give plastic recycling rates in Singapore a significant boost, which stands at 6 per cent currently.
Efforts should also be made to formalise jobs within the recycling sector to alleviate manpower shortages.
The business of recycling is an expertise itself within the wider remit of enabling a circular economy.
Salaries and benefits should be made more attractive and skill sets required for the sector should be promoted actively by the government, academic institutions and businesses alike.
DISINCENTIVES TO COME
More disincentives against consumer waste that will potentially increase domestic recycling rates are to come.
From July 2023, supermarkets will start charging for plastic bags, with a minimum fee of 5 cents. This should reduce the consumption of disposables and improve existing recycling rates for plastics.
Moreover from 2025, under the Beverage Container Return Scheme as part of a broader Extended Producer Responsibility scheme, bottled and canned drinks will cost 10 cents more with consumers only able to obtain the deposit back if they return their used plastic bottles and cans at designated beverage return vending machines.
Producers and manufacturers of these containers can then recycle them for use again.
This approach has been tried and tested in various parts of the world, especially in Europe, with resounding success and high domestic recycling rates of more than 90 per cent in many countries.
Consumers will grow accustomed to this over time and these efforts should ensure that Singapore meets its targets set in the Green Plan and Zero Waste Masterplan.
To further boost recycling rates, there must be demand for recycled content to be incorporated in products.
Manufacturers can do their part by beginning to voluntarily incorporate incremental small percentages of recycled content in their products.
This would create more economies of scale for recyclers and boost supply of recycled content available on the market.
Regulators can potentially start to explore mandating a baseline recycled content percentage to be incorporated into products to boost recycling as part of broader eco-design principles.
For instance, in the European Union (EU), the single use plastic directive stipulates that 25 per cent of bottles should come from recycled plastic by 2025, increasing to 30 per cent by 2030. 
There is no publicly available information on the effectiveness of such a move in boosting the EU's recycling rates.
This will, together with other impending measures and implementations, certainly create a truly circular ecosystem.
INDIVIDUAL RESPONSIBILITY
Singaporeans also need to play their part in boosting domestic recycling rates.
NEA's ubiquitous blue bins, which are located within proximity of HDB blocks, collect household recyclables, but 40 per cent cannot be recycled due to contamination by food and liquid items.
The Recycle Right campaign was initiated in 2019 to create knowledge on how to recycle correctly.
As part of the campaign, recycling labels were refreshed and plasters onto bins and chutes. The Bloobin mascot was introduced in 2022 to further boost awareness.
This year, every Singaporean household is allowed to collect a "Bloobox" at designated vending machines to contain their recyclables, where there is a compartment to separate their recyclable waste from electronic waste.
Some 530,000 "Blooboxes", of 93 per cent available, were collected when they were made available to the public from March 19 to April 30.
It would be useful to understand how this initiative impacts Singapore's domestic recycling rate in approximately a year, which is deemed a reasonable timeline to judge its efficacy.
These practices have been seen in neighbouring Asian countries like Japan and Taiwan, and they have boosted domestic recycling rates quite significantly.
But last-mile delivery for recycling remains a concern in Singapore, as the responsibility lies on households to segregate at source and bring down the "Blooboxes" to the recycling bins and chutes to be collectors by waste management companies.
At present, without incentives, it is hard to comprehend what would spur an individual to do this.
Efforts around domestic household recycling must be premised around incentivisation, convenience and more efforts to reduce source contamination as much as possible.
For now, the success of the Recycle Right and "Bloobin" campaigns remain to be seen. 
But more should be done to maximise its prospects for Singapore to reverse the decline in recycling rate, meet its long-term recycling targets and enable a more circular economy.
ABOUT THE AUTHOR:
Kavickumar Muruganathan is a sustainability professional and part-time lecturer at the National University of Singapore on environmental economics and sustainable development.