Commentary: How to protect seniors and kids from online harms? First, walk the talk
Last year, the top three common scams involving seniors aged 60 and above in Singapore were phishing scams, social media impersonation scams and investment scams. Equally susceptible to online threats are children.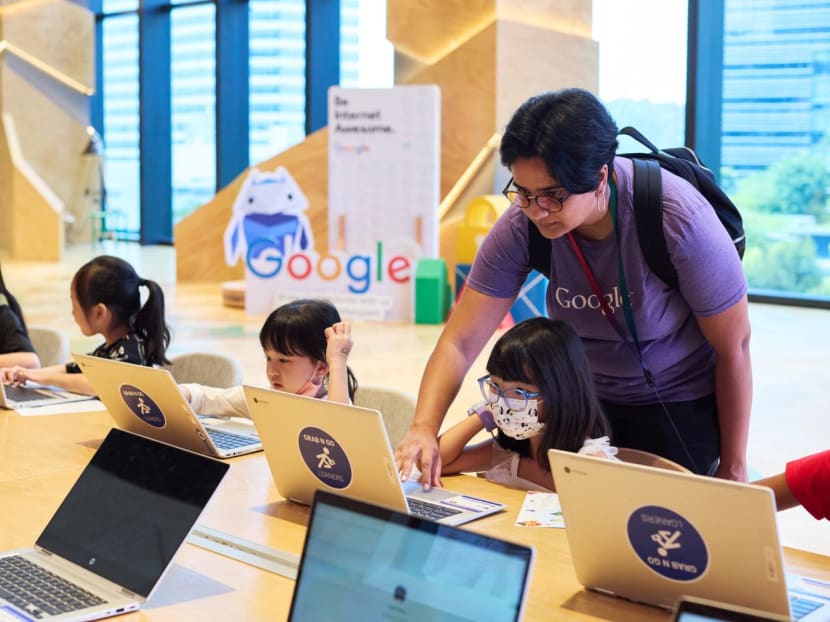 Last year, the top three common scams involving seniors aged 60 and above in Singapore were phishing scams, social media impersonation scams and investment scams. Equally susceptible to online threats are children.
According to a 2022 Google-commissioned survey, local parents remain most concerned about online grooming, privacy and security, as well as cyberbullying when it comes to online safety for their children.
While we recognise the benefits of technology, we are also acutely aware that digital platforms can introduce new online risks and concerns — especially among the vulnerable.
Research has shown that harmful online content and scams often cause both short and long-term distress for individuals who experience it.
The Singapore Government is also stepping up its efforts with the recent tabling of a new Bill to protect the younger generation from harmful content online.
But what more can we do to ensure kids and seniors have a safer experience online and effectively engage them in online safety education?
FORGE THE RIGHT PARTNERSHIPS
No one organisation can tackle the issue of online safety alone.
Instead, it's far more effective for the public sector and private companies to come together and combine their strengths, expertise, and resources to address this broader societal issue.
Tech and financial organisations, for example, can partner with local non-profits — such as Touch Community Services and other grassroots organisations — to reach the elderly and engage the community through interactive workshops about cybersecurity and scams.
Public-private partnerships can also be effective in reaching everyday people.
For instance, Google Singapore is currently in partnership with public agencies such as the  Infocomm Media Development Authority (IMDA) and the Media Literacy Council, to bring our Online Safety Park and Be Internet Awesome programme to more schools and community spaces with the goal of training 50,000 children and parents on the essentials of online safety.
Scaling these initiatives through strategic partnerships can be more effective than going at it alone.
TAP THE MULTIPLIER EFFECT
While teaching online safety skills is critical, we should also find opportunities to grow a pool of online safety champions who can help reach as many people as possible, as quickly as possible.
I personally like to think of this as the multiplier effect, where we can rely on these advocates to amplify online safety tips to reach more individuals.
A good example we've seen is in schools like CHIJ Katong Convent and West Grove Primary School where, beyond cyber wellness classes, teachers appoint selected students to be cyber wellness ambassadors to help fellow students in their online safety education journey.
Similarly, organisations like RSVP Singapore currently take the train-the-trainer approach where senior volunteers who are passionate about teaching others are engaged to run training sessions on how to use e-payments and other digital tools safely and securely.
Digitally savvy youth in Singapore, too, are proactively promoting online safety and initiating discussions on this topic within the community.
This has prompted organisations like the National Youth Council (NYC), for example, to collaborate with the Ministry of Communications and Information to hold a dialogue last year to identify ways the government can help address online safety.
Efforts like these could empower more Singaporeans to be a positive influence and advocate for cyber wellness not just for themselves but others around them at home, in schools and within their communities.
ONLINE SAFETY EDUCATION GOES BOTH WAYS
According to Google Singapore's recent survey on online safety, the average age where an adult speaks to a child about online safety for the first time is 13 years old.
This is a full three years after the average age for cell phone ownership, which sits at 10 years old.
In addition, the survey also found that while 70 per cent of Singaporean parents feel confident that their child is well-informed about online safety issues, only 36 per cent of parents have actually had a conversation with their child about online safety.
This false sense of security can be dangerous, and there is a clear need for parents to do more to kick off these conversations with children. Online safety conversations are important and need to happen continuously — not just once.
But online safety education should go both ways. The survey found that only 29 per cent of parents surveyed had themselves proactively looked for information about online safety.
Just as we educate children about safe online habits, parents also need to stay well-informed of the tools available for them and online trends, so they can have more meaningful conversations about digital safety, as well as introduce tools to help kids build healthier online habits.
The online landscape is constantly evolving, and we all need to constantly be educating ourselves along with it.
To keep abreast of the latest online safety related topics, tips and tools, there are a couple of free and helpful platforms such as Be Internet Awesome, Google Safety Centre and IMDA's Digital Wellness site that parents and family members can visit.
Teachers, too, can continue to play an active role in this journey, since young children spend a bulk of their weekdays in school.
The greater emphasis on Cyber Wellness in the Ministry of Education's refreshed Character and Citizenship Education curriculum earlier this year is a significant step.
And we're seeing more schools running annual cyber wellness programmes with different themes to expose students to different areas of online safety.
Most importantly, this has enabled schools to create an environment where students feel safe talking to their teachers about the topic.
The internet was invented to be helpful — and it takes all of us to keep it that way.
While we might not be able to stop every bad actor, just like how we cannot prevent all crimes in the real world, we can all learn to be smarter and make more informed decisions online.
ABOUT THE AUTHOR:
Ben King is managing director at Google Singapore.