Commentary: How a Tharman presidency could boost Singapore's international branding
With his resounding victory, Mr Tharman Shanmugaratnam's upcoming term as elected President could take Singapore's brand to a whole new level.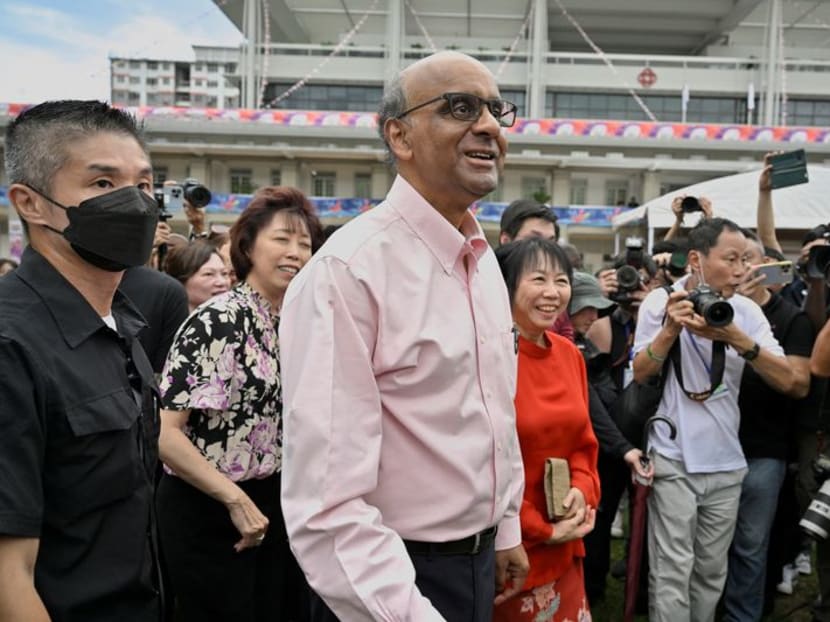 With his resounding victory, Mr Tharman Shanmugaratnam's upcoming term as elected President could take Singapore's brand to a whole new level.
First, all nation brands boil down to key attributes. On the character of society, multiculturalism is what I consider brand Singapore's foremost X factor.
Internationally, this is noteworthy, with Singapore being so open to the world. This applies to trade and investment, tourism, and especially immigration, given the relatively higher rate here of welcoming new citizens.
That voters so overwhelmingly embraced, or overlooked, Mr Tharman's Tamil ethnicity reinforces the uniquely Singaporean culture of co-existence and compromise — something that is under severe threat in some societies.
As the 70.4 per cent margin proves, race is so clearly not an obstacle for Singaporean voters — who are themselves increasingly multicultural, given social trends such as a rising rate of intermarriage.
The picture that Mr Tharman and his wife, Ms Jane Yumiko Ittogi (whose parents are Japanese and Singaporean Chinese), will present to the world will build on President Halimah Yacob's already exceptional term since 2017 projecting Singapore's multiculturalism as a Muslim woman who wears a tudung.
This will add to even more awareness of Singapore's other facets of human heterogeneity — for example, being already known as the most religiously diverse country, according to surveys by the United States-based Pew Research Center.
THE COMPLEX NATURE OF POLITICAL STABILITY
Second, on governance, that Mr Tharman could win over the middle ground so substantially reinforces Singapore's reputation of political stability.
Such predictability has seen consistent brand delivery since 1965, in a manner that is not only effective on the ground, but also sustainable because it is self-renewing. This must be the envy of other political systems that grapple with gridlock, regular regime change, or even revolution.
The key to this is less obvious — the true nature of a consistently pragmatic, rational electorate, which may well be a political facet of being kiasu (Singlish for "afraid to lose out").
Mr Tharman scored so well because of his 22-year track record in government — or, in spite of previous close links to the ruling party, depending on who you ask.
For instance, some who voted for him might have felt resigned that a spoilt vote protest would ultimately be futile and wasted against a one-party dominant system, that is also, crucially, able to adapt quite quickly, if necessary, to retain ground support.
Instead, they might have calculated to give their vote — grudgingly, some say — to the one among the three candidates most able to stand his ground with the ruling government, and so, to try to effect change over the next six years.
Also, voters here seem relatively less susceptible to temptations such as calls to nativism, being more resilient against the rising misinformation and polarisation seen elsewhere.
This is mostly because of Singapore's level-headed "town hall" of society, its capacity for managing the dominant public discourse. 
Some might say the limiting factors here include traditional constraints on all forms of media, and freedom of speech in general, in an unlevel playing field with regulations like those around the elected presidency.
These are perceptions lingering from Singapore's past, being seen as a "nanny state" — which is its main "brand keloid", a term I coined to mean a scar on a country brand that is not easy to remove, because some preconceptions stick like chewing gum (pun intended).
But critics with such prejudices would need to analyse further the expanded room for manoeuvre on social media that is available nowadays, which was widely used during these hustings by all candidates, supporters, and commentators.
ELEVATED STANDING ON THE WORLD STAGE
Third, on forging global networks, Mr Tharman's new stature as head of state will surely elevate his future participation in international fora.
This is especially so as one of his campaign pledges was to "promote Singapore's interests… in an increasingly turbulent world" and to "work actively to strengthen our existing partnerships and build new ones".
Drawing on his experience, expertise and extensive relationships with other world leaders and experts, he can boost Singapore's reputation even further in intellectual leadership, and in building bridges and networks among nations and international groupings. 
This would be a vital contribution to a world increasingly threatened by ideological divides and geopolitical tensions.
The cliched boxing analogy of Singapore "punching above its weight" as a small state resonates with Tharman the sportsman, but Tharman the poet could surely come up with a less combative metaphor for this new phase, as he ups his game in further enhancing Singapore's standing among nations.
And so, will a Tharman presidency bring any downsides for brand Singapore?
The most significant of these is if the perception persists that Mr Tharman, beneath it all, is still too closely connected to the ruling party. Hints of this can already be gleaned from initial reactions in foreign media.
Such scepticism is something Singapore's ninth President will have to dispel, from the way he fulfils the responsibilities of his office, and how he draws from his very strong mandate to maximise opportunities to realise his campaign promise of "respect for all".
For now, this election result is, as he says, "a vote of optimism for the future" — holding more pluses than minuses, overall, for the Singapore brand.
ABOUT THE AUTHOR:
Koh Buck Song is an author and editor of 40 books including "Brand Singapore". He also lectures on country branding at the Lee Kuan Yew School of Public Policy.