Commentary: I never experienced pre-Covid normal office life. Am I ready for its return?
I was working on an article about Malaysia's reopening in April, when I needed to debrief my editor.
I was working on an article about Malaysia's reopening in April, when I needed to debrief my editor.
If we had been in our work-from-home arrangement, I would have already sent him a quick message across our online workplace application Slack and scheduled a call.
But instead, I spent five minutes contemplating whether I should walk over to his desk or message him — and deciding on the latter.
To my embarrassment, he walked over immediately and asked why I didn't just walk over, and I didn't dare admit I wasn't sure if it was appropriate.
No, I do not have a bad case of social anxiety. It might sound bizarre, but hear me out — it was the first time I've set foot in the office to work.
For the past two years, the Covid-19 pandemic forced us into what we once would have thought to be dystopian.
We were cooped up at home and eventually realised that our daily commute might not be necessary as some can work from home. Social functions were limited to small groups, making it difficult to meet new people beyond our existing social circles.
And for fresh graduates such as myself, Covid-19 robbed us of the basic function of learning how to operate in an office.
We've done everything online from home, be it our studies, lectures or internships. For us, working from home is the norm in our preparation for adulthood.
However, with offices able to function at full capacity with masks-off in certain settings and group size limits removed since April 26, some say we're returning to normal office life. 
But for those that have never experienced the pre-Covid normal, our "normal" is slowly about to disappear.
RUNNING BEFORE YOU WALK
Having completed my last two years of university from home, it also meant all my internship experiences were on a work-from-home basis.
It's akin to learning to run, before you can even walk.
While I learnt how to walk the ground through the advice of my colleagues and editors over messages and phone calls while interning at TODAY in 2020, I never had the chance to build up basic interpersonal skills — such as how to start a conversation with my colleagues — or learn what the work culture is like.
As a journalist, approaching strangers to ask for their comments has become second nature with practice over time. But speaking to my colleagues is another ball game altogether.
When is it appropriate to start a conversation? And if they're speaking to other colleagues, is it appropriate to jump in?
Our newsroom has a hotdesking policy — meaning wide open offices with no cubicles, and no fixed seats for each person. With that, conversation flows easier as you don't have a physical barrier blocking you.
But if we had been working from home, I would have just sent a message which would get a reply at the other party's convenience. Now, conversations may flow freely, but how do you start one without intruding into their work?
There's an additional layer of awkwardness, having only known some of my colleagues for months by just their profile pictures on Slack, assuming they had one.
Thankfully, my social skills with my colleagues are tested only once a week with our current hybrid work arrangement.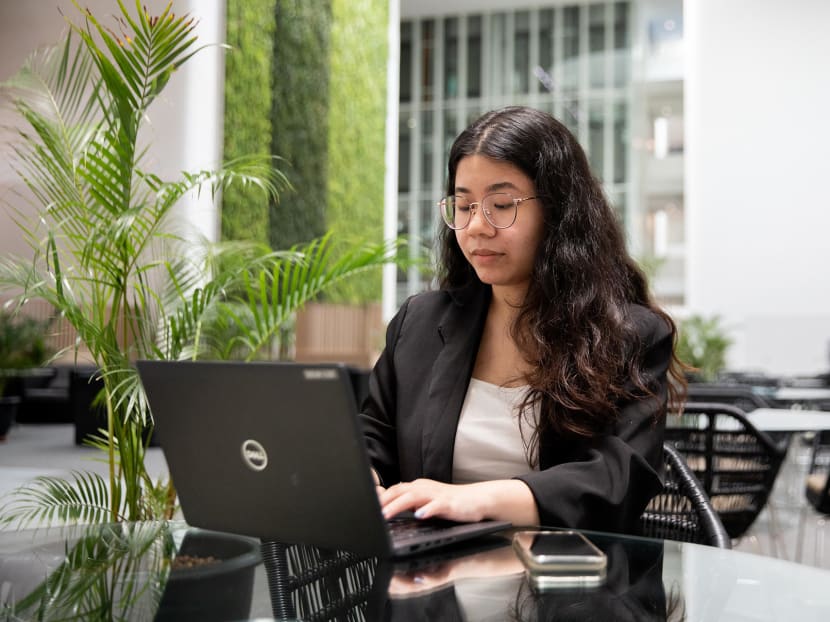 PREPARING FOR A NEW NORMAL
With it being a month plus since all workers have been allowed to return to the workplace with masks off, I've learnt how to pick up on small social cues during the seven times I've set foot onto the Mediacorp campus.
For one thing, the pantry is free flow, no need to feel paiseh (embarrassed) about taking a snack, or two. Or maybe three.
I've also come to better discern when it is appropriate to start a conversation with my colleagues. For some colleagues, if their brow is furrowed slightly and they are typing furiously on their computers, it's a sign to not approach.
But if they're scrolling on their computers, or maybe just typing occasionally, it is usually okay to approach — and if they're busy, they'll say so.
And if any colleague approaches for a chat, it's alright to say that I'm held up with something, and there's no need to be pressured by a person's seniority to say yes all the time.
Aside from that, being in the office has helped me hone my journalism skills, since I'm able to ask for advice from my colleagues, and learn from them while watching them work.
My colleague also penned his thoughts about starting his first job the pandemic, where he highlighted how much easier it is to adapt to a new environment when you're immersed in it.
But while spending more time has helped me to better adapt to office life, I will still cherish the joys of my "normal" work-from-home schedule, which does not involve two-hour cross-country commutes to work.
Plus, my "normal" of working from home has its merits too, such as having fewer worries about my colleague's perception of me, and needing to doll up only when I have an assignment outside the comforts of my home.
Perhaps these concerns would not exist should I have had the chance to work from a newsroom physically from the outset. But for now, I foresee lamenting the eventual loss of my "normal". 
ABOUT THE AUTHOR:
Loraine Lee joined TODAY as a journalist in March 2022, and covers the housing, environment and education beats.