Commentary: It's okay for men to cry in public, as long as the emotions are real
If an emotional reaction reflects not just the moment or occasion, but also an individual's character, personality and values, then it is likely to resonate with the majority of people. Conversely, if it is put on or a show to arouse sympathy or other reactions, most people these days are savvy enough to tell the difference, and the whole exercise could backfire.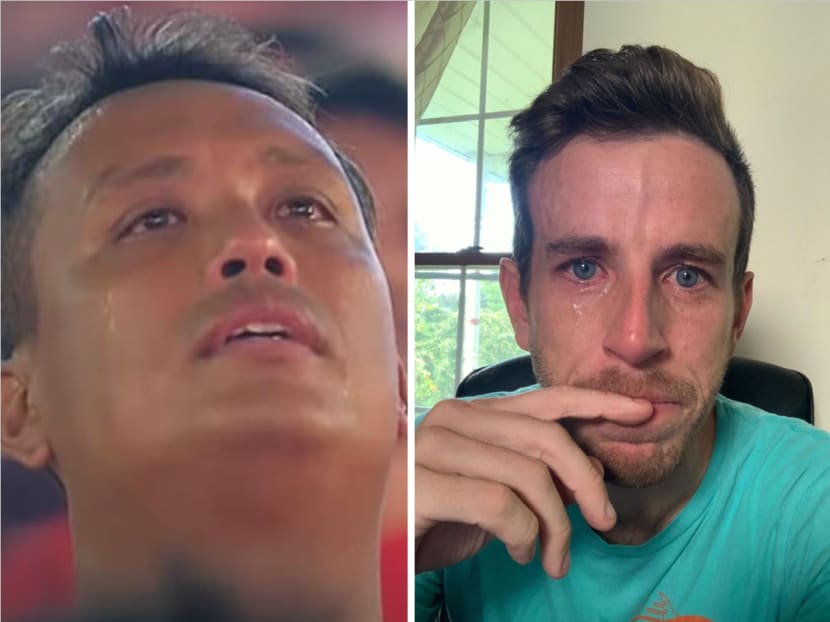 When I caught sight of Mr Azuan Tan with tears streaming down his face while singing the national anthem at this year's National Day Parade (NDP), I immediately remarked to my wife that I knew exactly how he was feeling.
I myself have gotten teary-eyed during the anthem when attending previous parades.
So while I was watching it on television this year, I could relate to the emotions welling up within the school teacher, which resulted in his rise to internet fame thanks to the cameraman who picked him out in the crowd.
Deputy Prime Minister Lawrence Wong has highlighted that visual as one of the "iconic" images of this year's parade.
OTHER CRYING MEN
But the public reaction over Mr Tan's crying has also cast the spotlight on an age-old question: Should men cry in public in our society?
Besides Mr Tan, who's been dubbed the "Crying NDP Man" by some, there have been other recent examples of men behaving tearily.
Earlier this week, Mr Braden Wallake — chief executive of United States marketing agency HyperSocial — put up a post on professional networking platform LinkedIn along with a teary-eyed selfie reflecting his guilt about having to lay off employees in his company.
In the viral post, he even coined the phrase "the crying CEO" in reference to himself after the post went viral.
In March 2020, DPM Wong, who was then National Development Minister, teared up in Parliament as he thanked healthcare workers and other Singaporeans for helping to fight Covid-19.
He is not the first leader to choke up publicly. Prime Minister Lee Hsien Loong has himself been overcome with emotion during previous National Day rallies and other speeches, when talking about difficult or emotive issues affecting the country.
As I have shared earlier, I am also personally not adverse to crying myself when emotions well up, regardless of whether it's in public or in the privacy of my own home (K-dramas often get me when I least expect it).
BREAKING WITH STEREOTYPES
The sight of publicly crying men captures our attention as the act is still seen to run counter to the traditional gender stereotypes of men being strong and silent, while women are expected to be more prone to wearing their hearts on their sleeves and displaying emotions openly.
This is especially the case in Asia, where more conservative eastern values suggest that patriarchs be more reserved and judicious with exhibitions of emotions, compared to more liberal western values.
These are of course generalisations, and we have seen a shift away from these over the years. In the 1980s and 1990s, we observed the rise of the Snag, or the Sensitive New Age Guy, who was succeeded by the "metrosexual".
These were preceded of course by the ideal of the "renaissance man". While this concept continues to evolve, at heart it references a type of masculinity that is more multi-dimensional compared to the strong silent types of yore.
This raises the possibility of the oft-maligned notion of "toxic masculinity", normally associated with negative traits such as misogyny and emotional repression, being replaced by "positive masculinity", which is the idea that men can be emotionally expressive without feeling emasculated.
This propensity to show how we feel, as opposed to bottling it up, resonates in today's environment where mental and emotional health and well-being are becoming core priorities among many demographics of society.
OTHER FACTORS AT PLAY
There are other factors which could have triggered the pronounced reaction over Mr Tan's spontaneous emotional display.
The pandemic meant that a full-on parade had been missing from public consciousness since 2019, which could have led to pent-up patriotism seeking an outlet.
This year's programme also highlighted the many trials and tribulations we collectively as a nation have gone through, and the sacrifices made by all Singaporeans, and in particular our front-line workers and medical professionals.
Speaking to others who had attended this year's parade, I know for a fact that Mr Tan was not the only one in the audience who cried, and many of them more than just once.
There is also a growing sense of support among younger members of society who want to see more emotional vulnerability from their leaders and bosses, and not just firm conviction and self-belief when it comes to tough choices or critical decision-making.
This can have the effect of making people in positions of power more relatable and empathetic to those they lead, which can in turn create a more warm and inclusive culture and atmosphere among teams and organisations.
TO CRY OR NOT TO CRY?
Coming from the communications and public relations sector, I have mixed feelings about whether men should take every opportunity to share their emotions with the public, exposing vulnerability through something as raw as the unfettered shedding of tears.
Having been asked by clients previously on whether such displays of emotion are advisable, my recommendation is that there are appropriate times and places for such displays, but that they must always come from a genuine and authentic source.
If an emotional reaction reflects not just the moment or occasion, but also an individual's character, personality and values, then it is likely to resonate with the majority of people.
Conversely, if it is put on or a show to arouse sympathy or other reactions, most people these days are savvy enough to tell the difference, and the whole exercise could backfire.
To be fair, this principle would apply to women in similar situations, but it does appear that the stakes are higher for men, given the prevailing societal stereotypes today.
And with the propensity for such issues to go viral, the net effect is likely to be disastrous in the longer term, as Mr Wallake may find out.
Already, he has been lambasted for his LinkedIn post as being "self-indulgent" and "tone deaf", especially when it comes to a decision he made that resulted in many of his "beloved" employees being laid off during a difficult time for the global economy.
Putting aside such risks and assuming that any such public displays of emotion are sincere and real, there is a case to be made for encouraging men in general to be less guarded when it comes to their real emotions.
Current and future generations are likely to continue being confronted by various forces such as the ubiquitous use of technology including digital and social media in our increasingly busy lives which make authentic human connections harder to achieve.
As such, anything that can contribute to a greater sense of empathy between all of us, and between ourselves and our leaders, should be encouraged. In that light, showing our emotions help to humanise us and make us more relatable to one another.
Mr Tan said that while he was a little embarrassed by the public attention, he also hoped he would be a role model for his children when it came to being proud of their country, and a patriot at heart.
If he can also be an example of how we can be unafraid to show what we genuinely feel inside at the right time and with the right intentions, perhaps he should be a role model for all of us as well.
ABOUT THE AUTHOR:
Nicholas Fang is the founder and managing director of strategic communications consultancy Black Dot. He is a former journalist and Nominated Member of the Singapore Parliament.