Commentary: Sers an increasingly tricky balancing act between flat owners and Government
The Selective En bloc Redevelopment Scheme (SERS) exercise for Blocks 562 to 565 Ang Mo Kio Ave 3 drew some flak recently.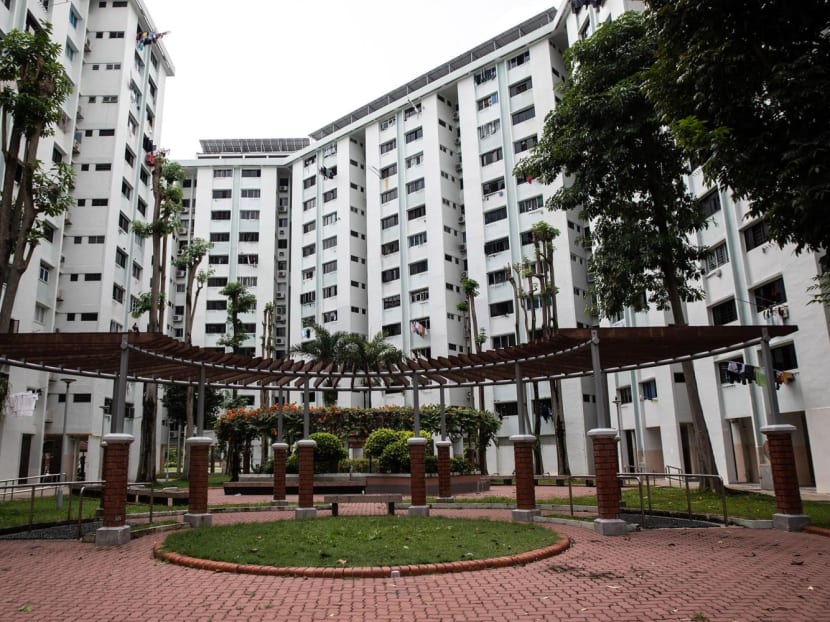 The Selective En bloc Redevelopment Scheme (Sers) exercise for Blocks 562 to 565 Ang Mo Kio Ave 3 drew some flak recently.
Some affected homeowners were dismayed to find that they needed to fork out up to $100,000 if they were to move to a replacement flat of the same size.
Most of these owners are seniors. Some retired owners may not have the financial means to top up. Some older residents also did not want a fresh 99-year lease for their new replacement flats.
These grievances, ranging from compensation sum, and size of replacement flats, to anxiety of displacement from familiar environments and neighborhoods, were common in many past Sers.
The Ang Mo Kio Sers saga is a mirror of the balancing act between affected flat owners who press for higher compensation and the Government, which needs to ensure the compensation is fair to other taxpayers and future generations, and reserves are not expended.
It is also a harbinger of how striking a balance could become harder as the value of existing flats selected for Sers depreciates over time, thus widening the gap between these flats and replacement units.
TWO NEW OPTIONS
Following the public outcry, the HDB is now offering two new options.
It will offer three-room or larger flats on a 50-year lease at the designated replacement site if affected owners are at least 45 years old at the Sers announcement. The second option is similar to the Lease BuyBack scheme (LBS) that lets owners aged at least 65 years buy a replacement flat with a shorter lease, and sell the balance lease on their flat back to HDB.
The two options, which will apply to future Sers exercises, are likely to appeal to homeowners, especially the retired ones, who prefer similar floor areas without the top-up. Nearly all the 540 Ang Mo Kio Sers flat owners aged 45 years and above would not have to top up any money if they opt for a similar-sized replacement flat on a 50-year lease.
The Sers flat owners are not shortchanged in the process because the remaining lease of the current flats is comparable to the 50-year lease when they collect keys for their new replacement units.
However, the shorter-lease option is not so palatable for homeowners who hope to see significant appreciation in their flat value in the future. The upside is capped for those who choose the 50-year option compared to other owners who opt for brand-new 99-year flats.
The CPF rule changes effected in May 2019 allow buyers to use CPF savings to purchase HDB flats and private properties with a shorter remaining lease, but the lease must be able to cover the youngest buyer up to the age of 95. The revised CPF rules also cap the loan limit of buyers of older flats depending on the years of CPF withdrawals.
Like other older flats, these replacement flats with a 50-year lease may appeal more to a smaller segment of older buyers who could meet the CPF rules in financing housing purchases.
MARKET VALUES OF NEW 50-YEAR LEASE FLATS
Also, new flats with a 50-year lease are a new flat type with no comparables in the Build-To-Order (BTO) market. It is thus essential to apply a fair approach to determining the market value of new 50-year leasehold flats.
The discounted cash flow method, widely used to determine the leasehold value of income-generating properties, is not appropriate for public housing flats that are primarily owner-occupied. The market comparison method is most applicable to pricing BTO flats, but this method requires sales evidence of a similar flat type with the same lease term.
However, no transaction evidence of new flats with a 50-year lease is available in the market. If older flats with a balance of 50-year lease were used for comparison, licensed valuers would need to find ways to adjust for the price differential between the new and old flats.
A quick analysis of the 2022 resale activities in Ang Mo Kio shows a relatively lower resale volume for older flats with a balance lease of below 57 years. The median resale prices of these resale transactions were around $400,000.
However, the median prices of comparable four-room flats are significantly higher at $705,000 if the balance lease is 69 years or more (Figure 1). Licensed valuers will need to make a professional judgment on what will be a fair depreciation value for a 50-year flat.
TRADE-OFF FOR SERS FLAT OWNERS
In order to ensure that Sers does not strain the Budget or compromise the reserves, HDB is likely to be constrained to offer compensation higher than the market value by offering flats of the same size or larger in more central locations with a full 99-year lease.
Hence, it tries to mitigate the unhappiness by offering owners different options by varying tenure, area, and location. While the replacement flats may not fulfill all the Sers flat owners' expectations, the long-term upside could offset the initial pain caused by displacement.
Most Sers flat owners were better off by reaping financial gains from re-housing options and benefits. In the example of Sers in Hillview Avenue in 1999, affected five-room owners received compensation ranging from $265,000 to $300,000, while the old five-room flats ranged from $215,000 to $261,000.
Some of these owners sold their five-room replacement flats in 2007, and the average resale price for the replacement flats was about $401,000 in 2007. Using the upper limit of $261,000 for the previous five-room unit as our base, owners will have gained S$140,000 then.
In a recent resale transaction of a five-room Sers replacement flat in Block 96A Henderson Road in May 2022, the Sers owners sold the flat for a record price of $1.4 million. The affected owners moved into the replacement flat barely four years after their Redhill Close flat was selected for Sers in 2011.
Based on the BTO prices of between $640,000 and $757,000 for a five-room replacement flat in the Henderson Road precinct, the affected owner, like many other Sers owners, may have received substantial resale gains to more than offset their rehousing costs, including cash top-up if any, renovation and moving costs.
In comparison, four-room flats of 92-93 sqm in size and with more than 90 years remaining lease in Ang Mo Kio were transacted at an average of $849,000 in the resale market in 2022. Looking ahead, affected Ang Mo Kio Sers owners who choose comparable replacement HDB flats with a 99-year lease could expect to reap some gains if resale market conditions remain unchanged in future transactions.
Nevertheless, gains are likely to be smaller for replacement flats with a 50-year lease. Hence, the owners have to weigh their options based on their needs and investment returns.
NO ONE IS LEFT BEHIND
In land-scarce Singapore, redevelopment of older housing estates is an integral part of the urban renewal process to ensure that land is optimised to meet the growing demand for different uses.
The Government, via Sers, helps rejuvenate not just deteriorated physical structures but also injects more life by bringing more young families back to mature estates. Increasing the housing density near these amenities and facilities, such as MRT networks and stations, is also a more efficient way to justify public infrastructure investments.
However, the redistributive effects should not be made at the expense of affected Sers flat owners, who should be fairly compensated through the re-housing options and benefits. With the two new options, financially constrained older owners could better navigate through Sers with less financial disruption in the immediate term.
But should Sers residents enjoy a generous windfall while those non-Sers flat owners are denied such gain? Therefore, the Sers compensation and rehousing package, funded from the government coffers, should also not overly burden other taxpayers.
It is not an easy balancing act for the Government, but at least, in the Sers-induced urban development process, no one in the society should be left behind. 
ABOUT THE AUTHORS:
Dr Lee Nai Jia is deputy director at the Institute of Real Estate and Urban Studies (IREUS). Professor Sing Tien Foo is director at the same institute at the National University of Singapore (NUS). The views and opinions expressed here are those of the authors and do not represent the views and opinions of NUS, its subsidiaries, or affiliates.