Commentary: To tackle food security, Singapore needs to revolutionise urban farming and raise a new generation of farmers
The world faces a critical challenge in feeding its growing population, which crossed the 8 billion mark in 2022.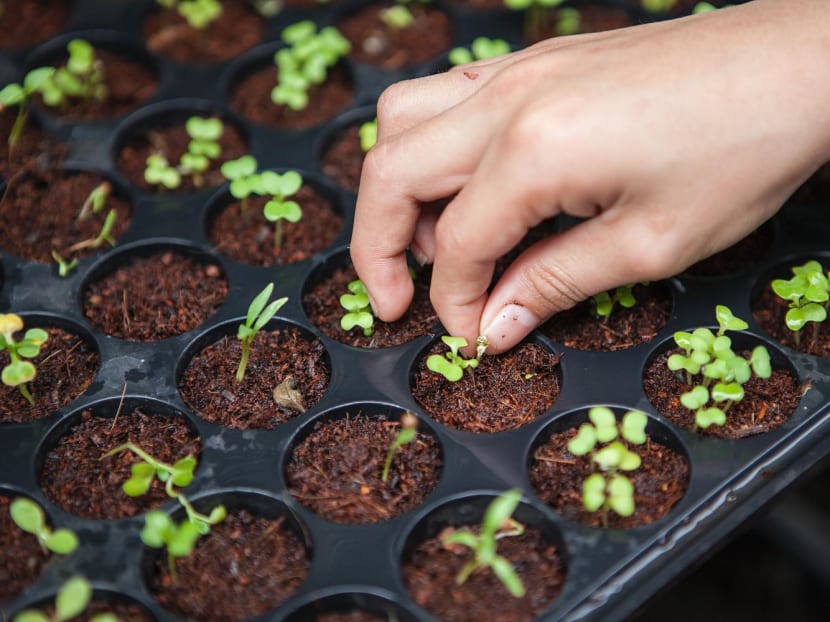 The world faces a critical challenge in feeding its growing population, which crossed the eight billion mark in 2022. 
The excessive use of fertilisers during the 1960s, which was part of the green revolution that helped increase food production and meet the demands of a growing population, is unsustainable and has led to barren lands and contaminated groundwater. 
Genetic modification of crops may lead to higher yields, but public acceptance is still unclear. 
With climate change and the shrinkage of arable lands, there is an urgent need for scientists and farmers to work together to find disruptive and sustainable solutions to ensure access to safe and healthy food. 
THE RACE TOWARDS STRONGER FOOD SECURITY IN SINGAPORE
In the Asia Pacific region, the number of people living in urban areas is expected to reach over three billion by 2050. This presents significant challenges for food security as urban areas — such as Singapore — typically have limited land and resources for food production. 
In addition, given Singapore's highly developed economy, people may not have had exposure to agriculture and tend to pursue other less physically demanding sectors — such as business, technology and finance — that hold seemingly larger opportunities for career growth. 
To realise Singapore's vision of producing 30 per cent of its nutritional needs on local soil by 2030, the agricultural sector needs to be reinvigorated. 
Mindsets need to change, and the misconception that farming is low-tech and requires manual labour needs to be altered. 
As scientists work alongside farmers to modernise the industry, the development of new, technology-driven farming methods could help cultivate an urban agriculture landscape that will see increased yield, reduced food production costs, and make farming an attractive career and business option in urban areas such as Singapore.
For urban farming to be commercially viable and beneficial to society, its key challenges must be resolved. 
In most farms, monitoring crop growth conditions is still limited to the measurement of external environmental factors such as temperature, pH and humidity. 
Innovative tools could transform how farmers screen for and mitigate plant stress and diseases, potentially increasing crop health and yield. 
Traditional farming has existed since the beginning of human civilisation. For decades, to ensure access to affordable food, many countries maintain strategic collaborations, well-crafted policies, trade support and subsidies. 
As a relatively new industry, urban farming lacks the support and ecosystem that is vital for it to thrive. 
Yet, as its importance grows, existing systems must be reassessed and new support structures created to enhance urban farming's viability and competitiveness and bring it on par with traditional farming. 
SCIENTIST-FARMER COLLABORATIONS
Scientific insights and technological breakthroughs have the ability to disrupt and propel industries and societies forward in ways unimaginable. 
The vision to create a new generation of tools to revolutionise urban farming is one of the key goals of the Disruptive and Sustainable Technologies for Agricultural Precision (DiStap) interdisciplinary research group (IRG). 
It is one of three IRGs within the Singapore-MIT Alliance for Research and Technology (Smart) — MIT's research enterprise in Singapore, which is supported by the National Research Foundation Singapore under its Campus for Research Excellence and Technological Enterprise. 
DiStap works closely with the Temasek Life Sciences Laboratory (TLL), bringing together engineers from MIT led by Professor Michael Strano and plant biologists in Singapore led by Professor Nam-Hai Chua. 
MIT experts in Raman spectroscopy — where scattered laser light interacts with chemical bonds of different molecules providing molecular information and distinct chemical fingerprints of samples under investigation – nanosensor technology, micro-injection and artificial intelligence (AI) assisted analytics to develop the technology and analytical tools. 
TLL experts in plant stress biology, genetics, gene editing and agrochemical treatment, validate the technology in plants for commercial translation. 
Having worked alongside farmers to better understand the constraints of traditional farming methods, DiStap has been developing a concept of using optical tools and sensors to extract biochemical information from living plants non-invasively, and nanotechnology-enabled molecular recognition for real-time sensing and measurement of plant signalling hormones and stress responses. 
Recently, they have developed the first-ever nanosensor that can detect and distinguish gibberellins (GAs) — a class of hormones in plants that are important for growth. 
This nanosensor has been validated in laboratory and greenhouse conditions, and will soon be deployed and tested in commercial urban farms. DiStap plans for the technology to be widely available to farmers within the next two years. 
These sensors allow for the study of GA dynamics in living plants at an early stage, and the data could then be analysed using advanced AI, allowing farmers to precisely address possible plant injury, infection, heat and light damage. 
This forms a closed-loop feedback control, a central concept in DiStap's vision, to aid farmers in enhancing crop yield and quality. 
DiStap and its collaborators have also designed and validated the world's first microneedle-based drug delivery technique for plants, and are further developing the technique and silk microneedle design into a scalable model for manufacturing and commercialisation in the next two years. 
This method allows the administration of controlled amounts of agrochemicals to specific plant tissues for research, crop quality improvement and disease management. 
Partnering with local and international urban farms, these novel tools are tested in field conditions to be constantly refined towards real-world implementation, while sometimes leading to the development of new techniques. 
A NEW GENERATION OF FARMERS
While the urban farming industry remains fragmented with varying degrees of technological adoption, the future of food security will be shaped by continued collaboration between scientists and farmers. 
Driven by advances in technology, farming will no longer be a job for hard labourers, but will attract skilled professionals passionate about sustainable agriculture. 
As the perception of urban farming evolves, its interdisciplinary nature would allow individuals from different fields such as food science and technology, materials science, chemical engineering, computer science and biological science, to contribute to the industry. 
Training programmes dedicated to agritech, many of which have been launched by institutes of higher learning in recent years, will help to equip a workforce suitable for the industry. 
Additionally, the growing agritech ecosystem, which includes local research programmes and pilots akin to DiStap, is also contributing to the talent pipeline and nurturing the new generation of farmers. 
Apart from this paradigm shift, a technology-led approach to improving crop yield, reducing labour costs and increasing efficiency will make urban farming more commercially viable than ever before. 
Just as how Singapore has constantly overcome limitations and turned its vulnerabilities into strengths, the same opportunity lies within the area of urban farming. 
Driven by a country-wide vision to strengthen food resilience, while drawing on past lessons, Singapore's success in urban farming — and demonstrating how even one of the most densely populated cities in the world can have a thriving agri-food industry — could serve as a valuable blueprint for other cities worldwide. 
ABOUT THE AUTHORS:
Dr Gajendra Pratap Singh is principal investigator and senior scientific director and Dr Mervin Chunyi Ang is associate scientific director at Smart DiStap.