Commentary: Tharman's landslide win a boon for PAP 4G leadership
Like many Singaporeans, I was stunned by the margin of victory of Mr Tharman Shanmugaratnam in the Presidential Election.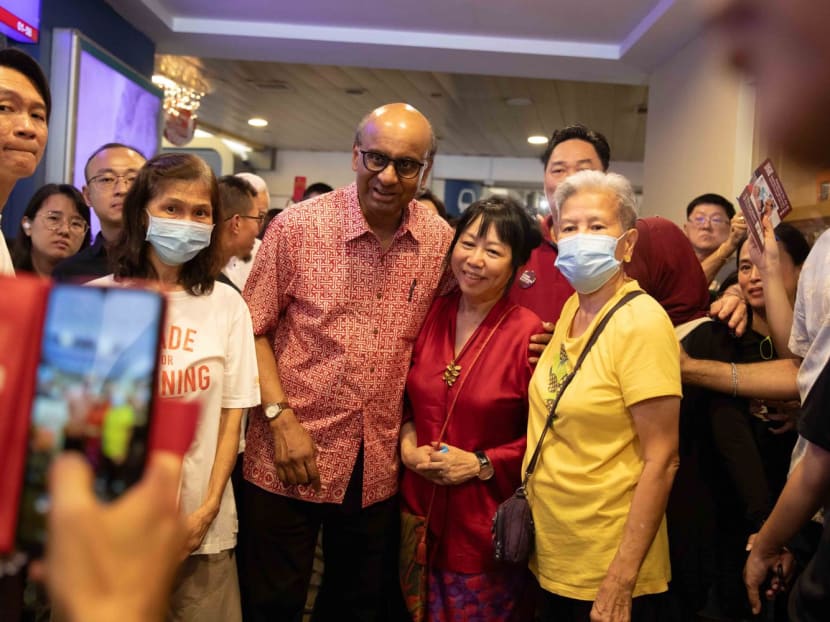 Like many Singaporeans, I was stunned by the margin of victory of Mr Tharman Shanmugaratnam in the Presidential Election.
I had heard many times in the lead-up to polling day that the race was "his to lose" given his obvious capabilities and experience domestically and internationally.
But this had also been juxtaposed against a number of factors that seemed to not be in his favour:
Recent scandals involving the ruling People's Action Party (PAP) to which he is inextricably linked
Unhappiness on the ground due to rising costs of living
A broad desire for a more open political scene in general
As such, the 70.4 per cent of votes cast garnered by Mr Tharman after more than 93 per cent of eligible voters cast their vote was even more significant.
The thumping victory showed that he had risen above the politically charged nature of this election and secured support from across the political spectrum.
SIGNIFICANCE OF LANDSLIDE WIN
The nature of his win and the win itself will have a number of other benefits for the Government, which will see leadership transitions in the next few years.
I wrote in a TODAY commentary in June when Mr Tharman announced his intention to run that if he won, it would be a boon to the new leaders of the country, given his stature and experience both as a popular parliamentarian at home, and a respected and recognised leader on the global stage as well.
His experience helming international organisations means that he will be able to step easily into the role of Singapore's flag-bearer on the world stage.
His financial and economic expertise will hold him in good stead when it comes to the custodial role of the presidency in protecting the reserves and overseeing key civil service appointments.
But there are other key areas where Mr Tharman will be able to contribute significantly as the President of Singapore in the years ahead.
RIDING THE 'THARMAN EFFECT'
Many political commentators have already hastened to attribute the landslide victory to what they call the "Tharman effect". 
This reflects his personal popularity as a politician for over two decades, his campaign message and his sincerity and earnestness during campaigning.
Other aspects of his character and personal life play a role too, including his wife, Ms Jane Ittogi, who was a popular figure during his campaign.
Observers also drew a line between this and any reflection on the ruling party, stating that the results showed Singaporeans had not treated the Presidential Election as a referendum on the Government or PAP.
The recent controversies include an extra-marital affair between party members and a Corrupt Practices Investigation Bureau investigation into Transport Minister S Iswaran, along with complaints about rising prices and long-standing unhappiness with PAP dominance.
Against the backdrop, Mr Tharman's win came in spite of his association with the establishment.
But the strong mandate he has secured could help the PAP in the years ahead, especially with a General Election (GE) to be held by 2025, and the transition to the fourth generation leadership looming as well.
Mr Tharman has never tried to cut ties in terms of his association with the PAP and his role in government. 
In fact, he has said that much of who he is today stems from his experiences walking the ground as a Member of Parliament, and from the different offices he has held as a senior Cabinet member.
His popularity as the overwhelming choice of Singaporeans to be their President could thus afford some reflected glory for the party. 
Already some commentators have said that his strong endorsement showed that PAP candidates could still be a popular choice if they displayed competence and capability, and an attractive character.
I wrote earlier that there was a risk that Mr Tharman's "independence of mind", an attribute which he highlighted during his campaign, could potentially lead to disagreements between him and the executive. 
He has sought to downplay the possibility of open conflict, saying after his victory that he intends to work closely with the Government. 
He will no doubt seek a smooth and collaborative relationship with his former colleagues in his new role while carrying out his duties as required, but his strong mandate can be seen as an endorsement from Singaporeans of his professed independence. There will be many who will be keeping a keen eye on this aspect of his Presidency.
At the same time, the way Mr Tharman carried himself throughout the Presidential Election could also serve as an example for many who seek to serve or are serving in public office.
The contest for the presidency was meant to be apolitical, but it turned at times fractious and saw the involvement of opposition politicians in Mr Tan Kin Lian's campaign.
There was also the ubiquitous online fights between different groups of supporters, some evidence of "internet brigades" deployed to flood the digital space with posts, comments and competing narratives, and even "dog whistling", or the use of specific terms to advance political narratives.
The clearest example of this was Mr Tan's use of the phrase "smear campaign" to describe objections to his social media posts on "pretty girls" whom he saw on his walks or commute, and comments on other races which seemed to upset netizens.
Mr Tharman managed to stay above the fray and true to his campaign message calling for "respect for all", stayed focused on issues rather than personalities, and championed for a fair and respectful campaign.
The fact that his approach resulted in a share of the vote that was more than double his two opponents' combined will hopefully give hope to those who wish for a mature and respectful political environment in Singapore, and inspire other politicians to follow his example.
UNITING SOCIETY
Another aspect of what Mr Tharman's presidency could prove to be like can be discerned from his own view about what the results mean. He said he would use the roles and responsibilities of the President to help Singapore advance a future of optimism and solidarity.
Of the support he received from voters, he said: "It's a vote of optimism for a future in which we can progress together and support each other as Singaporeans."
This rallying cry for the country and citizens to come together to support and help one another, while also working collectively to advance Singapore's competitiveness in an increasingly complex world, was a key feature of Mr Tharman's campaign.
His resounding win suggests that the messages resonated with a broad base of Singaporeans, which can be interpreted as an encouraging sign given the rise of contentious issues and divisive forces around the world. Singapore as a small and open multi-racial and multi-religious society is especially vulnerable.
If Mr Tharman continues to focus on this theme of uniting Singaporeans in positivity and respect, it can only make for a more cohesive society and reduce challenges which might otherwise plague the next generation of leaders.
I wrote in my earlier commentary that there was a risk that a President such as Mr Tharman might cast a long shadow on incoming 4G leaders trying to find their feet, such is his stature both at home and abroad.
I think that his astounding victory at the polls, combined with his track record as a team player and his pledge to seek to unite the country, will be soon more boon than bane for the rest of the leadership.
However, it definitely should not be taken as a signal to future leaders to lapse into complacency. "The Tharman effect" can certainly help, but it is not a panacea for all unhappiness in society, nor a guarantee for a similar outcome in the next GE.
ABOUT THE AUTHOR:
Nicholas Fang is a former Nominated Member of Parliament. He is the founder and managing director of strategic consultancy Black Dot, and director for security and global affairs at the Singapore Institute of International Affairs.