Commentary: Young architects have responsibility in creating 'green' built environment for next generation
A record-smashing heatwave has been blazing across South and Southeast Asia. Temperatures in Singapore soared up to 37°C in May — matching the highest recorded temperature in 1983, according to the National Environment Agency.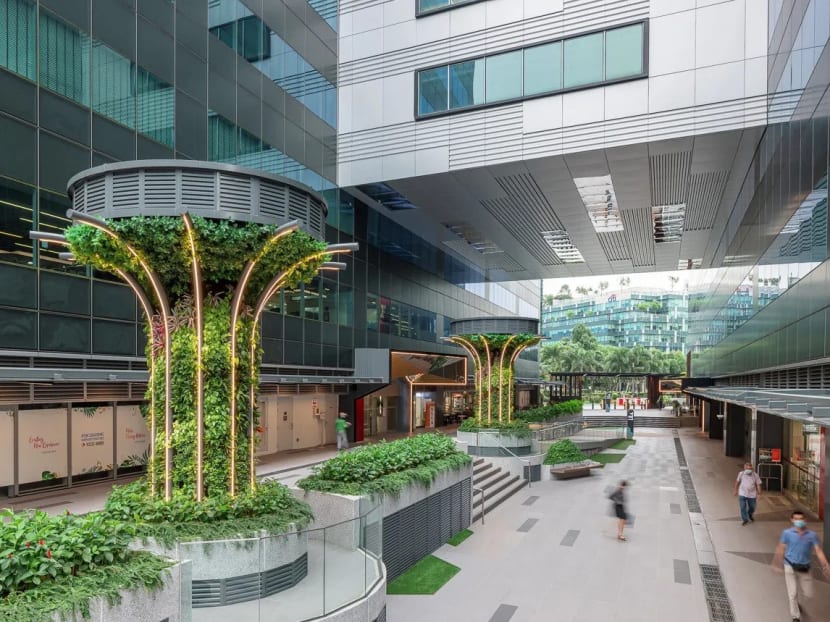 A record-smashing heatwave has been blazing across South and Southeast Asia. Temperatures in Singapore soared up to 37°C in May — matching the highest recorded temperature in 1983, according to the National Environment Agency. 
The unbearably warm weather can be attributed to the inter-monsoon season between April and May clashing with the ongoing El Nino phenomenon. 
Undeniably, human-induced global warming contributes to this as well, making heat waves last longer and at higher intensities. 
Our built environment also has a part to play in this as our urban structures such as buildings, roads and vehicles trap and release heat into the environment, causing what is known as the urban heat island effect, where the temperature in developed areas with high-rise buildings is much warmer than undeveloped rural areas. 
Clearly, the design of buildings and the planning of cities can do much to counter the climate crisis. With warmer days ahead, we need to find a way to mitigate the effects of climate change. 
Young architects who are our future urban planners and building designers have an important role in making Singapore a liveable and sustainable city to be in. 
ARCHITECTS KEY TO MITIGATING CLIMATE CHANGE
According to a report, the built environment is responsible for 40 per cent of annual global carbon emissions, and in Singapore, buildings account for more than 20 per cent of national emissions. 
This includes building operations as well as construction and infrastructure materials, also known as embodied carbon. 
Due to the long lifespan of buildings and infrastructure, urgent action is needed from the sector as emissions and polluting behaviours can linger, sustaining harmful impacts on the environment for years to come. 
Given that we spend around 90 per cent of our lives indoors, creating the cleanest and greenest built environment is also vital for fostering healthy communities. 
For young architects, this means embracing sustainability right from the start and making it an all-encompassing factor throughout the design process so that the final product leaves a positive impact on the users and society at large. 
WHAT CAN YOUNG ARCHITECTS DO?
In Singapore, we do not have abundant natural resources, thus we have to be resourceful and find innovative solutions to maximise what we have to make the best out of any situation. 
For example, can we look at reusing existing materials from current buildings to reduce construction waste? 
Architects at TA.LE, an award-winning Singaporean architecture firm, has previously turned old wooden railings into wall claddings in the new build, and turned an old chandelier into a new centrepiece in the revamped Palais Renaissance mall, paying homage to its past. 
Architects can also consider how they are using plastic. 
According to a United Nations analysis, one of the most effective ways to reduce plastic pollution is to use fewer new products in the first place. Many sustainability-driven companies are researching and producing materials from recycled products that could be used in the built environment. 
In an upcoming project, TA.LE is looking at using textiles made from recycled plastics as decorative wall features or wall claddings, while remaining compliant with fire safety regulations. 
Such innovative solutions in the architecture and construction industry pave the way for a future where good design meets sustainability that not only protects the environment but is also stylish and functional. 
In another upcoming development, the firm is also exploring using mass-engineered timber to construct an entire development — a radical shift to a more carbon-friendly and renewable material rather than using the typical steel and concrete, which is very carbon-intense. 
The biophilic design offers a compelling solution, serving as an innovative architectural concept that integrates the built environment with nature. 
This involves adding elements such as vertical greenery, green corridors and even nature murals in offices, homes or retail spaces to soften up the look of the space. 
Incorporating greenery not only has the benefit of enhancing the aesthetics of the space, but it also helps to improve air filtration and temperature regulation, as well as boost the physical and mental health of employees, consequently improving productivity in the office. 
IT IS NOT ALL ABOUT NEW BUILDINGS
As architects, our job not only requires us to create or demolish and rebuild developments. Many times, we also have to think about refurbishing existing ones. 
In Singapore, even though more than 49 per cent of buildings have already been "greened", there is significant scope to retrofit older buildings to meet Singapore's 2030 Green Building targets. 
This includes all kinds of upgrades, from simple ones, such as switching to LED lighting and adding a solar film to a building's windows to reduce the heat and glare from the sun to major changes such as structural and façade alterations. 
As compared to building from scratch, retrofitting can be more challenging as the original development may not have been designed with sustainability in mind, making the task more complex and potentially costly. 
However, it is also the single most effective strategy to limit carbon emissions from buildings, according to an Intergovernmental Panel on Climate Change report, tapping their energy-saving potential to reduce greenhouse gas emissions across their life cycle. 
Architects can be a positive influence in helping clients lead a low-carbon future. We have the expertise to recommend certain energy-efficient retrofit and design choices that are also high-performing, accessible and safe. 
These sustainable designs do not always have to cost more but might be little known to developers and building owners. It is our job to engage the client and explain the considerations and options available. 
For young architects, the future is ahead of you. To make Singapore a livable place 50 years from now, do your research into novel materials and techniques and talk to your network of tradespeople for ideas and solutions. 
At the end of the day, sustainable design should not be just a technical fix. It should be integrated into the project planning from day one when the first idea is created. The Government has already established sustainable goals and industrial standards to encourage greener buildings in the next decade. 
Higher awareness and a more thorough understanding of building sustainably will create opportunities for architects to create long-lasting and health-conscious designs.  
In marking the yearly World Environment Day on June 3, whether we are young or experienced architects, let us think about how we can make the society we live in a better place for the current and future generations, and work together towards making a lasting and positive impact on our planet.
ABOUT THE AUTHOR:
Lionel Leow is Principal Architect and Co-founder of TA.LE, a design and architecture firm.