Commentary: For youth still struggling with Covid-19's impact, here are some simple steps to rediscover life's purpose
The Covid-19 pandemic has upended many of our lives, especially for youths who are transitioning from a life-stage of a student to that of a young working adult.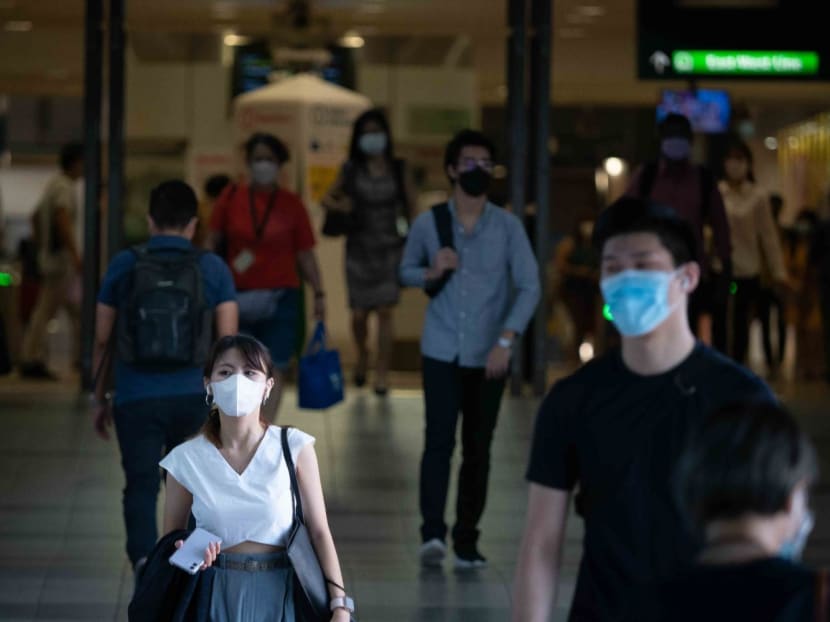 The Covid-19 pandemic has upended many of our lives, especially for youths who are transitioning from a life-stage of a student to that of a young working adult. 
Pre-pandemic, many of us were living sheltered, stable lives, pursuing the traditional markers of success like a good job, material gains, power and fame. Post-pandemic, however, our equilibrium has been lost, and our priorities and definition of success have shifted.
The pandemic has made us realise that there is more to life than just these traditional markers of success. It has forced us to re-evaluate what we truly value, what makes us happy, and what gives our lives meaning. 
For many youths, this has led to a sense of confusion, anxiety, and even despair. Some may even feel like they are floundering, uncertain of what their future holds or what they should be striving for. 
But it doesn't have to be this way.
The pandemic has also presented us with an opportunity — an opportunity to re-engineer and empower ourselves, to take control of our lives and our futures, and to pursue success and significance on our own terms. 
To restore clarity, happiness, and meaningfulness in our lives, we can begin with these simple strategies. 
STRATEGY #1: BE GROUNDED IN WHO YOU ARE
One of the most important steps in empowering yourself for success and significance is to be grounded in who you are. 
This means having a deep understanding of your abilities, values, passions, and purpose, and using this understanding to guide your decisions and actions. 
The young adults at MentorsHub — a mentoring platform set up in 2015 to help underserved youth transition from studies or first jobs, to fulfilling, impactful career paths — go through this self-discovery and self-empowerment process. 
Here's an example: Jess, 26, a mentee of MentorsHub, was an under-performing student who needed to prove herself. She participated in many case challenges and applied for almost every management associate programme she knew of. 
Although she landed a dream job in a prestigious consulting company within a month of her graduation, she felt she had embarked on a journey that was not for her. 
But she learnt to listen to her own heartbeat after her mentors at MentorsHub taught her how to get in touch with her life's foundation — her beliefs, innate abilities, core values, passion and personality. 
With increased self-awareness, Jess began to embrace her unique qualities rather than trying to fit into somebody else's mould, and re-discovered what was most important to her and what she was best at. 
This helped her make more informed decisions about her career, relationships, and other areas of her life. Today, she is in her element, working on co-creating technological solutions that improve processes to impact lives. 
This shows that being grounded in who you are is a powerful tool for empowering yourself. By embracing who you are and focusing on what truly matters to you, you can chart a path to success and significance that is authentic and fulfilling. 
STRATEGY #2: PLAY TO YOUR STRENGTHS AND BE INTENTIONAL
Once you have a good understanding of who you are, the next step in empowering yourself is to play to your strengths and be intentional with your time, energy, and resources. 
This means identifying your unique talents and abilities, and using them to achieve your goals in a purposeful and deliberate way. 
Another mentee, Helmi, 27, knew he had a flair in mathematics and operations but only learnt about his top five talent themes in his early 20s. 
Developed by CliftonStrengths, talent theme is a profound element of human behaviour that describes what a person naturally does best. 
Its research has shown that intentional development of the talent themes can lead to strengths that will aid a person in achieving his goals when diligently applied. 
To play to his learner talent, Helmi became more open-minded in trying new things, going out of his comfort zone and into unchartered territories. 
To equip himself for the long run, he set strategic goals, prioritised whatever time and resource he had for self-development. 
He was focused in building his critical thinking, digital and coding skills, which he did by enrolling himself in case competitions while he was still a student, and sought internships that were aligned to his skills set. 
His stint in managing his school's databases subsequently opened the door to Apple where he was given the opportunity to spearhead a project. He also challenged himself by taking up leadership roles to build people and project management skills. 
Helmi's analytical and problem solving skills had been sharpened by the demanding projects he has undertaken over the years. 
This anecdote shows that by identifying your strengths and using them in a deliberate way, you can achieve your goals more efficiently and effectively. 
As Tom Rath said — "if you spend most of your time trying to be good at everything, you eliminate your chance of being great at anything". 
Also, when you are intentional with your time, energy, and resources, you will achieve a greater sense of balance and fulfilment. 
STRATEGY #3: HAVE A PERSONAL VISION BEYOND CAREER AND FINANCIAL SUCCESS
While career and financial success are important, they are not the only measures of a fulfilling life. 
To truly empower yourself for success and significance, it's important to have a personal vision that goes beyond these traditional markers of success. This means having a sense of purpose and direction that guides your decisions and actions in all areas of your life. 
One way to clarify your personal vision (a.k.a. 'what does success look like'?), is to engage in exercises that help you define your purpose, direction, and mission. For example, you might write a personal mission statement that outlines your life purpose and goals. 
According to The Economist, Steve Jobs' vision for Apple in 1980 was: "To make a contribution to the world by making tools for the mind that advance humankind". 
Armed with this vision, he pioneered a series of revolutionary technologies including the iPod, iPhone, iPad, Apple Watch, Apple TV, MedTech wearables, e-Wallet, Siri, etc. Today, they have changed the way we work, live, play and sleep. 
Another exercise you can do is to reflect on your past experiences and take note of the things that have brought you the most joy and fulfilment. 
What were you doing? Who were you with? — the answers to these questions can be clues to your personal vision and help you identify the things that define what success means to you and how you could be significant to others. 
While having a personal vision that goes beyond career and financial success is a powerful way to self-empowerment, it's important to note that everyone struggles with defining it, and that's okay. 
The important thing is to have a sense of purpose so that the direction may guide your decisions and actions in the present moment. 
So we heard phrases like instead of resigning to challenging times, re-design your work and life. For many of us, this would mean a shift in our definition of success and the need for personal empowerment. 
Empowering yourself for success and significance is not a one-time event, but an ongoing process of self-discovery and personal development. 
The strategies outlined will anchor you and provide an internal compass to your destination even in the midst of volatility, uncertainty, complexity and ambiguity. 
ABOUT THE AUTHOR:
Dr Candice Chee is a strategy consultant, author of QuarterTime: Living an Empowered Life in Your 20s. She founded MentorsHub to inspire youth to live a life of purpose and significance.