Curbing 'lottery effect' of million-dollar HDB flats easier said than done
Prime Minister Lee Hsien Loong's announcement that some 9,000 homes — both private and HDB — will be built on the site of Keppel Club after its lease expires in two years' time created quite a buzz. One analyst said securing an HDB flat there would be like striking a lottery, prompting a TODAY reader to suggest new rules to curb profiteering.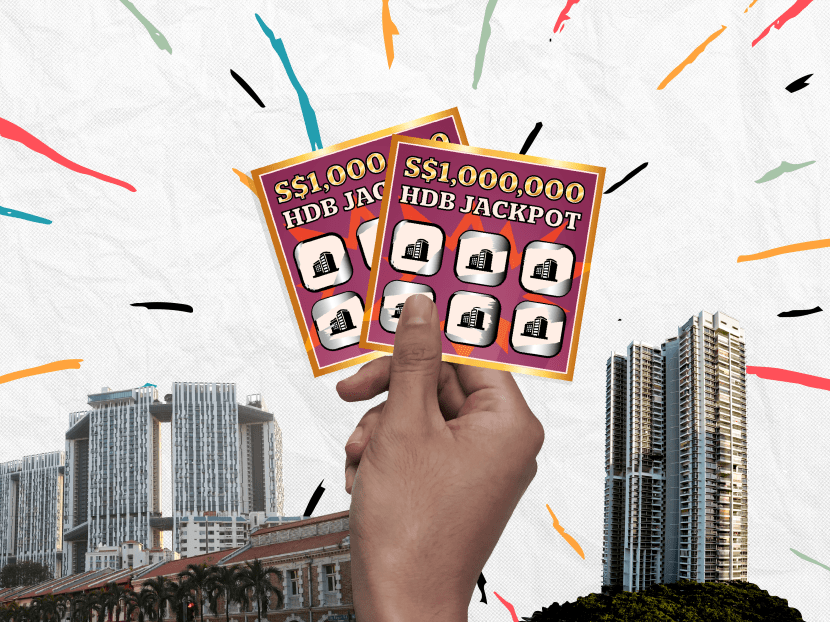 In 2016, I applied to buy a new five-room flat at Boon Tiong Road in Tiong Bahru under the Housing and Development Board's (HDB) Sale of Balance Flats Exercise.
There were a handful available at slightly over S$700,000, which I thought was reasonable given their large sizes of over 110 sqm and fresh 99-year lease in a central location a stone's throw away from an MRT station. Plus, resale flats of similar sizes nearby were then transacting at around S$800,000 or more.
Not surprisingly, the demand for those few new flats was overwhelming, and I did not succeed in getting one.
I did not think much of it until May this year, when news broke that a five-room flat in that same Boon Tiong Road precinct had sold for S$1.2 million, which was then a record price for an HDB resale flat.
I remarked to a colleague that the seller would likely have pocketed half a million dollars in profit, a handsome return of 70-odd per cent, likely over five to six years. And that I could be looking at a similar though unexpected windfall had I succeeded in my application in 2016.
This issue of the "lottery effect" of HDB flats in central areas made the news again this past fortnight.
Prime Minister Lee Hsien Loong's announcement in the National Day Rally that some 9,000 homes — both private and HDB — will be built on the site of Keppel Club after its lease expires in two years' time created quite a buzz.
Property analysts chimed in to say that flats in the Greater Southern Waterfront development would be much sought after given the location and sea views, and that buyers can expect premium prices.
Observers drew parallels with the hugely popular Pinnacle@Duxton in Tanjong Pagar, which was almost three times oversubscribed at its 2004 launch.
Completed in 2009, it made history when five resale units sold for S$1 million or more in 2015 alone, at between two and three times their launch prices.
One analyst told TODAY that securing an HDB flat at the upcoming waterfront Keppel Club location would be like striking a lottery, prompting a TODAY reader to suggest that HDB come up with new rules such as a longer minimum occupation period (MOP) to curb profiteering. 
LONGER MOP OR SHORTER LEASES?
To be sure, Minister for National Development Lawrence Wong had said as far back as 2016 that the Government was looking at ways to tighten sale conditions of future HDB flats at the Greater Southern Waterfront and the new Central Business District in Jurong precisely to curb such "lottery effect".
New measures could include a shorter lease than the standard 99 years, a higher resale levy or a longer MOP than the current five years.
Some analysts have questioned if such measures for the Greater Southern Waterfront are necessary, arguing that anyone who bought a new HDB flat was in some way a lottery winner already.
This is because of the balloting and flat selection process, the subsidies and grants first-time buyers enjoy and the generally higher market prices of resale flats with relatively long remaining leases.
But other observers suggested that an MOP of 7.5 to 10 years should be applied for the Greater Southern Waterfront flats, on the basis that this will discourage investors and speculators.
Some however believe that increasing the MOP is not as effective as selling the flats with a shorter lease.
"Sales terms such as a longer MOP and a levy on the capital gain are hard to administer," Ms Christine Li, head of research at Cushman and Wakefield, told TODAY.
"MOP is the worst...you end up getting a lot of appeals through Members of Parliament, although currently flats sold within the five-year-MOP are not common," she added, noting that reasons sellers cited in such appeals include wanting to be nearer to their parents' homes or children's schools as well as separation or financial difficulties.
A longer MOP would likely see even more appeals, Ms Li added.
Instead, she argued that a shorter lease is more clear cut as it is not subjected to appeals and will also allow the new flats to be sold at a not-so-premium price.
"CAN'T FULLY ELIMINATE"
Mr Lee Sze Teck, Director of Research at Huttons Asia, noted that the actual number of waivers for MOPs granted by HDB was not significant.
This was based on Huttons' analysis of HDB resale transactions from 2014 to the first half of 2019, where less than 5 per cent involved flats that had not reached five years old.
He said that shorter leases or a longer MOP of 10 to 15 years could both help to curb the 'lottery effect". But he has another suggestion on how shorter leases could work.
Instead of a blanket rule of say a lease of 70 years, give buyers of these new flats some flexibility in selecting their lease tenures.
This would be based on the current policy for two-room flexi flats where those aged 55 and above can take up a lease of between 15 and 45 years in five-year increments, as long as it covers the buyers till they are at least 95 years old. 
For instance, if a couple aged 30 and 32 buy a new HDB flat in the Greater Southern Waterfront, they can opt for a lease of 65 years instead of 70 years.
"In this way, the buyer will have a home for life and he knows very well that because of the shorter lease, the upside will be limited," Mr Lee told TODAY.
Sing Tien Foo, Dean's Chair Associate Professor and the director of the Institute of Real Estate and Urban Studies at the National University of Singapore, however, felt that lengthening the MOP would be "less distortionary" compared to shorter leases.
This is "because market values of such flats with shorter leases could be hard to value".
"There is no single measure that could fully eliminate the 'lottery effect', and each of the measure will its merits and demerits," he said, noting that the most direct way to weed out rent-seeking behaviour is to impose a tax on the capital gains.
WHAT CRITERIA TO USE?
Beyond the effectiveness of measures to curb profiteering, there is also the question of the criteria to impose such measures should the Government decide to proceed with one or a combination of them.
"If we use 'location', is it going to be broad or narrowed to a certain estate?" asked Mr Lee.
"If we use 'sea view', then should Punggol and Marine Parade be included in this category? If we use 'in the city', Greater Southern Waterfront is technically not so. If we use 'CBD', then Jurong East falls into this category as it is billed as the second 'CBD'. It will create a lot of comparison and unhappiness."
I think Mr Lee has a valid point.
There are new flats being planned for in Bukit Merah, Queenstown and Commonwealth in the near future.
Given that resales flats in these mature estates traditionally fetch higher prices than those in new estates, shouldn't anti-"lottery effect" measures apply to them too?
All said, the Government has its work cut out in managing this issue and  will have to balance different considerations, including affordability of public housing and fairness in distributing highly sought-after flats in choice locations.
On the bright side, the Government has had plenty of time to study the matter, given the fact that Mr Wong had touched on it back in 2016 and the Keppel Club's lease does not expire till 2021 and housing plans could be launched only a couple of years after that.
However, whatever the Government does to curb the so-called lottery effect, it will likely be contentious.
After all, many Singaporeans still see their HDB flats as assets and any policies that affect their property prices will generate some controversy and divide opinions.
ABOUT THE AUTHOR:
Jason Tan is executive editor at TODAY, where he oversees the Opinion section.