Despite show of solidarity, Pakatan not any closer to winning elections
Malaysia could well see Dr Mahathir Mohamed running the country again, after he was named by the opposition coalition Pakatan Harapan (PH) as its Prime Minister candidate during its inaugural convention held on Jan 7.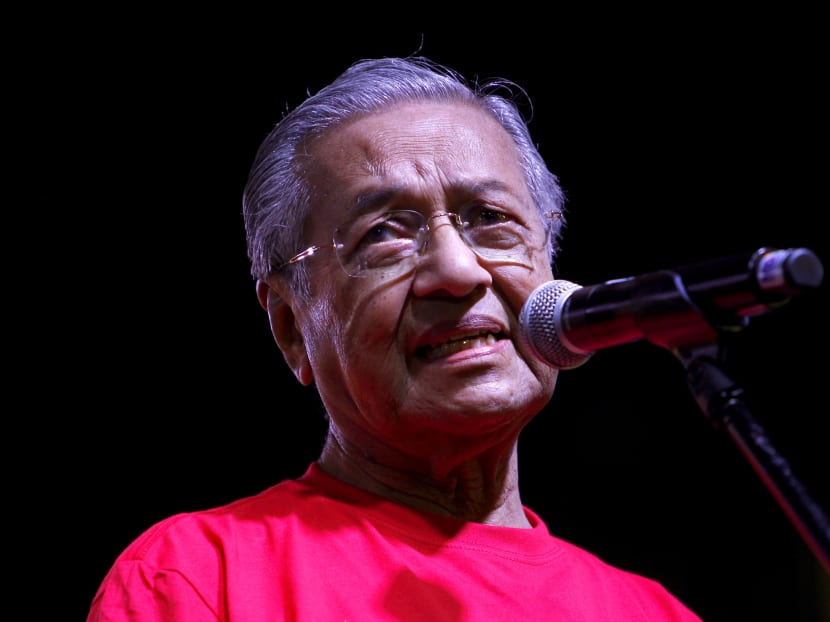 Malaysia could well see Dr Mahathir Mohamed running the country again, after he was named by the opposition coalition Pakatan Harapan (PH) as its Prime Minister candidate during its inaugural convention held on Jan 7.
PH also announced Dr Wan Azizah Wan Ismail - the wife of Anwar Ibrahim – as the candidate for Deputy Prime Minister.
The announcement of the two former nemesis leading the opposition in the next polls did not surprise many, since rumours had already been circulating even before the event.
However, it remains doubtful how Malaysian voters and party activists at the grassroots level will react to this so-called Mahathir-Anwar reconciliation.
Already, some Selangor members of the Anwar-led Parti Keadilan Rakyat (PKR) have voiced opposition to the nomination of Dr Mahathir ahead of someone from within its party.
We hear this complaint even though PH has stated that Dr Mahathir will only be interim Prime Minister and he will hand over to Anwar after his release from jail for sodomy. Details of this transition remains lacking for now.
I consider Mahathir's candidature the biggest U-turn in Malaysia politics, and probably the greatest in Malay history as well, on par with the Hang Tuah-Hang Jebat tussle during the feudal Malaccan Sultanate.
Malay warrior Hang Tuah was sentenced to death by the Sultan of Malacca, and his companion Hang Jebat led a rebellion against the monarch in protest. But instead of endorsing Hang Jebat's actions, Hang Tuah, who escaped death, defended the Sultan, and eventually killed Hang Jebat.
A segment of the Malaysian electorate, who desires a credible alternative to the ruling Barisan Nasional coalition, would welcome PH's demonstration of unity.
For the first time in the opposition's push for power, PH managed to reach an early agreement on parliamentary seats to be contested by each of the four component parties. In the past, the opposition parties bickered among themselves resulting in many overlapping claims for seats.
But this time round, they have agreed on how to contest 165 seats in the Peninsula: Amanah with 27 seats; the Democratic Action Party with 35 seats; Dr Mahathir's PBBM with 52 seats; and PKR with 51 seats.
At the convention, Dr Mahathir said that the four parties have made huge sacrifices in the name of opposition unity, singling out Amanah and PKR for making the most compromises.
Unsurprisingly, some parties which had been active at the grassroots level in some constituencies found it difficult to allow another party to contest the seats. The agreement by PH is a huge leap forward for the opposition, yet there are many questions that remain unresolved.
These, of course, include issues beyond its control: such as to get PH registered by Registrars of Societies (RoS) as a single party before the elections. PH leaders have assured, nonetheless, that they have alternative plans in the event approval is not granted.
PH wants approval from RoS for symbolic reasons: it can contest under a single logo, and tell voters that the opposition has sidestepped ideological differences. The move will prevent BN from playing up the issue of opposition disunity.
Nobody can doubt Dr Mahathir's ability of running the Malaysian government, even at his age. Sceptics may argue that his candidature reflects a problem of leadership renewal in the country.
But the 92-year old has showed little signs of ageing. He spoke at the convention without any prepared text, and is among the few among the opposition ranks who can simplify technicalities when explaining policies to the public.
PKR had reportedly agreed to Dr Mahathir's candidature on the condition that if he became Prime Minister again, he would secure a royal pardon for Anwar, who is due to be released from jail in June.
Anwar is barred from contesting in elections for five years after his release, unless he obtains a royal pardon. If PH gets its way, a plausible scenario will be that Anwar will contest in a by-election, with Dr Wan Azizah making way for her husband again.
That remains a long shot for now.
As it stands, PH is still having a credibility issue.
Critics question how Dr Mahathir and Anwar's family can forgive each other so easily given their bad blood for years. In fact, many sacrifices had been made by those who supported Anwar's 1998 Reformasi movement to unseat Dr Mahathir.
Furthermore, the inaugural PH convention also reflects how the opposition remains Peninsula-centred, and less on Sabah and Sarawak.
Very little is mentioned about PH cooperation with opposition parties in East Malaysia. As past elections have shown, winning in East Malaysia remains key to securing Putrajaya.
The last state elections in Sarawak, held in 2016, shows that the state is a BN stronghold. Because Sarawak and Sabah-based parties are not in PH, it cannot dictate any seat allocation in both states.
What PH can do for now is to indicate the role Sarawakians and Sabahans will have in the opposition cabinet if it wins. This may not be easy given the East Malaysian parties' push for more political rights and autonomy.
This election is not a contest between personalities, but political vision operationalised in systems they represent. Malaysians want change, thus what will define the upcoming general election is which coalition—BN or PH—can offer them a better way of life.
PH needs to understand that for some Malaysians, change does not necessarily have to come by replacing BN, but from within BN itself. It must convince them how their model is better than the incumbent government.
ABOUT THE AUTHOR:
Norshahril Saat is Fellow at ISEAS-Yusof Ishak Institute. He is also Adjunct Lecturer with the Department of Malay Studies, National University of Singapore.