Do not let past misdemeanours haunt youths in the Internet age
The recent trials and subsequent treatment of the five teenagers involved in the Toa Payoh graffiti incident are regrettable in many ways.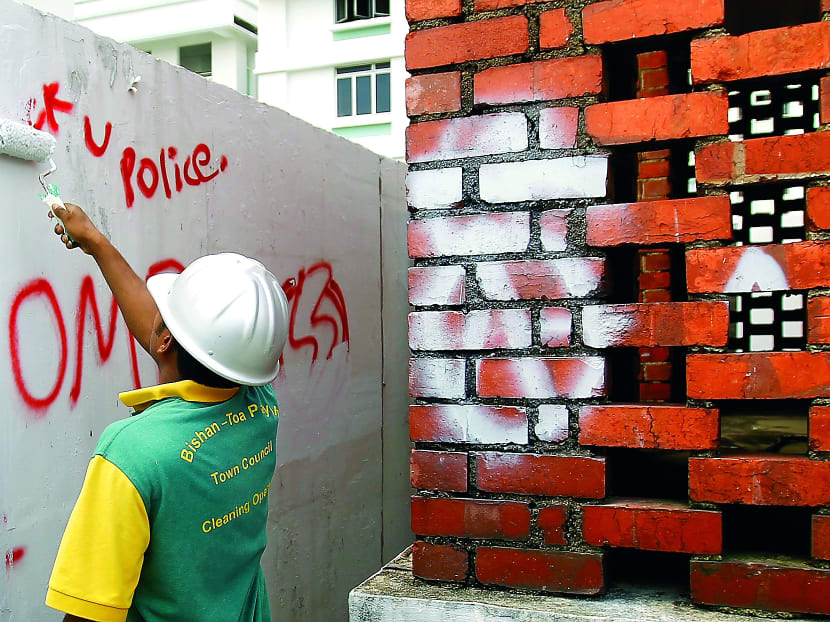 The recent trials and subsequent treatment of the five teenagers involved in the Toa Payoh graffiti incident are regrettable in many ways.
Certainly, while violating Singapore's tough anti-vandalism measures is disturbing, so too is the glare of public interest being cast on the youths.
Without any privacy protection accorded to them, these boys' names are now public knowledge and their photographs have been widely reproduced in newspapers and websites.
An online image search of "Toa Payoh vandals" will throw up photographs and videos of the boys with their faces clearly recognisable, handcuffed and being transported in a police van.
Currently, Singapore's Children and Young Persons Act (CYPA) restricts the publication and broadcast of any information relating to court proceedings involving children and young people aged 16 and below that reveals their names, addresses, schools or other particulars. The same also applies to pictures.
However, this same protection is not extended to young offenders aged 16 to 18 who are tried in the Community Court. Consequently, these five boys who were 17 at the time of the offences and are now 18, have a media and online presence that is overwhelmingly negative and damaging to their personal reputations.
There is currently an incongruence between the CYPA and the United Nations Convention on the Rights of the Child (UNCRC), which defines children as individuals below the age of 18. Singapore could consider aligning the CYPA with the UNCRC, extending identity protection for youths to age 18.
This protection does not give young offenders a free pass, because they still have to answer for their mistakes, but under the law and not in the court of public opinion. The two additional years of confidentiality can provide considerable social and developmental returns, particularly in our Internet-saturated society.
SHAMING BAD FOR FAMILY
Research in the United States shows that when media coverage of juvenile offences occurs without protection of confidentiality, adverse effects may result.
Firstly, the public shaming of the young offender will probably introduce tensions into the family and fracture the very unit of society that can play a critical role in these youths' rehabilitation.
Secondly, media coverage can lead to the stigmatisation of these youths by their peers and teachers, undermining the success of community-based rehabilitation measures.
Thirdly, negative media coverage can also confer on offenders some form of celebrity status, encouraging the tendency to reoffend and possibly influencing other youths to commit similar crimes to attain notoriety and peer affirmation. Any deterrence value that may be derived from the media coverage is, therefore, questionable.
Indeed, my own research on the social media practices of at-risk youths in Singapore reveals an interest among some youths to project a cool and tough image by showcasing their misdemeanours online.
One boy in my study had even shared a newspaper report of his crime on his Facebook account until his social worker advised him of the folly of doing so.
Finally, public records of these offences severely compromise these youths' future chances for education and employment. This is especially important to consider in this Internet era with ubiquitous social media. With the replicability and durability of online images and reports, it is extremely difficult to "rewrite" one's personal history.
A simple online search of each of the five boys' names will show that for every one of them, the first two pages of online hits are dominated by news reports of their offences, emblazoned with photographs of their faces and some of their parents'.
THE RIGHT TO BE FORGOTTEN
In May last year, the European Union's Court of Justice backed the "right to be forgotten" and required that search engines delete inadequate or no longer relevant data when requested by a member of the public to do so.
It is important to note that if the search engines accede to such requests, they delist links to the "irrelevant information" from the search results, but the information itself would still be retrievable. In other words, information on one's youthful indiscretions would still exist on the Internet, but would not emerge as one of the top hits in an online search.
Critics assert that this policy works in favour of criminals and terrorists and harms the right to free speech, while advocates argue that the individual right to privacy and confidentiality is especially urgent, given how online information is organised less by relevance than by virality.
It remains to be seen if a "right to be forgotten" policy will be introduced in Singapore. Until then, all of us are custodians of our public images — both offline and online — that we must strategically manage in our digitally networked society.
Commendably, unlike courts in some countries that have an increasingly punitive approach towards juvenile crimes, Singapore's juvenile justice system is characterised by a rehabilitative thrust that aims to re-integrate offenders into society.
The Community Court extends the rehabilitative approach to those aged 16 to 18. When announcing the establishment of this specialist court in 2006, then Chief Justice Chan Sek Keong declared that community resources would be tapped to facilitate the successful reintegration of individuals into community settings. Where appropriate, offenders would be granted long-term community-based treatment instead of prison terms.
However, these efforts at rehabilitation are now at risk of faltering in the face of media coverage and the negative online image that will surround these boys for a long time to come.
ABOUT THE AUTHOR:
Lim Sun Sun is associate professor at the Department of Communications and New Media at the National University of Singapore. She has researched extensively on media use by youth and families.