Does Robinsons' demise mark the end of department stores?
The retailer said a range of factors such as changing consumer tastes and rent pressures led to its decision to close down in Singapore. "The overarching business model of department stores is outdated," it said in a statement. Is that really the case?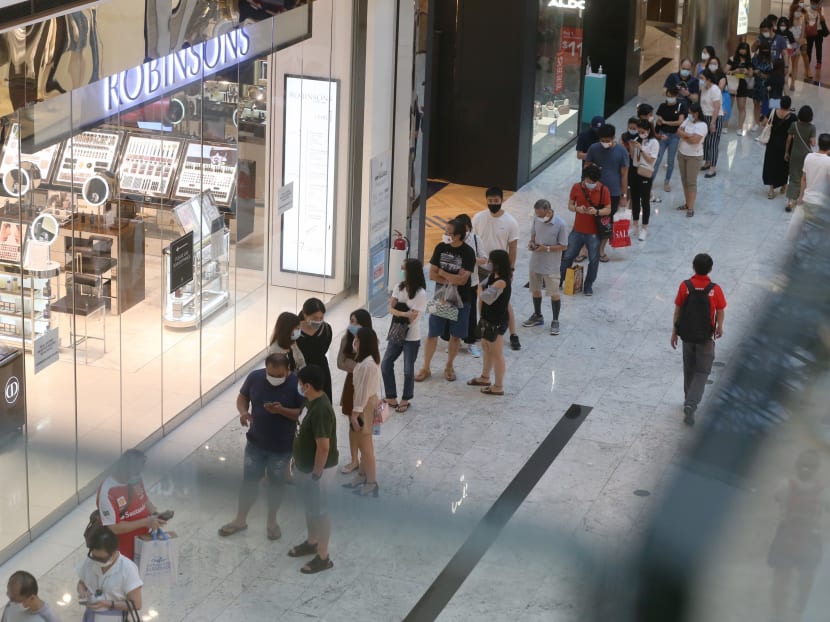 In romantic movies, it is not uncommon to have a scene where the male and female lead characters walk past each other without noticing the other.
Fate is sometimes so near yet so far. The same goes for the 162-year-old department store Robinsons — which last week announced the closure of its last two stores in Singapore — and its customers.
In the movies, it could be a vehicle that prevents the lovebirds on opposite sides of the road from noticing each other.
In Robinsons' case, what are some factors or obstacles that led to its downfall?
The retailer said it was a range of factors such as changing consumer tastes and rent pressures.
"The overarching business model of department stores is outdated," it said in a statement.
Is that really the case?
First, it is clear that its poor branding proposition and the advent of e-commerce contributed to its downfall. The Covid-19 pandemic only accelerated its decline.
Robinsons courted high-end customers. However, their products were in the middle range, similar to what Tangs and Takashimaya offer.
Secondly, Robinsons also launched an e-commerce website in 2016, in pursuit of online sales.
Again, the courtship failed, because high-end customers want unique products that are not found elsewhere.
Ubiquitous online offerings warrant only fleeting glances from uninterested customers. 
Robinsons had many sales campaigns, which was not a particularly effective tactic for luxury customers.
The company also rolled out vouchers, but high-end customers commonly pay by credit card, and vouchers do not seem so compatible.
In addition, 2016 seemed a bit too late for a big brand to make the digital foray. The launch of the website was also not communicated extensively.
I am a Robinsons' member, but I did not hear of the website until recently.
Robinsons told TODAY in the aftermath of its closure that it will also shut its online presence as "the online model is not one that works for department stores, due to individual brands wanting to maintain brand ownership online as well as stiff competition from full-fledged e-commerce sites".
Yet, other brands have managed to find success in such dilemmas.
WHEN ONLINE GOES OFFLINE 
Physical stores do not die just because online stores thrive. In fact, some online brands have gone physical.
E-commerce giant Amazon bought Whole Foods in 2017 and established the physical supermarket Amazon Go. Once a customer scans the mobile app at the entrance, he can take the items from the shelves, put them into his shopping bag, then leave.
There is no need to scan the items for payment. The technology takes care of that.
Another example is Alibaba's Hema, a physical grocery chain that offers a unique shopping experience.
Want to find out more about a product? Scan the QR code and learn about its origins. Want to buy seafood? There are chefs in the store who can cook it for you.
Time to check out? You can do so with facial recognition payment technology. The store also doubles up as a warehouse for grocery that customers buy online.
Such concepts tell us that when stores offer something unique, customers will come.
While the abovementioned are grocery chains and not department stores, they share similarities — they have plenty of floor area and they carry many external brands.
Big department chains have to create a unique shopping experience of their own.
In the online arena, besides selling on its store website, it can tie up with other e-commerce platforms.  
Department stores would also do well to curate different goods on both the online and offline platforms.
Of course there can be an overlap, but the two lists should never be identical. Some items can be sold only offline, so that people have one more reason to visit the physical store.
Shopping in physical stores is a form of socialising. What department stores can do is to give them more reasons to do so, such as that limited item that can only be purchased or redeemed in store.
Millennials, which will form a greater bulk of shoppers in future, tend to eschew scrutiny or attention by sales staff while shopping.
They have their own opinion, and will seek the staff for help only when they need it. This is different from the attentive service that their mothers prefer. 
To some, it may feel like an encroachment of privacy. Hence department stores can pay more attention to this aspect and configure the most appealing type of service for various customer segments. When delivered well, this can also be a brand differentiator.   
Beyond the marketing proposition, department stores also have to find ways to combat high rent, a killer for many businesses.
To counter this, department stores should consider the yield of products carried and lean towards big-ticket high-margin items. They can also consolidate outlets and concentrate their resources such as staff and technology in fewer outlets. 
There is still a place for department stores. The idea of a one-stop physical shop still appeals to a select group.
It may not necessarily be selling everything for babies to old folks, but it should have a sufficiently wide range for convenience.
Imagine if you are buying kitchenware, duvet, bedsheets and clothes. Chances are, you are better off getting from a department store where you can check these items out under one roof and have them delivered.
If you buy them online from different shops, you would also have to deal with the hassle of different delivery dates and constraints.
The key for departmental stores then is to find the combination of products to offer.
Tangs, for instance, focuses on shoes, while still having a variety of products. The revamped Isetan offers a variety of eateries to entice shoppers.
Robinsons' announcement of its last two stores in Singapore tugged the heartstrings of many. Its relationship with Singapore customers could have been the well-praised story of a long-lasting marriage.
With time, it turned out to be a relationship that was never to be.
Robinsons is not the only old-name in recent years to go out of business. American department store chains JC Penney and Sears, each established more than a century ago, had filed for bankruptcy.
Toys R Us, with 70 years of history under its name, closed more than 800 stores in the United States in 2018, though it still has stores in Singapore.
Unfortunately, Robinsons has followed the path of these brands.
Its name and years of experience could not help it ride out the pandemic. To loyal customers, Robinsons' closure feels like the heartache that a break-up leaves behind.
But no doubt Robinsons will soon become an ex-lover, with customers on the lookout for new relationships again.
ABOUT THE AUTHOR: 
Ang Swee Hoon is an associate professor of marketing at the National University of Singapore (NUS) Business School. These are her own views.