Don't forget to play. It's good for you
When was the last time we gave ourselves permission to play? Play is often associated with children, and as adults we may have forgotten to play or even how to play.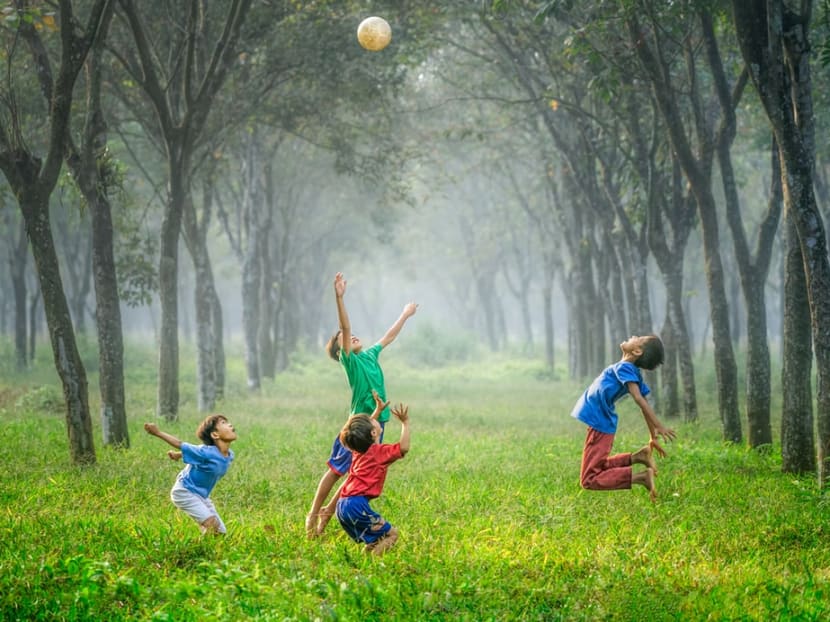 When was the last time we gave ourselves permission to play? Play is often associated with children, and as adults we may have forgotten to play or even how to play.
At a young age, play is intuitive as we explore the world around us as babies and children. We are at an age group where we are most creative, developing different skills such as imagination and hand-eye coordination through play. Dr Patricia Kuhl, co-director of University of Washington's Institute for Learning and Brain Sciences, even described babies as "the world's original inventors".
In the 2016 documentary "The Beginning of Life", scientists and researchers shared insights on how play and interaction between parent/caregiver and children directly impact the development of confidence and resilience in a child.
Through play time, parents can purposefully create experiences and environments that encourage exploration and risk-taking. For example, when fixing a puzzle, parents can encourage children to figure out for themselves how the pieces fit together, and cheer them on to try again or return to the activity later after unsuccessful attempts.
This sort of environment does not stigmatise or create a negative view towards repeat efforts and perceived failures. In this way, children develop self-motivation, a spirit for trying and a sense of resilience.
By school-going age, children will begin to notice that they have less time for play and have less say in how they play.
In schools, play tends to be experienced through sports, uniform groups and some form of group activity.
This form of play is fundamental to the development of social and communication skills in children. It provides structure, rules, and goals where children learn to communicate, give and take, trust, take risks, and make decisions together.
They also learn to take on different roles and responsibilities to work together towards a common goal, be it a group project, competition or performance.
While such structured play is beneficial, it is just as important for children to continue to have opportunities for play that is less structured and more imaginative and creative.
The visual, performing and literary arts provide a great environment where play, learning and creativity intersect.
For many children, their first exposure to the arts is in school. For tweens and teens, artistic and creative activities are particularly effective in providing a much-needed avenue and space for individual expression and thoughtful reflections as they make sense of the world.
Accomplished Singaporean creatives such as Jeremy Monteiro and Royston Tan have shared that their life-long passion for the arts began in school, sparked by a piece of music or the power of the spoken word.
Specific to visual arts, the visceral pleasure when our skin comes into contact with another material - the softness of clay, the texture of wood, freshly squeezed paint or the 6B pencil smudges on our hands - can evoke strong sensations and emotions.
Even the recent trend of making slime brings about imaginative, creative and scientific learning when children experiment with the wide possibilities of colours, texture and different materials.
Such play enables children to get their hands dirty and can be a powerful reminder of the joys and pleasures of making and creating.
This is especially important for children who increasingly find more affinity with technology-centric experiences than tactile experiences.
The benefits of play for children are well documented but what happens to our relationship with play as we become adults?
As adults, play becomes distant and some of us may have even forgotten that we are allowed to play as we cope with adulting such as work-life and parenthood.
Dr Stuart Brown, researcher and founder of California-based National Institute for Play, advocates play at every age.
His research found that our brains "light up" when we play. 
"(Play)…fires up the cerebellum, puts a lot of impulses into the frontal lobe…helps contextual memory be developed…and it is hugely important in learning and crafting the brain. So it is not just something you do in your spare time."
Many museums are offering more programmes for adults to play and get creative while learning about art.
Rijksmuseum in Amsterdam offers an escape room game where adults and children solve puzzles together to recover a stolen secret alchemical formula.
Museum MACAN in Jakarta provides opportunities for families to play popular Southeast Asia games such as "congkak" and "laga getah" and even learn to create biodegradable sustainable balloons together in the Children's Art Space.
National Gallery Singapore too provides a variety of programmes for children, families and adults to play and create together, through exploring materials, making art and going on a sculpture hunt around the gallery. 
In a research study on arts and well-being by Arts and Minds from the United Kingdom in 2012, researchers observed that when given the opportunity to explore a range of materials and techniques like clay, wire and drawing, adult participants reported feeling "liberated" and "energised" by their experience.
Over 70 per cent of the participants experienced an increase in feelings of wellbeing and a decrease in social isolation and anxiety.
While many of us make time for sports and physical activities, it is just as important to make time for play and creative activities for our physical and mental wellbeing. It is time to rediscover the pleasure of play and creativity and give our brains a chance to "light up".
ABOUT THE AUTHOR:
Ye Shufang is Deputy Director, Education, National Gallery Singapore