Don't hold your breath for clarity on Bangkok smog
The smog in Bangkok and its surrounding provinces is thick but even hazier is the information around it. What should be considered safe levels?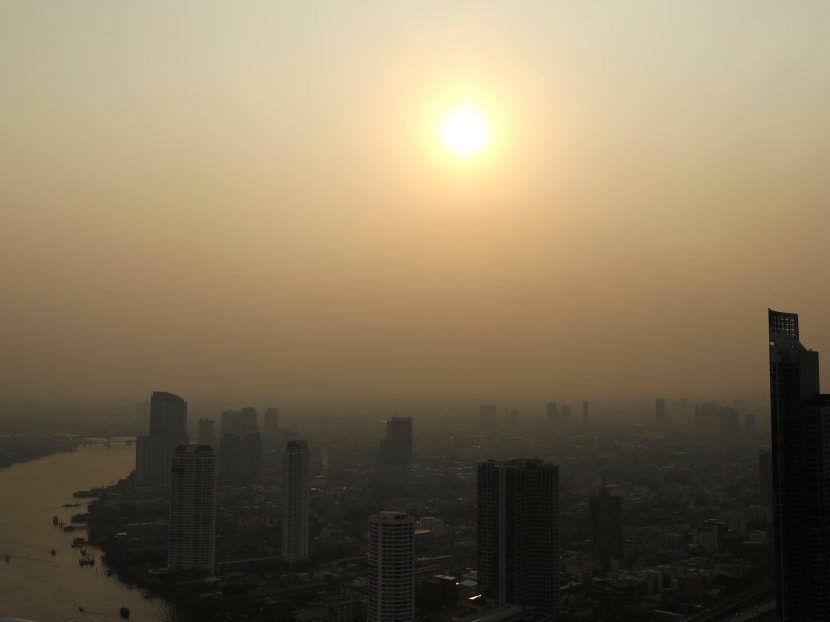 The smog in Bangkok and its surrounding provinces is thick but even hazier is the information around it.
What should be considered safe levels? Should the public rely on real-time measurement or a 24-hour mean? At what point should the situation be considered a public health crisis?
Most importantly, why does the Thai government set the safe limit of ultrafine PM2.5 pollutants at a 24-hour mean of 50 microgrammes per cubic metre (µg/m³), twice as high as that suggested by the World Health Organisation (WHO)?
Are Thais stronger than most other peoples in the world? Or are our lives just cheaper?
According to the Department of Pollution Control, the safe limit for PM2.5 was set in 2010 under the Abhisit Vejjajiva government and has never been revised.
A BBC news report said the Thai safe limit is higher than that used in Japan and Malaysia, which set the ceiling at 35 µg/m³, while Singapore currently allows the ultrafine pollutants to reach a maximum level of 37.5 µg/m³ but with a long-term goal of reducing it to 25 µg/m³.
There has been no explanation why Thailand set the safe limit so high for ultrafine particulates, which the WHO says have impacts on human health even at low concentrations.
One reason cited in news reports is because Thailand is a developing country. This seems to suggest that to allow industrialisation to take off, certain pollution must be tolerated, at least for now.
But Thailand passed the industrialisation phase more than a decade ago, according to the country's economic development plan anyway. It has moved on to focus on the service sector and is on course to embrace a digital economy with high-value, high-creativity products being its selling points.
So why has the tolerance to pollution never been revised?
It's true that the toxic smog is not just about fine dust and heavy metals but an amalgamation of public policies and government actions and failures that people should pay attention to, especially as the election draws near.
As the brown haze rises to envelop the city and many parts of the country each morning, so too does a dilemma surface between public health and continued economic growth.
The stubborn smog, which could be around seasonally for the long haul, would suggest the situation has reached a tipping point and a new balance must be found.
The question, however, is where that balance should lie.
On a short-term basis, can we afford to slow or shut down the construction of buildings and mass transit systems that are said to have contributed to the haze?
If old diesel vehicles are sources of pollution, can they be brought off the road? If we simply have too many cars in Bangkok, can any policy be issued that would reduce their numbers?
When it comes to condos and high-rises, have we ever paused to think how many of these buildings Bangkok can possibly have without exceeding its carrying capacity? Is it time to review the city's zoning so that it has more green areas and public parks?
It's clear that battling the increasingly prevalent smog demands some tough actions that are likely to be unpopular among investors or members of the public.
That is probably why the current government and state authorities have so far been halfhearted about curbing the haze.
Some of their actions, such as spraying water along major streets or monitoring smoky vehicles, have been ridiculed as piecemeal and ineffectual.
Overall, it seems like the authorities were telling the public to look after themselves for now and wait for the rain or for the problem to clear away by itself in the long run.
The responses are unimpressive but they are probably the best the authorities can do without offending anyone.
The smog may rise and fall each day, but it's predicted that it will linger for a few more months.
As the public scrambles for N95 face masks, which are increasingly hard to find in the market, some are asking whether the government should declare the problem as some kind of public health emergency so that appropriate measures can be taken to tackle it.
The authorities appear reluctant to do so, however. Apparently, they are concerned that if they admit that Bangkok and other parts of Thailand are suffering from serious air pollution, it will scare investors and tourists away.
It's not just the country's image but its income that would be affected.
That is why the public is being given more, but seemingly irrelevant, information about how studies are being done to determine what metals are found in the ultrafine particulates or projects that are going on to check the country's air quality as they wait for more tangible measures.
Considering the situation, they'd better not hold their breath. BANGKOK POST
ABOUT THE AUTHOR:
Atiya Achakulwisut is a political columnist at Bangkok Post. She joined the Post in 1991 and was previously its deputy editor.