EU no role model, but holds lessons for Asean
The Association of South-east Asian Nations (Asean) and the European Union (EU) are often compared and some even argue that Asean should follow the EU model. That argument now gains less traction after the shock of the Brexit vote — the British exit from the EU — which has evoked doubts about the sustainability of supranational blocs.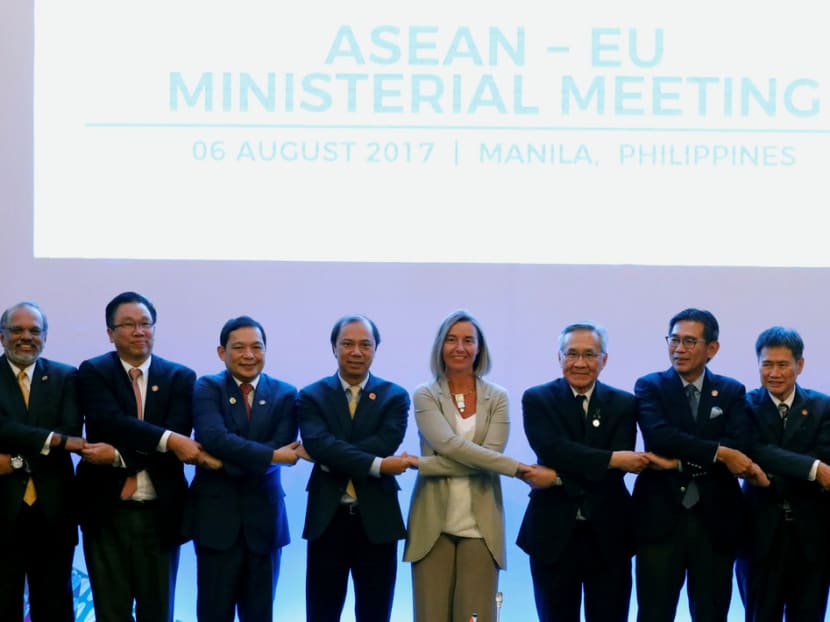 The Association of South-east Asian Nations (Asean) and the European Union (EU) are often compared and some even argue that Asean should follow the EU model. That argument now gains less traction after the shock of the Brexit vote — the British exit from the EU — which has evoked doubts about the sustainability of supranational blocs.
Asean, however, remains steadfast and has not shown signs of wilting, thanks to its unique characteristics and institutional setup that have insulated Asean from "Brexit-like" challenges.
Conceived in different historical contexts, Asean and the EU follow diverging paths of regionalism.
European countries were distinct and mature nation-states when they established the European Coal and Steel Community in 1951 — the EU's first incarnation.
They envisioned that the pooling of sovereignty in the control of these two strategic resources, coupled with other integration ventures, would work to prevent Europe from plunging into another great war.
Meanwhile, when Asean was established in 1967, most of its members had just stepped out from their colonial shadows.
As these countries embarked on nation-building, they jealously guarded their hard-won freedom, and this tenacious grip on national sovereignty remains central to understanding Asean's approach to regional cooperation today.
In addition, South-east Asia's immense diversity in cultures, religions, ethnicities, political systems and levels of economic development also dictates a more cautious and incremental approach to regionalism.
Asean is thus designed as a purely inter-governmental organisation and has no ambition to become a supra-national authority like the EU.
This fundamental difference is most manifest in the way the two organisations make decisions. About 80 per cent of EU laws are adopted through qualified majority voting, which requires the support of 55 per cent of member states and 65 per cent of the total EU population.
The majority vote controls the direction of the EU, except on certain sensitive issues such as common foreign and security policy.
In contrast, all Asean members, big and small, have an equal say in decision-making based on consultation and consensus.
The EU project therefore has blurred national borders, whereas joining Asean is a means to enhance members' sovereignty, especially on political-security issues.
"Take back the country" — a powerful Brexit slogan to restore British full control over matters within its national boundaries — has little appeal in the Asean context as the member states firmly believe in non-interference in one another's affairs.
Unlike the EU's legalistic and institutionalist approach to regional integration, Asean's model is characterised by "soft regionalism" or the Asean Way, which puts emphasis on consensual and informal arrangements.
There is no domineering central body in Asean as the European Commission — a powerful supranational body that can take action in case of non-compliance by a member state.
Hence, the Asean equivalent to the grudges against "Eurocrats" in Brussels, one powerful emotional pull for Brexit, is virtually muted.
If the EU project is tinted with idealism and may have been pushed "too far, too fast", Asean is driven by pragmatism and often criticised as moving "too little, too slow".
The EU Single Market, in which goods, services, capital and people move freely, is an acclaimed achievement, but its common currency, the Euro, is now considered a bridge too far for the less developed members.
Meanwhile, Asean took small and incremental steps, having completed only the early stage of integration with the removal of all tariff lines on trade in goods (Cambodia, Laos, Myanmar and Vietnam still have some grace time until next year).
This conservative approach means that the yield and payoffs are unlikely to be spectacular.
Sub-optimal as it is, an incremental approach helps cushion Asean countries from untoward pressures in the age of globalisation, one of which is immigration. Asean obviously has not embraced cross-border mobility to the extent that the EU has.
Certain movement of skilled labour is facilitated through Asean mutual recognition arrangements in engineering, nursing, architecture, medicine, dentistry, tourism and accounting. However, their impact, positive or negative, remains limited.
In the foreseeable future, Asean is unlikely to face the backlash against immigration that led to Brexit and a wave of distrust of migrants that is surging across Europe.
Asean and the EU also greatly differ on national contributions to shoulder the cost of regional building. Last year, US$9.6 billion (S$13.1 billion) was spent on administration of EU agencies while Asean's largest administrative budget for its Secretariat stood at around US$20 million.
The Brexiteers' concern that too much of taxpayers' money goes to regional institutions therefore barely applies to Asean. In fact, with that modest amount to run a regional administration in service of the whole Asean project, it could claim to be good value for money.
Although Asean has neither the intent nor capability to become another EU, it can draw good lessons from the latter's experience, especially post-Brexit.
One important lesson is to communicate effectively to the public the benefits of regional integration, which are not always self-evident and without trade-offs or painful adjustments.
As expectations on Asean increase, the group is under greater scrutiny and pressure to deliver substantive and visible benefits to the masses. How to reconcile Asean's inherent top-down approach, being inter-governmental as it is, with rising popular expectations and populist pressure in some member countries, would define the grouping's future trajectory.
Asean's "go slow" brand of regionalism reflects the region's astuteness in finding common ground among a lot of diversity and contending interests. This formula suits the 10 member states well as they are in Asean for the long term, and helps keep the grouping resilient and nimble.
That said, the absence of a Brexit challenge does not mean Asean can indulge in self-gratification and complacency.
Having decided that the EU model is unsuited for South-east Asia, Asean must chart its own course to bring peace and prosperity to the region. That course must find the sweet spot between national sovereignty and regional integration, bridge the gap between aspirations and implementation, and go beyond processes to make real progress.
ABOUT THE AUTHOR
Ms Hoang Thi Ha is Lead Researcher (II) at the Asean Studies Centre, Iseas-Yusof Ishak Institute
This is part of a series of commentaries TODAY is running to mark Asean's 50th anniversary.