Finding joy in our children's PSLE and life journey
As parents, we seek to give the very best to our children; be it the food they enjoy, the supplements we procure to ensure their optimal growth and health, the activities we seek out for them (for pleasure, growth or both) because we love them.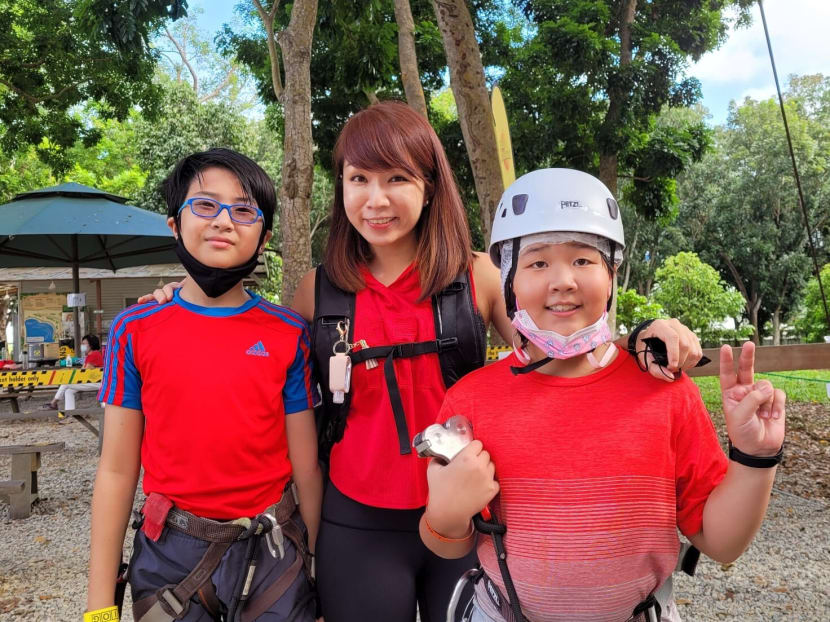 As parents, we seek to give the very best to our children; be it the food they enjoy, the supplements we procure to ensure their optimal growth and health, the activities we seek out for them (for pleasure, growth or both) because we love them.
For many of us in Singapore, this love we have for our children has understandably influenced us and propelled us to ensure that they have the best educational pathways ahead. 
The prevalent narrative among many parents in Singapore is still built upon good schools and the opportunities which they afford our children.
I am no exception. 
Despite having worked in the education sector for close to two decades, my emotions, fears and worries are magnified when it comes to my own offspring. 
The stakes are higher now in the education system. 
I am more emotionally invested in my children's journeys and ironically, because I know how the education system works, it is actually harder to navigate around it. 
Wistfully, I realise a certain amount of ignorance can truly be bliss.
The new Primary School Leaving Examination (PSLE) grading system has been the talk of the town for the past few days, following the Ministry of Education's release of indicative cut-off points for secondary schools. 
Many parents have their concerns about it. 
For instance, it only allows our children very little mistakes if they wish to achieve an Achievement Level 1 (AL1 for 90 marks and above).
Yes, an AL 1 may not be what every child aspires to have. 
It has been published in MOE's PSLE guide that to gain entry to top schools, a perfect score of four would not be necessary as these top schools would have cut-off points of four to six. 
However, some parents may err on the side of caution and instruct their children to achieve a four instead of a six so as to stand a higher chance of entering the school. 
What will this mean for the mental wellbeing of our children when they are told to obey such exacting standards of success, with such a very small leeway for failure?
What if our children do not achieve good scores and henceforth do not have the opportunity to enter the nation's most prestigious schools? 
Would they be deemed to have less opportunities to do well in their trajectories? 
Are we able to change the traditional notions of success in our minds as parents and encourage our children to be their very best; regardless of the ALs they achieve in their subjects?
In the course of having worked with so many youths, I look at a child's entire academic journey and think of it as very long. 
Every child blooms and blossoms at their own paces and places. 
While doing career coaching with mature workers, I observe and am convinced of the importance of lifelong learning and the curiosity to constantly discover and learn.
Our universities have thankfully evolved into places where we embrace (and offer letters of acceptance to) various individuals who have multiple areas of talents.
Some have the risk appetite to start entrepreneurial pursuits of their own. Others have such strong learning agility that they master Google Adwords, filming, photography via YouTube videos and use these self-learnt skills to enhance the online presence of their businesses. 
Their strengths germinated because of their passions. 
Some start social enterprises because of the causes which they champion. They overcame numerous difficulties because of what they believed in. 
Some literally faced rejections after rejection after standing in front of investors to pitch their entrepreneurial babies.  
Many of them whom I have spoken with and spent time coaching did not come from the smoothest academic journeys. 
Many a time, I have come to realise, the strongest and most resilient of my students are who they are because of their very humble academic beginnings.
As a mum, I constantly remind myself that my children have unique gifts and talents and they will excel in their own arenas. 
It would be grossly unfair to expect our children to be who we want them to be. 
Increasingly, as the children grow, I find it such a delight to uncover their hidden talents, to see the good and beautiful in what they create and to provide a safe and nurturing environment for them to be who they are and not who they are expected to be.
Just a few days ago, one of my children showed me what she had drawn on our family whiteboard. 
"See, mummy!" There can be 'Le' in PSLE! The word 'Le' means joy in Chinese.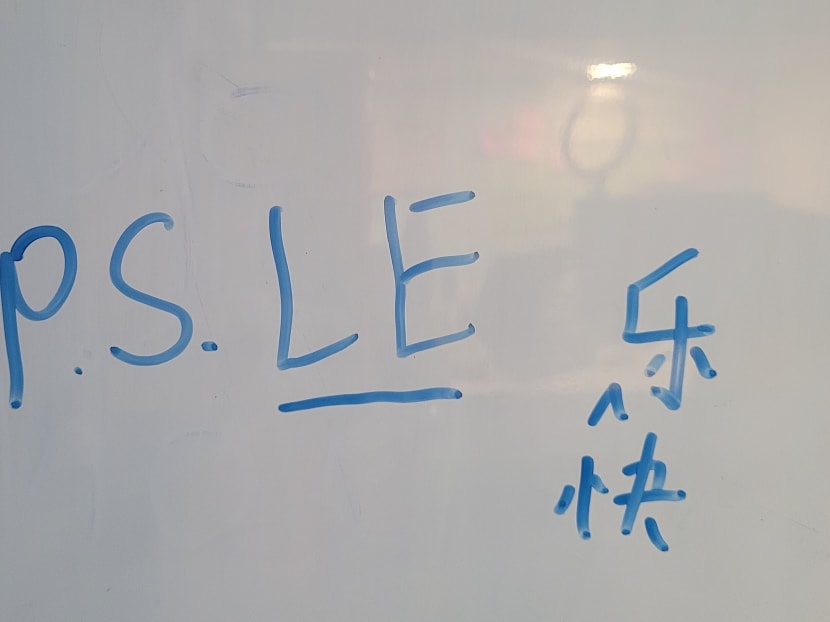 At that moment, I did not know how to respond to her enthusiasm, knowing that her brother will be sitting for PSLE this year. 
Honestly, it is tedious and there does not seem to be much joy in preparing him through mastering math heuristics, answering science open-ended questions with very specific keywords so that marks would be awarded, doing more Comprehension Cloze passages to be more familiar with the style of answering, memorising more dramatic phrases to ace Chinese compositions.
The power is, however, in my hands to dictate the tone of the PSLE for my children. 
I can choose to communicate it to them as a 'do-or-die' examination or as one of the many milestones in their lives, almost like a rite of passage to enter another phase of their educational journey. 
I can choose to speak life into them and support them into becoming the best versions of themselves, regardless of how the PSLE and other national examination grades may be. 
I can choose to continue my focus on coaching their other areas of growth especially in their values, attitudes and life skills. 
Are they continuing their unique Lego creations even if it's not an examinable subject? 
Can they clean toilets, prepare meals for the family and clean up after themselves? 
Are they kind and considerate towards the people around them? Do they have a heart towards the invisible and less-privileged of our world? 
Do they have the courage to pursue the needful, even when it is unpopular and perhaps not lucrative?
The 'Le', the joy in this PSLE can be determined by us parents, when we choose to fix our eyes on the entire journeys ahead for our children. 
May I humbly invite all parents to embrace our children's unique journeys, allow them to bloom at their own paces and provide a safe and nurturing space for them to become the very best versions of themselves? 
A child's future will not be determined by a grade, a number, a school and the collective judgement caused by a fixed set of examination and scoring rubrics.
ABOUT THE AUTHOR:
Yvonne Kong-Ho works in a university, specialising in workforce development. She has a son aged 12 and a daughter who is 10.