Gen Y Speaks: My university was my last choice and a lesser known one. But it turned out fine
I graduated from SUSS recently and was the valedictorian at this month's convocation. What I did not expect was for Education Minister Ong Ye Kung to describe my speech as one of the best he has heard from a graduand and for some members of the audience to break down.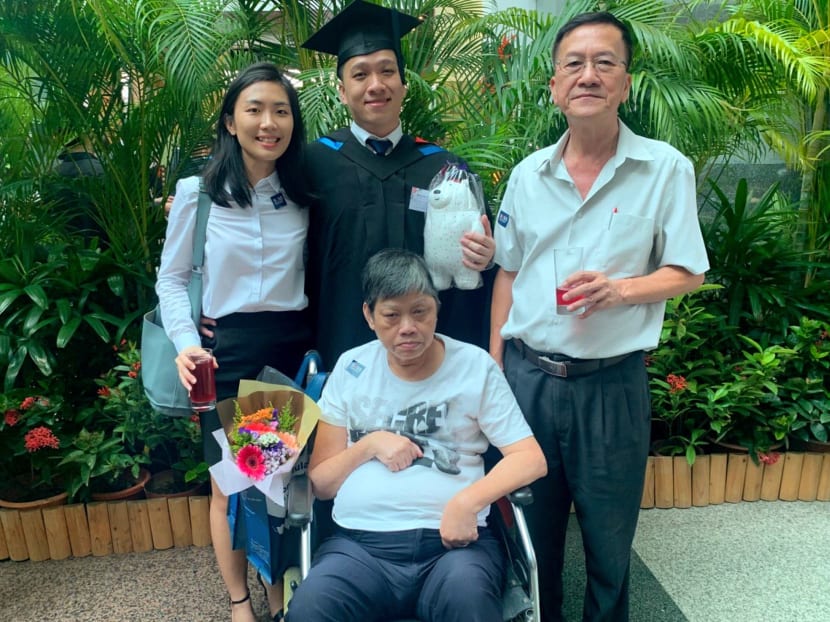 I will always remember how, as a 12 year-old-boy on my way to tuition class one afternoon, I suddenly started crying on a street in Jurong East.
I had spent the night before at the National University Hospital where my mother had been admitted after suffering a stroke. I did not know what a stroke meant, nor understood what my mother was going through. But I broke down when it dawned on me that a trip once frequently made together with my mother would never happen again.
Growing up, tuition, enrichment classes and extracurricular activities were very much a part of my life. My mother made sure of that; she wanted me to succeed in life by getting a good education.
The Primary School Leaving Examination was a breeze as I was well prepared. It was from secondary school onwards, after my mother's stroke crippled her, that I started to drift.
She could no longer talk nor walk and relies on a wheelchair and the help of a domestic worker around the clock. My father started working longer hours on the road as a taxi driver. There were medical bills to be paid and the additional household expense of the helper.
Without close supervision from my parents, I instead started spending more time playing computer games. I started veering away from my mother's wish for me: To get a good education and chase the Singaporean dream.
I made it to a polytechnic to study accountancy, but I had no clear direction and goal in life. I was simply blindly following my friends after my O-Levels.
I did not invite my parents for my graduation ceremony as I did not feel that I was worthy of their recognition. I was not a good son.
With my average grades, I knew it was a long shot getting a place in university. And true enough, my applications to the Nanyang Technological University, Singapore Management University and Singapore Institute of Technology were all rejected.
Then came an email from then-SIM University, a private university which was my last choice, inviting me for an interview.
At the interview, I was surprised that a professor was more interested in some small Internet projects that I had worked on in my free time, instead of my grades.
Soon, the offer for a place in its accountancy programme came, but I was still unsure. The programme was not only new but also four years long. My peers from Ngee Ann Polytechnic were going on three-year programmes with much more established universities.
I sought my father's views and he bluntly said: "Do you have a choice?" While I could have joined the workforce and helped lighten his financial burden, he urged me to study. It was a tough decision for me and even more so for my father.
Within the first year, I started questioning my decision. The curriculum was packed with humanities modules which did not seem relevant to my accountancy course. I kept asking myself: Will these really help me in my career?
Yet slowly, I found that my social science classes on culture and history helped me to see things in a different perspective and better appreciate the social contexts behind economic and political developments.
But what good was learning about social sciences when nobody knew your university, which was structured into Singapore's  sixth autonomous university in 2017 and called the Singapore University of Social Sciences (SUSS)?
This was the harsh reality my schoolmates and I discovered during our work attachments and service-learning projects. Introducing ourselves as students from SIM University or SUSS were often met with puzzled looks.
That did not deter me from grabbing every internship opportunity I could find. And it was through an internship that I managed to secure a job in June 2018, 11 months before I was to graduate.
By then, I had come to accept that not everyone would have heard of SIM University or SUSS. It was up to us students, each representing the university, to prove ourselves in the world. After I finished my final examinations in May, I thought that my SUSS journey had come to an end.
Then one day, I received a call informing me that I had been chosen by the dean as a valedictorian at the convocation ceremony. I did not know why I was selected. My grades were nothing spectacular and I had never given any public speech before.
I was wondering whether I should take up the offer and it was these simple words from my father which helped me make up my mind: "It is a great opportunity, just go for it."
After I agreed, I found out to my horror that the convocation ceremony would be attended not only by President Halimah Yaacob and Education Minister Ong Ye Kung, but also Indonesian President Joko Widodo, whose son was also a fellow graduand.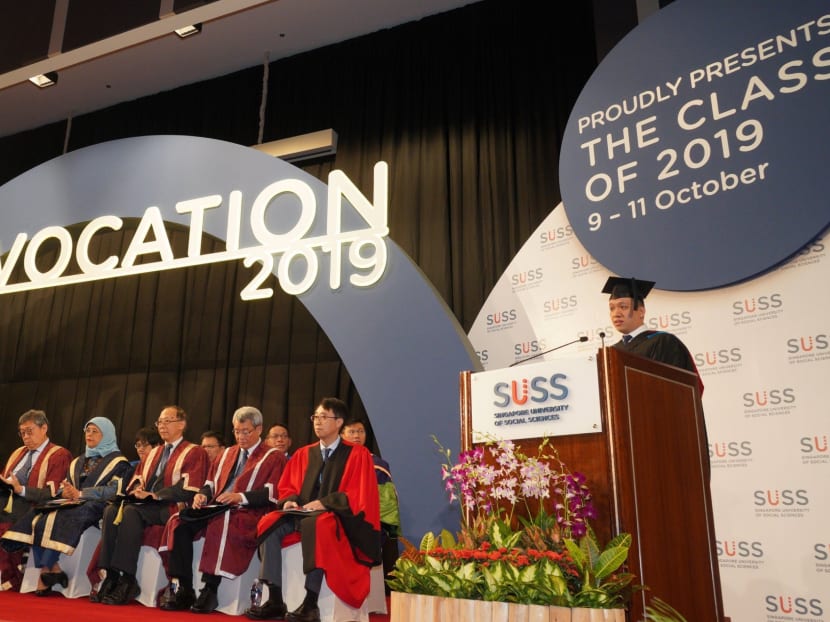 I started crafting my speech by noting down my short list of achievements. Then I realised I was going in the wrong direction. It was a day for the graduands, and it was selfish to put the spotlight on myself.
I thought it would be better to share about my initial reservations about SIM University and how I subsequently changed my mind. By the time I went up on stage, I had rehearsed my speech at least 30 times. But I still doubted that the audience would be interested in what I had to say.
Thankfully, once I started speaking, I could sense that they could relate to my story. It dawned on me that many of my schoolmates had shared a similar experience as me.  
I no longer felt like I was talking to a crowd of a thousand other people. Rather, I was talking to my friends about our common doubts and how we persevered and made the best out of this learning opportunity.
When I ended my five-minute speech, I was delighted and heartened to hear the applause from the audience, which included my parents. I later learnt from my friends that my speech had even made some in the audience cry.
I was also shocked to see Minister Ong's Facebook post describing my speech as one of the best he had heard from a graduand at a convocation ceremony.
Reading through my script again that night, I surmised that it was a very simple speech. But I guess it had resonated deeply with my fellow graduands because of our unique circumstances in seeking higher education.
For many of us, we have reached a huge milestone in our life but our journey is not over. There is still a lot to be done, still a lot to prove but I am confident we will make our mark.
As for me, I am glad that I was able to express my heartfelt appreciation to my loved ones on the convocation stage and make my parents feel proud.
Without them, I would not be where I am today.
ABOUT THE AUTHOR:
Wong Ee Wai graduated from the Singapore University of Social Sciences with a Bachelor of Accountancy. He is now an assurance assistant at Ernst & Young and is working towards being a Chartered Accountant.