Gen Y Speaks: Sailing closer to my Olympic dream
For those that do not know my story, I have been sailing for 18 years and am training full-time for the Tokyo 2020 Olympic Games, having made my Olympic debut in Rio in 2016 with Sara Tan in the 49er FX class. We finished 15th, the top Asian performers.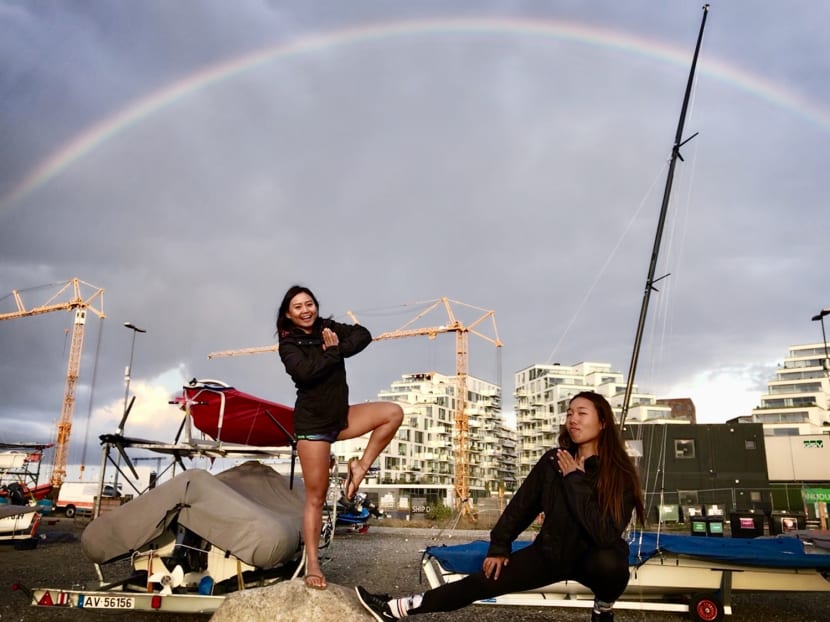 For those that do not know my story, I have been sailing for 18 years and am training full-time for the Tokyo 2020 Olympic Games, having made my Olympic debut in Rio in 2016 with Sara Tan in the 49er FX class. We finished 15th, the top Asian performers.
Sara quit shortly after Rio to go back to studies, so what makes my 2020 dream different is that I have a new partner in Olivia Chen.
Olivia took up the sport only in January 2017, having previously been a national netballer.
The past year has been a particularly challenging one for Olivia and me, but if anything, 2018 has made me stronger and ready for the challenges in 2019.
At the beginning of 2018, I had emptied my bank account to pay for flights, equipment, competition and coaching fees, reaching a point where I had to borrow money from Olivia, 23, to pay for my meals.
We have been mostly based in Perth, where the consistently strong sea breeze made for ideal training conditions.
Getting a work holiday visa also allowed us to earn some income while training.
I coach sailing up to five times a week, earning on average about A$400 (S$388), which helps to cover daily expenses.
Last January, we purchased a A$400 Ford that was over 30 years old and was falling apart, because that was all that we could afford.
After driving it for some months, I now know how to change a car battery, an alternator, coolant, tyres, engine oil, wipers and mirrors. Talk about getting value for money.
In April, during a training stint in Barcelona, we were due to leave for Lake Garda in Italy for another training camp, when an unforeseen development involving the failed purchase of a used car left us stranded in Spain.
Olivia had less than 300 Euros (S$463) on her, and that was earmarked for petrol to get us from Spain to Italy.
With no money for accommodation, we roamed the streets of Barcelona at 11pm in desperate need of a roof over our heads for the next three nights.
It came as a huge relief when a kind soul accepted my request on Couchsurfing and welcomed Olivia and I into his apartment at 2am. That very benevolent stranger, Gilad, is a good friend today.
The lack of finances was a persistent worry for us and we had to base our decisions on where to train and compete on a limited budget.
So one of our best moments was when DBS told us in April that it was supporting our mission towards Tokyo 2020.
My heart nearly stopped when I heard the news.
Olivia was so happy she cried.
DBS' six-figure cash sponsorship was a godsend and we are eternally grateful for the support.
We used the money to buy second-hand hulls, masts and sails totaling about S$50,000, and for coaching fees (S$15,000).
The rest of the sponsorship money went towards covering our airfares, transport and accommodation costs.
Yes, competitive sailing is not cheap, and can be a struggle for those without sponsorships.
My lowest point last year was when I injured my medial collateral ligament and was out of action for six weeks prior to the most crucial regatta of the year – the World Championship that was also the Olympic Games qualifiers in early August.
Being out of the boat was a lot more painful than the injury itself, but I was blessed to have been surrounded by some of the most supportive and positive people who helped me through my rehabilitation.
I also managed to get one of my close friends, Gabriel, from France to step in and replace me so that Olivia could continue training as per normal, while I focused on my daily intensive physiotherapy.
It was an extremely bitter pill to swallow but it has made me a lot hungrier to reach my goal of qualifying for the Olympic Games.
The injury taught me to move on quickly and to focus on a solution rather than the problem.
Some other fond memories of 2018 include competing in my first-ever stand up paddling race and in a Waszp class (a type of foiling boat) regatta.
I also learned to foil on a stand up paddle and kitesurf, all of which keep things fresh and my motivation high.
These different water sports also inadvertently sharpen certain transferable skills that could boost my sailing performance and more importantly, allow me to enjoy this entire journey so much more.
My two years of sailing partnership (and counting) with Olivia almost already feel like a lifetime, as we have gone through a lot together.
Pain, joy, struggle, celebrating goals achieved, fatigue, exhilaration, devastation, kindness, stress - the list goes on.
I know that many people have little faith in the two of us as a team because sailing is a sport where experience is highly valued, and Olivia is still learning the ropes.
However, I also believe that if we can all learn one thing each day, we would have learned 365 new things in a year.
Like Muhammad Ali said: "Champions aren't made in gyms. Champions are made from something they have deep inside them – a desire, a dream, a vision. They have to have skill, and the will. But the will must be stronger than the skill."
When I have my tough days and doubts try to creep in, I remind myself of this powerful quote.
My ultimate sailing goal for this year is simple: Olivia and I will need to finish among the top 6 (excluding countries already qualified) at the 49erFX World Championship in Auckland at the end of this year, where there will be stiff competition with at least 25 teams vying for those spots.
We will be competing in numerous regattas throughout the year to help gear up for the big one.
These will be useful for us to track our progress and work on areas that need improvement.
Our financial constraints over the last couple of years saw us hold back in many critical areas that took a toll on our performance.
We could not hire a full-time coach, nor compete at all the regattas due to cost, nor purchase brand new equipment.
2019 will hopefully see the tide change.
We will finally have a coach and training partners to help us achieve our goals.
Yes, we still do need a new sponsor, having used up the money from DBS and no financial support from any other organisation.
But we are certainly in a better place now than in January, 2018.
As Confucius said: "The man who moves a mountain begins by carrying away small stones."
Over the next 300-odd days, we want to have move away enough small stones to qualify for Tokyo 2020.
The journey – involving eight regattas across seven countries, 35 flights, almost 6,500 km of driving - is exciting and scary at the same time.
I will use all the strength I have gained through various experiences, and fight tooth and nail to achieve my goal.
ABOUT THE AUTHOR:
Griselda Khng is a national sailor. She became the optimist class female world champion in 2006 at the age of 15 and has also won two SEA Games gold medals.