Getting employees, both young and old, to work together
Getting employers to retrain and hire older workers as well as promoting their welfare were prominent themes in Budget 2019. These issues will gain greater importance as Singapore's population continues to age, and the proportion of older workers remaining in the workforce rises.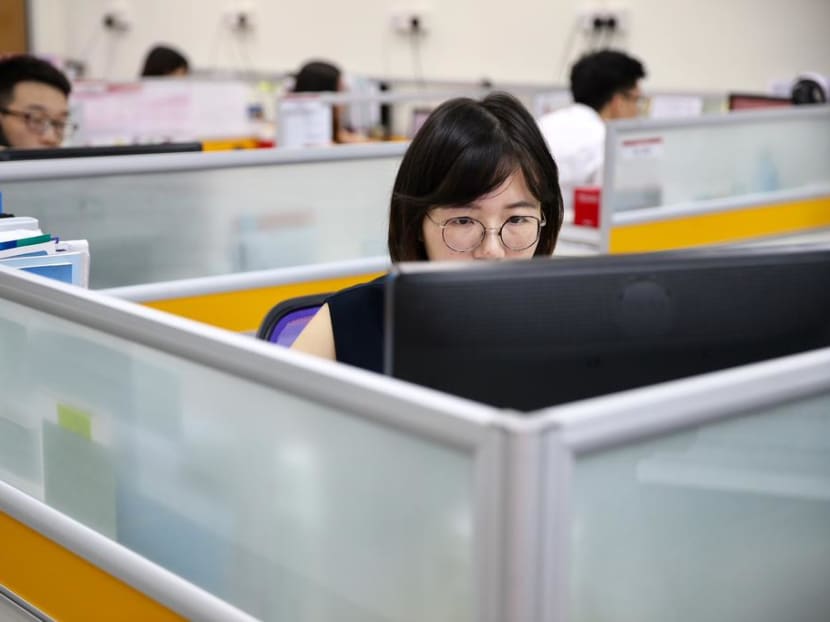 Getting employers to retrain and hire older workers as well as promoting their welfare were prominent themes in Budget 2019.  
These issues will gain greater importance as Singapore's population continues to age, and the proportion of older workers remaining in the workforce rises.
The percentage of Singapore's labour force aged over 60 years rose from 6.1 per cent in 2007 to 14.1 per cent in 2017.
The number of Singaporeans living to 100 has almost quadrupled since the turn of the century, and today, four generations of Singaporeans are active in the workforce.
Working in a multigenerational office is not a new concept, but there is more diversity in the workplace today than ever before. Ensuring that every one is empowered to do their best work is crucial to the continued prosperity of the economy.
Singapore Airlines is an example of a company that has fostered the development and growth of a multi-generational workplace. Its Sustainability Report FY 2017/18 shows that 30 per cent of its cabin crew, 7 per cent of ground staff, and 21 per cent of pilots were over the age of 50.
Singtel is also ahead of the multi-generational curve.
Read also
In 2012, the telecommunications company was already offering re-employment to workers who turned 62, the statutory retirement age in Singapore. Its focus on supporting personal and professional development for mature-aged workers earned it 45th place on the Reuters Global Diversity & Inclusion Index in 2018.
SingPost is another company attuned to the needs of an all-age workforce, offering flexible working hours and arrangements for its employees.
According to the company, the process of hiring on merit – rather than focusing on age – motivates employees to do their best work.
Yet building a multi-generational team that breaks out of the stereotypes of a typical age-based hierarchy is a challenge for most organisations.
It becomes more complicated when cultural sensitivities around age and respect are involved.
So how can organisations and employees create harmony and nurture high-performing multi-generational teams?
ACKNOWLEDGE BIASES AND PRECONCEIVED ATTITUDES FROM THE START
Everyone is a product of their own generation, and professional expectations and worldview will differ based on life experiences.
Taking time to unpack biases and recognise the strengths of each person in the room will create a team with higher social awareness and better ways of working.
It's also important that generalisations aren't made about generations. Both business leaders and employees should never assume that what these stereotypes communicate will resonate at an individual level.
FACILITATE SOCIALISING AMONGST DIFFERENT GENERATIONS
It's typical for employees to stick to their own social circle, which often means age-bound groups. Organisations should create opportunities for people to connect outside their age group so that they can understand each other better and learn from each other.
A great example of this in action is reverse mentoring – where older employees are mentored by younger team members.
This is a great way to build stronger relationships between people, and both parties walk away having learnt new things.
Publicise the programme early, clearly outlining the benefits for both mentor and mentee participants, and offer some suggested topics for mentoring sessions to ensure fruitful interactions.
Reverse mentoring can build trust, challenge conventional thinking and generate an ongoing dialogue.
If a company and its employees value giving back to the community for example, dedicating time to volunteer at a charitable organisation as a team can be an enjoyable way to get to know coworkers outside of the usual work environment.
Read also
RESPECT IS FOR ALL
Respecting your elders and accepting their opinion without question is part of a cultural upbringing for many, and this can become a source of conflict within an inter-generational team.
Older team members need to be open-minded and allow for transparent dialogue with the understanding that disagreement does not imply disrespect, but simply a difference in opinion. Similarly, younger team members should be encouraged to share their views.
Every one desires to be respected, regardless of their experience or seniority. Workplaces can promote a culture of mutual respect by fostering open communication.
Consider a group meeting environment, for example. Leaders (and older team members) can be proactive in ensuring younger team members are given the opportunity to contribute their views to the discussion. Creating a space for an inclusive dialogue will help those in the room feel their views are valued and respected.
MAKE SURE TALENT MANAGEMENT PROCESSES ARE AGE-FRIENDLY
From recruitment to onboarding and timetabling, core talent management activities should be inclusive of employees of all ages.
This includes having an age-diverse interview panel in the hiring process, a mature-age buddy to help older team members through onboarding, and regular work hours – for example non-shift work – for mature-age employees.
The breadth of available talent in the workforce should be tapped to its full potential, regardless of age.
A well-oiled inter-generational team can deliver exponential value to a company through cross-functional learning and accelerated innovation, resulting in empowered employees and a thriving business environment.
ABOUT THE AUTHOR:
Aaron Hardy is Vice President of Operations and Strategy Asia at PageUp. He is based in Singapore.