Getting to the nub of homelessness
In March this year, we were part of a group of social workers and volunteers who conducted a street survey at night to enumerate and interview people sleeping on the streets.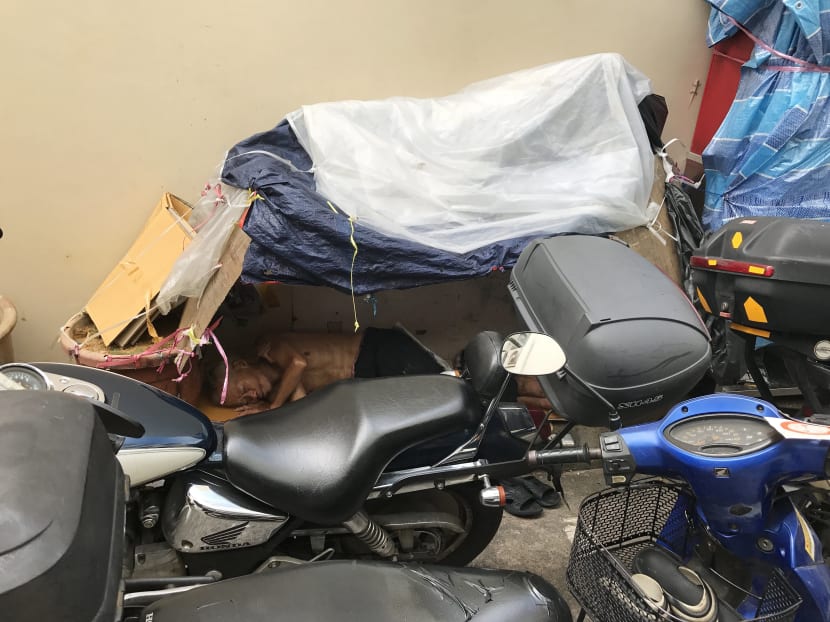 In March this year, we were part of a group of social workers and volunteers who conducted a street survey at night to enumerate and interview people sleeping on the streets.
The total count was 180 persons on one night, across just 25 sites. The number was a surprise and concern to many.
Given that most Singaporeans own their own homes and have access to public housing, it has been suggested that homelessness is a choice for this minority, who face unique individual circumstances such as a breakdown in family ties.
It is true that most of the homeless people we met were single, widowed, or divorced.
They may also have limited social support of other kinds. Less than one in five had reached out to the social services for help.
But we also observed that their living conditions on the streets were very difficult. They slept in uncomfortable spots like public benches and pieces of cardboard on the ground, often in unhygienic surroundings. In Britain, homelessness is aptly described as rough sleeping.
Considering the physical toll of sleeping in public, it seems obvious that homelessness is not a decision that is made lightly. It is not something that people opt to do if they have practical alternatives and meaningful choices.
Furthermore, people do not usually end up without shelter only due to family conflict. Economic disadvantage and the lack of housing options are critical factors.
Sixty per cent of the people we found sleeping in public were working, mostly full-time.
However, many were holding jobs such as cleaners and security guards. These are occupations where low wages have long been an issue.
The nature of their work was also unstable and insecure. Four in 10 of the homeless persons who were working were in part-time or casual employment.
This combination of low wages and irregular incomes may have put homeownership and even renting out of reach for them.
Over the long run, in-work poverty may contribute to chronic homelessness. As we found, 59 per cent of homeless persons had been sleeping in public spaces for more than a year, including 27 per cent who had been homeless for more than five years.
Some of the people we met were willing to sleep on public walkways and in 24-hour fast-food restaurants in order to be nearer their work places, because they worked shift hours during which public transport is unavailable. Their economic precariousness meant that they could not risk losing their jobs.
GREATER ENGAGEMENT NEEDED
Currently, homeless people have few housing options.
They may seek help from Family Service Centres where social workers can then refer them to temporary shelters.
However, beyond working with "walk-in" cases, FSC social workers are often stretched for time and resources, and feel unable to conduct outreach to other homeless people still on the streets.
While most of the homeless people are single men, the shelters prioritise families with children or elderly parents, and are often operating at capacity.
Another option is public rental housing from the Housing and Development Board. Indeed, in the survey, some of the people sleeping in public reported that they had a rental flat under the Joint Singles Scheme, which requires two unrelated, single people to share a one-room flat.
Having two strangers co-reside in a small space has caused such friction between some co-tenants that one party decides it is better to sleep outside. Others cited discomfort due to poor ventilation, bedbugs, or noise from neighbours.
Finally, under the Destitute Persons Act, homeless people may be admitted into welfare homes as a last resort. The Act defines a destitute person as someone who is creating a nuisance due to begging, or who is found in a public place with no means of subsistence, place of residence, or a satisfactory account of himself.
This legislation was conceived in 1965 to reduce begging and provide care and rehabilitation to destitute people.
In practice, homeless people are usually persuaded to admit themselves voluntarily into the homes. But once admitted, residents may not legally leave without permission.
The risk of losing their freedom causes anxiety among people sleeping in public.
They fear checks by the authorities, find ways to evade detection, or deny their homelessness. During the survey, our volunteers had to assure them that we did not represent government agencies.
What was intended to tackle vagrancy in the 1960s may not be appropriate today. Homelessness is no longer about begging or public nuisance. Many homeless people do have means of subsistence, however tenuous. They do not need rehabilitation.
Taking an enforcement approach towards homelessness will not address the larger issues related to economic opportunity and in-work poverty. It will not help homeless people who are already trying to make ends meet.
SO WHAT WILL HELP?
A good starting point may be to re-examine the Joint Singles Scheme in rental housing or consider a more diverse range of affordable housing options that meet basic housing standards.
These standards must respect privacy, meet minimum spatial standards, and provide a stable living environment to individuals already facing economic vulnerability.
The existing social work and shelter services can be better resourced. This is particularly important as chronic homelessness related to in-work poverty needs sustained support rather than short-term interventions.
In recent times, volunteer groups have started to reach out to people sleeping in public. Coordination between these social initiatives, community agencies, and the relevant government departments can improve the reach and targetting of services.
Efforts to improve low wage conditions must continue. In policymaking, service delivery, as well as research, there must be closer engagement with homeless people in order to understand the complex barriers that they face.
Tuesday (Oct 17) marks the 25th anniversary of the United Nations International Day for the Eradication of Poverty.
It is timely that we reflect on the lived realities of homelessness and the lack of meaningful choices available to people in poverty.
Homelessness is not a choice, but we can make a collective choice to reduce it by addressing economic insecurity and basic needs for housing more effectively.
ABOUT THE AUTHORS:
Neo Yu Wei is Research Fellow at the Social Service Research Centre, National University of Singapore (NUS) and Ng Kok Hoe is Assistant Professor at NUS' Lee Kuan Yew School of Public Policy.