Green projects must also consider habitats lost
Rising out of freshly reclaimed land in the Tebrau Straits between Singapore and Malaysia is an 800-hectare mixed development with homes, businesses, recreational areas and an international school for 700,000 people.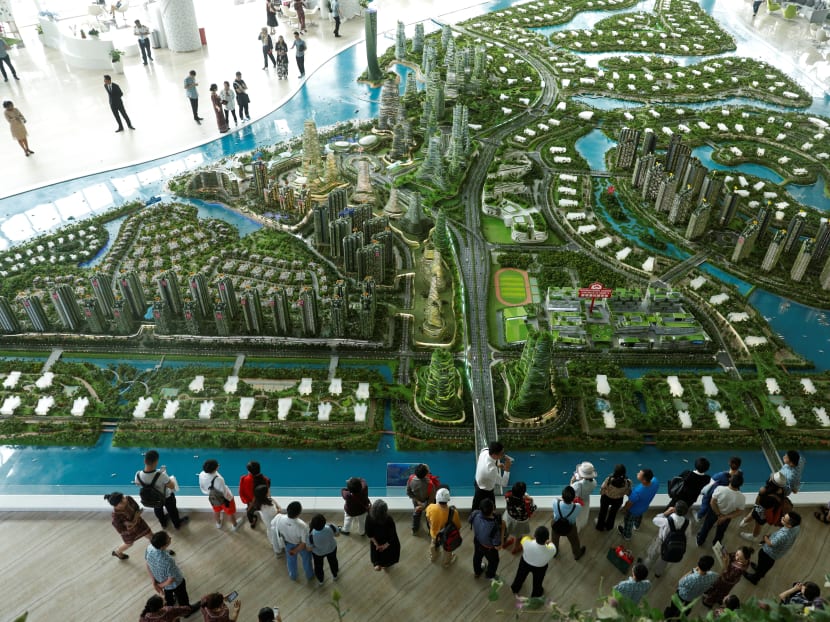 Rising out of freshly reclaimed land in the Tebrau Straits between Singapore and Malaysia is an 800-hectare mixed development with homes, businesses, recreational areas and an international school for 700,000 people.
Named Forest City, its developer, Country Garden PacificView (CGPV), has touted its sustainability and green features. The development uses the latest in smart green technology to control energy use.
It has extensive plans for rainwater harvesting, and it uses recycled materials in the tiniest details such as road humps and parking bumps. Its masterplan, designed by Sasaki Associates, promises a "symbiotic relationship" between the natural and built environments, with a 250-hectare seagrass preserve, 9km of mangrove forests and 10km of shallow coves and mudflats.
The project also boasts a breathable transport hub, where cars are parked underground, and with free monorail services and kilometres of car-free pathways. This utopia is capped by the well-publicised use of Vernonia elliptica creeping plants on its buildings. The rest of Forest City's marketing strategy is focused on its proximity to Singapore.
Back in China, news has emerged of another Forest City in Liuzhou Province, where one million plants and 40,000 trees will ensconce a 142-hectare project that will house 30,000 people. The designers predict that the development will absorb 10,000 tonnes of CO2 and 57 tonnes of pollutants annually, and will produce 90,000 tonnes of oxygen.
Similar to the Malaysian version of Forest City, its buildings are "nature-based" and draped in green; its architectural visualisation has the mandatory train station and no visible cars.
It all looks very attractive, and fits perfectly into China's 2016 State Council guidelines to focus on the construction of buildings that are economic, green and beautiful. Liuzhou's version of the revolutionary balanced urban environment takes it a step further, with its plans for solar panels for renewable energy and the use of geothermal energy to power its air-conditioning.
With China's push to be the new leader in renewable energy and climate change action, these two projects fit perfectly into the new environmentally friendly image that China is building for itself. The irony is in the details.
The Malaysian Forest City project is blossoming in what was otherwise planned as an industrial hub; this Western Gate of the Iskandar Development Region was designed around the Port of Tanjung Pelepas, the Tanjung Bin power plant and other oil, gas and chemical processing and storage facilities. This part of south-west Johor is just across the water from Singapore's Tuas industrial area and the future Tuas Megaport.
Of course, it would make sense to have these large carbon- and pollutant-absorbing development projects placed nearby to offset the environmental damage inflicted by industries.
The Liuzhou Forest City is set to grow next to an industrial area for exactly that reason.
The designers for both projects stress the importance of bringing "the forest into the city" to counter the problems of climate change. But just how much damage is being done by the development itself?
The Liuzhou project has just had its groundbreaking ceremony along the Liujang River, known for its 19 bridges and summer swimming activities. In Johor, the impact of development is already visible.
The CGPV Forest City project is in an area that harboured good biodiversity despite its proximity to port and industry. Within six months of reclamation beginning, a strip of sand had cut across Malaysia's largest intertidal seagrass meadow. Sedimentation in the adjacent waters increased, leading to extraordinary blooms of green algae that smothered the already-stressed seagrass areas.
Long-term habitat monitoring of the area by a local community organisation has revealed that a smaller coastal seagrass patch that was a known source of prawns and the feeding grounds of the endangered dugong has disappeared under the first reclaimed island.
The sand strip is to be removed and the rest of Forest City's islands will be built around the biggest seagrass meadow that remains to minimise further damage.
Coastal mangroves are also affected by this development. The new islands will be linked by bridges to the mainland, and stretches of coastal mangroves are making way for these new roads and highways.
CGPV has also recently begun a new phase of its development; the creation of three golf courses and an associated resort complex in 809 hectares of formerly Ramsar gazetted mangroves.
This is in addition to its newly launched 160-hectare integrated building system facility. Visits to these sites show that clearfelling of these mangroves is already in progress.
But why should mere seagrass or messy mangroves matter?
Seagrass is nature's solution to climate change. Coastal wetlands comprising seagrass and mangrove forests sequester carbon at a rate that is 10 times greater than mature tropical forests. These habitats trap sediments that would otherwise pollute and muddy coastal waters. They also produce oxygen.
On top of that, the combined seagrass, mangrove and coral reef habitats reduce the impacts of large waves and create a complete nursery, feeding and breeding ground for species of fisheries value. Fish caught in these waters supply seafood buyers in Singapore, Johor Bahru and Pontian. Put simply, without these habitats, we would have less seafood to eat.
There are other intrinsic values; the habitats are host to charismatic endangered species such as dugongs, seahorses, otters and turtles, and generate ecotourism and other revenues for the local community. They are, of course, the bedrock of the surrounding fishermen's livelihoods.
To be sure, CGPV is taking steps to mitigate damage to the seagrass. A local university has been hired to independently monitor the health of the seagrass meadows, and habitat rehabilitation and species restocking is in the plan. But there is yet little word on how the impact of the coastal mangroves will be contained.
Truly sustainable development needs to take into account habitats lost, not just ecosystems rebuilt. Post-2004 tsunami research by Kyoto University showed that a buffer of natural mangrove forests could have reduced wave impacts by up to 90 per cent, a far higher success rate than any artificial structure. We can only hope that both projects achieve their lofty green goals. At the rate that the planet is tumbling towards climate disaster, there is no time for a mirage that misses the forest for the trees.
ABOUT THE AUTHOR:
Dr Serina Abdul Rahman is a Visiting Fellow at the ISEAS-Yusof Ishak Institute.