How Budget 2022, just like Budget 1986, prepares Singapore for the future
Delivered by Finance Minister Lawrence Wong on Feb 18, the Budget 2022 statement is entitled: Charting our new way forward together.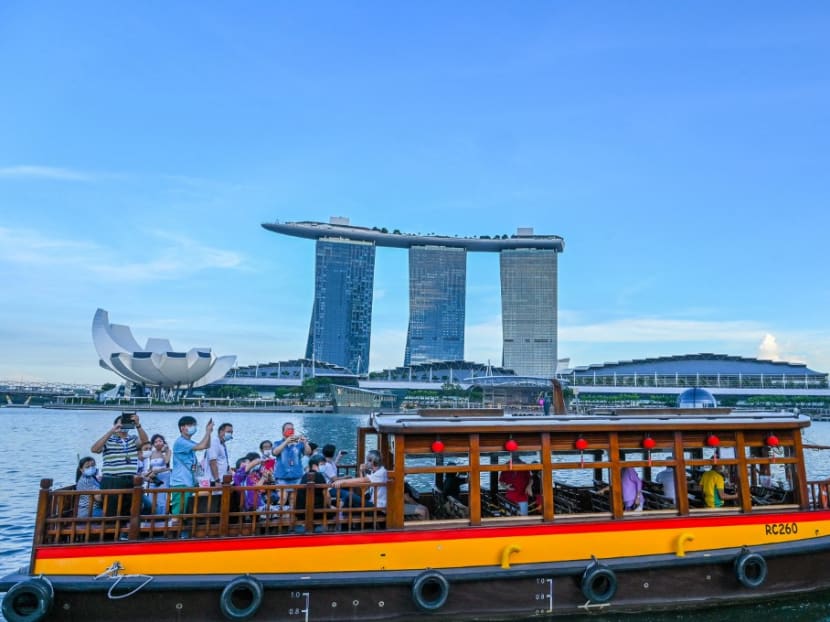 Delivered by Finance Minister Lawrence Wong on Feb 18, the Budget 2022 statement is entitled: Charting our new way forward together.
Elaborating in a Facebook post, Mr Wong shared that the title of the statement emphasises the Government's focus on preparing Singapore for a post-pandemic future and including Singaporeans in this journey forward. 
Budget 2022 is a watershed move for Singapore's economy and society for the coming years.  Certainly, this is not the first time that Singapore has sought to shape its future developmental trajectory through policy and budgetary tools.
A similar process can be discerned in Budget 1986.
Hence, in order to understand the impacts of Budget 2022 on our future, we need to take a step back into our past.
In 1985, Singapore faced a similar inflection point. Freshly hit by a major economic crisis and in need of new economic directions, the Government decided to set up an Economic Review Committee tasked with identifying future growth sectors that Singapore could develop.
The committee and Singapore's subsequent Budget 1986 aimed to facilitate Singapore's recovery from its first major economic crisis. 
An important consequence of the committee's work was the identification of wealth management as a potential growth sector and the Government's subsequent decision to lay the foundations for the then-non-existent wealth management sector. 
In order to build up this sector, agencies such as the Monetary Authority of Singapore and Central Provident Fund (CPF) Board decided to invest some of their financial resources in the bonds market.
Given that Singapore's bonds and funds markets were relatively less developed then, these moves provided a much-needed injection of funds into the sector and helped establish benchmark rates that would be useful for future fund managers. 
These moves would ultimately lead to the liberalisation of Singapore's banking and finance sector, with the Government subsequently making the unpopular move of merging several of Singapore's major local banks to make them more competitive globally. 
Taken together, these would ultimately lay the foundations for the development of Singapore's financial sector. 
BACK TO THE FUTURE
Fast forward to 2022. In this year's Budget, changes in taxation seek to ensure greater inclusiveness and collective risk-sharing in the face of pressing social and healthcare needs, while moves to ensure net-zero carbon dioxide emissions by 2050 represent a more fundamental shift towards a green and carbon-lite economy.
This marks a decisive shift in Singapore's strategic direction.
The contours of the low or no-carbon economy are still unclear at the moment, but the Budget does provide some hints.
Carbon taxes have now increased at a much faster pace, and at higher levels, with the lower end of S$50 per tonne by 2030, representing a 10-fold increase from rates in 2019.
The Budget also mentioned the use of "high quality international carbon credits", potentially creating a market for trading these carbon credits.
As these changes are staggered over an extended period, it should give businesses and consumers ample time to prepare.
At the same time, the Finance Minister had stated that the revenues from the carbon tax will be used to cushion the costs of transition to a low-carbon economy, perhaps a parallel to the Assurance Package launched in tandem with the Goods and Services Tax changes.
All of these together provide reasons that businesses and consumers should not be overly anxious about the carbon tax.
Another initiative that was announced is the Government's decision to issue up to S$35 million of green bonds by public agencies, through the National Environment Agency.
Proceeds from the issuance will be channelled towards funding public sector green infrastructure projects.
For investors, green bonds provide an investment asset that not only pays a monetary return, but contributes to Singapore's sustainability efforts.
Just as the Government sought to develop Singapore's wealth management industry in the 1980s by directly investing in the sector, these more recent initiatives represent an effort to grow Singapore's nascent green finance sector.
By issuing green bonds, the Government will provide a much-needed shot in the arm for the green finance sector.
It is important to note that these moves extend far beyond the financial services sector. For instance, greater public and institutional support for green finance can provide sustainability solutions firms and green start-ups better access to much-needed capital and financing.
This availability of financing for sustainable solutions will in turn help spur the development of more green technologies and climate change mitigation solutions.
But in order to reach this outcome, we need to first grow the green finance sector and establish the pricing benchmarks necessary for green financiers and technology providers to work with.
Budget 2022 and Budget 1986 are therefore similar in many ways — both are geared towards the future and focused on recovering from crises.
When considered in isolation, individual policy moves may not make immediate intuitive sense to the public. Taken together, however, each policy move lays the foundation for other policy reforms that would ultimately secure Singapore's future economic development.
Many of us will remember how the bank mergers some 20-odd years ago gave rise to mixed responses from industry players and the public.
Consider now the fact that our three local banks — DBS, UOB and OCBC — are among the largest and most competitive banks in Southeast Asia.
Similarly, recent tax changes may not be well-received while efforts to spur Singapore's green economy may not resonate deeply with most; these are after all early days for green industries.
However, these moves should be seen as early levers that will hopefully help Singapore switch tracks and embark on a more sustainable and inclusive trajectory for the future.
BUDGET 2022: INDICATORS FOR A NEW PATH FOR SINGAPORE
Budget 2022 therefore represents an important fork in the road for Singapore's future economic and social development. Through these new initiatives, Singapore has chosen to chart a new path for its social and economic development.
This is a path that involves emphasising greater social inclusiveness and making a decisive shift towards a green economy.  
In the 1980s, Singapore was at an inflection point and chose to chart a new path that was not immediately intuitive.
In 2022, we are doing the same. The fruits of moves in the 1980s are evident, with Singapore's wealth management sector ranked among the top in the world, bringing forth jobs and income for many in the industry.
As Singapore faces new challenges and headwinds, we will need to muster up the same courage as our predecessors to similarly chart out a new path for the future. 
ABOUT THE AUTHORS:
Eddie Choo is a research associate at the Institute of Policy Studies, National University of Singapore. Dr Woo Jun Jie is a senior research fellow at the same Institute.