How can Singapore exit from the pandemic?
The spike in Covid-19 community cases in Singapore from April was due largely to multiple introductions and spread of the B.1.617 variant originating from India of the Sars-CoV-2 coronavirus.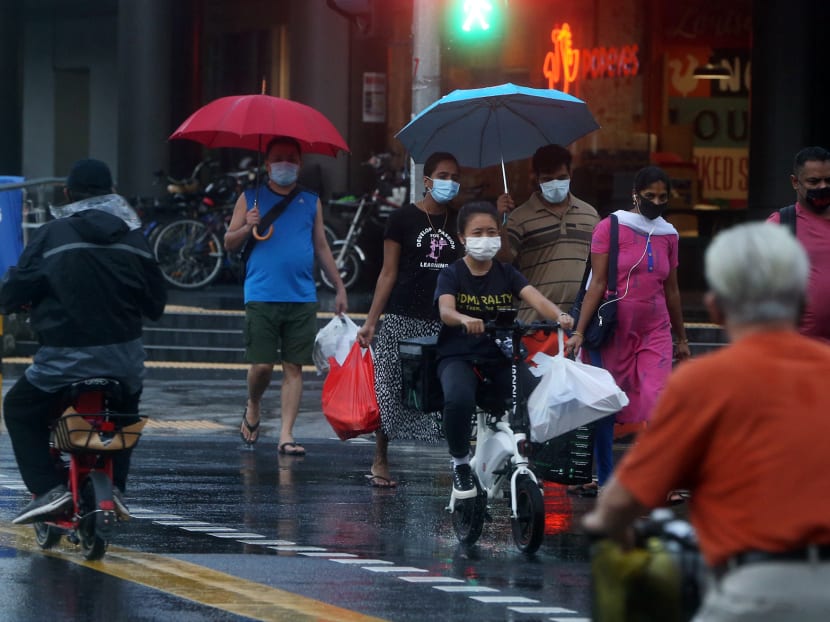 The spike in Covid-19 community cases in Singapore from April was due largely to multiple introductions and spread of the B.1.617 variant originating from India of the Sars-CoV-2 coronavirus. 
It led to a retightening of restrictions as well as mass testing and quarantine of workers and other affected persons at Tan Tock Seng Hospital (TTSH), Changi Airport and a couple of migrant worker dormitories.  
The outbreak at TTSH involved nine healthcare workers and patients who had received both doses of the Pfizer-BioNTech vaccine.
It triggered a decision to initiate weekly rostered routine testing of patient-facing staff and healthcare workers in all hospitals in Singapore for the next two months, a policy that was not implemented even at the height of the pandemic last year.
Over 70 per cent of Singapore's healthcare workers have been vaccinated against Covid-19 – they will receive a "discount" of fortnightly testing after the first two weeks.
 
This begs the question — how can we exit this "holding pattern" we are currently in, where wearing masks and social distancing are the norm, travel is largely not possible and the appearance of a positive case in the community triggers a massive response even for vaccinated individuals?
Last year, much of the hope of returning to pre-Covid-19 normalcy centred around the development of safe and effective vaccines.
Even for the handful of places that had successfully eliminated Covid-19 within their borders, such as China, Taiwan and New Zealand, vaccines held out the possibility for safe re-opening of their borders.
To the great credit of those involved, there was not just one but several such vaccines launched before the end of 2020, with over 200 in various phases of development currently.
Several countries have been quick off the mark with mass vaccination campaigns.  
A handful, most notably Israel, have seen signal successes.
Close to 60 per cent of Israel's population have completed vaccination — mostly with the Pfizer-BioNTech vaccine — with the daily case count falling from a high of 10,073 on Jan 16 to under 100 cases for the past week.
Mandatory masking in public was dropped there from April 18. 
Can Covid-19 be eliminated even if every country achieves vaccination rates of over 70 per cent? This looks increasingly unlikely using vaccination as the primary intervention.
All currently approved vaccines are highly effective at preventing symptomatic disease and death.
Sterilising immunity, which would mean that even asymptomatic infection — and therefore transmission — is prevented, is not their predominant effect, however.
The duration of protection is also unknown, but is not expected to be lifelong.
Vaccines generally do not outperform actual infections in conferring immunity, and new infections have now been reported within a year in a very small subset of persons with prior Covid-19 infection or vaccination.
As of April 26, 9,245 vaccine breakthrough infections have been reported in the United States, representing just 0.009 per cent of all who had completed both doses of either the Pfizer-BioNTech or Modern vaccines.
These are very small numbers relatively, but in the absence of strict contact tracing and quarantine measures that are socioeconomically disruptive, certainly enough to ensure continued spread of Sars-CoV-2 in a population with a sizeable number of unvaccinated persons.
Sars-CoV-2 will also likely continue to evolve such that protection conferred by past infection or vaccination will gradually be reduced.
One option for Singapore is to use the opportunity provided by the current rise in community cases to pursue an elimination strategy like China, Taiwan and New Zealand have.
There will be initial social inconvenience and economic hardship for many, as occurred during the lockdown last year, but the "new normal" afterwards can potentially be less restrictive within Singapore than the Phase 3 that we were in.
However, the continued success of an elimination strategy will require very strict control at the borders and reduced travel for residents — such as what we are experiencing today — even after the majority of the population is vaccinated.
Travel bubbles may be formed between similarly successful countries, but are prone to collapse in view of the high bar set. 
Education Minister Lawrence Wong has stated that the price for strict border controls is very high for Singapore in the long term, affecting multiple sectors of the economy far more than other countries which have much lower dependence on international trade and foreign labour.
The second option is to progressively dial back on Covid-19 restrictions and responses as we reach defined milestones in vaccination rates, assuming the disease continues to be suppressed.
There remains uncertainty regarding the protective effect of vaccination at different levels of population coverage, as well as the actual threshold for herd immunity in the face of more transmissible variants of Sars-CoV-2.
Mr Wong gave a figure of 50 per cent in Parliament on Tuesday (May 11), quoting models that suggested that any clusters that formed will not be "as large" if this milestone was crossed.
About 1.8 million people in Singapore have received one dose of either the Pfizer-BioNTech or Moderna vaccine as of May 9.
Some 1.2 million among them have been given both doses.
Despite the uncertainties, it is important to initiate early public discussion on this second option of easing both restrictions and responses, as it will not be easy to ratchet down the fear and stigma of Covid-19 after the events of the past year, including the recent experience of countries such as India.
Scaling back on restrictions will likely result in the emergence of new cases and clusters, for which more measured responses might not be understood by a community used to dramatic and heavy-handed measures such as the gazetting of migrant worker dormitories or imposition of mass quarantine and swabbing exercises.
Considerable public education and clear communication will be needed.
 
Covid-19 is relatively mild or asymptomatic for the majority of infected persons, especially in the young and for those who are vaccinated.
As was also seen in the influenza pandemics of the past century, it is the exponential rise in cases during uncontrolled spread that results in healthcare systems being overwhelmed, and the death toll rising.
If the potential impact — both real and perceived — of Covid-19 can be reduced via a combination of high vaccination rates and some form of continued safe distancing to that of a disease that we as a society have assimilated, such as seasonal influenza, we will be able to find a way past the exigency of this ongoing pandemic.
We can then reassess the need for the many costly and intrusive interventions that are currently necessary to prevent a major outbreak from occurring.
This is not to downplay seasonal flu, which is estimated to cause approximately 600 deaths every year prior to the Covid-19 pandemic.
There are no easy options to exit the pandemic, although ramping up vaccination rollout where possible and recalibrating interventions in line with the potential impact of subsequent outbreaks may be more viable in the long term for Singapore than an elimination approach.
Booster doses of modified Covid-19 vaccines covering current and emerging major variants of concern will likely be a part of the long-term adaptation to Covid-19. 
ABOUT THE AUTHOR:
Associate Professor Hsu Li Yang is vice-dean (global health) and head of the infectious diseases programme at the Saw Swee Hock School of Public Health, National University of Singapore. He was formerly clinical director of the National Centre for Infectious Diseases.