How Covid-19 is changing the way we fly
Covid-19 is taking its toll on air travel as airlines cut back or suspend services in light of the threat of the outbreak becoming a pandemic, only short of it being defined as one by the World Health Organization.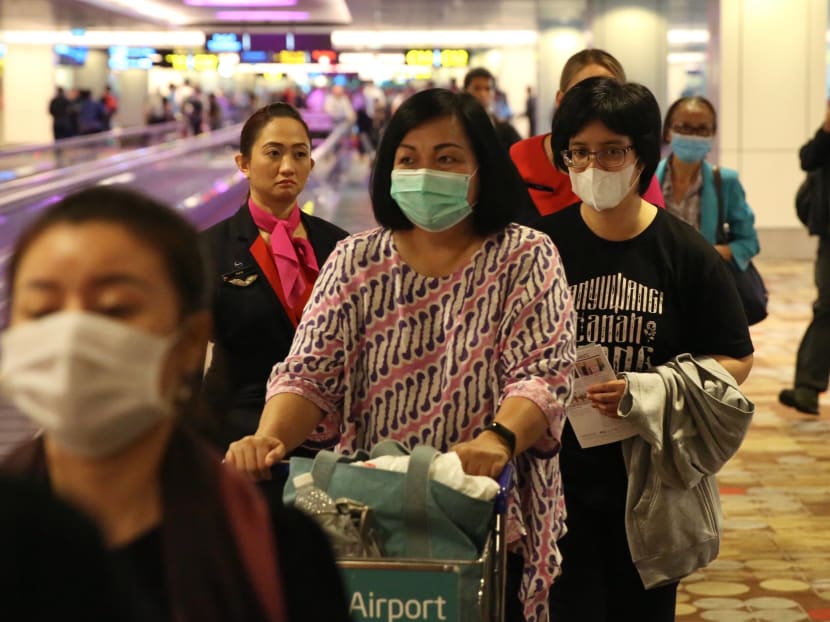 Covid-19 is taking its toll on air travel as airlines cut back or suspend services in light of the threat of the outbreak becoming a pandemic, even though it has not yet been categorised as one by the World Health Organization.
Singapore Airlines (SIA) for one has cancelled almost 700 flights across its network through to May, and its low-cost subsidiary Scoot has cancelled all flights to China. 
As demand for seats plummets, airlines are reassuring their customers of the steps they are taking to minimise the risk of infection. 
These include deep cleaning and disinfectant fogging of the cabins. While there is not much one can do about the enclosed space in an aircraft, airlines are modifying in-flight service to reduce personal contact and exposure to possible sources of contamination.
The fear of the disease is changing the way people are travelling by air, not just for now but also possibly into the future. Passengers will have to get used to less or no frills and take precautionary measures themselves for now to reduce the risk.
Take, for example, some of the measures that SIA has introduced.
The hot towel service after take-off or before breakfast on an overnight flight which many other full-service airlines have long ditched will become a thing of the past. SIA will instead replace the towels with pre-set wet towelettes.
SIA is also removing reading materials from seat pockets. This means bringing your own book and magazine or e-reader if you are one who likes to read during a flight.
The airline has also ceased after take-off drink service and in-flight duty-free sales.
Other airlines have introduced similar measures including no hot drinks and open foods such as mixed nuts and bread.
On Cathay Pacific, premium economy and economy passengers will get meals in disposable bags, and business and first class passengers will be served multiple courses all on one tray.
Flight attendants on United Airlines have stopped going down the aisles to refill cups or glasses with water from bottles. American Airlines and Delta Air Lines have done away with self-serve snack and fruit baskets.
How about travellers then?
Considering how many things that they touch in the cabin including the tray table and arm rests may not be germ-free, they are now more likely to embark with personal packs of sanitisers for use on board.
Some may also bring their own amenities such as headsets or even pillows and blankets which airlines like Hong Kong Airlines no longer provide.  Bring your own (BYO) may become the norm.
It is out of necessity that some services and frills are cut to reduce the risk of viral infection. If that looks like full-service airlines are going the way of low-cost carriers, it is neither new nor surprising.
For some time now, they have adopted the budget model of separating the basic fare from ancillary services such as checked baggage, seat selection, and priority seating and boarding to be charged an additional fee.
But they do not have to go bare-bone like budget carriers. This is an opportunity for the airlines  to innovate and repackage their product for a new generation of air travellers.
Baby boomers are more likely than the subsequent generations to miss the romance of travel synonymous with frills and fuss. Millennials on the other hand take a more practical view of costs and benefits, and are more likely to be interested in tips on enhancing their travel experience than the aesthetics of a maraschino cherry in a cocktail.
Why not hand out canned or bottled drinks and spare the crew the handling of pouring them into cups or glasses? Some airlines are already offering wine in small, personal bottles before the Covid-19 scare.
How many passengers actually read what's provided in the seat pocket? How many people can find a film they really want to watch in the in-flight entertainment system despite the wide choices boasted by some airlines?
Today's travellers very much prefer to be able to decide how they may entertain themselves or do their own stuff during the flight. A definite boon to them will be complimentary Wi-Fi, which is already showing signs of becoming the latest hotbed for competition among the airlines.
If the idea behind cancellation and suspension of certain services is to limit human contact within close proximity and contamination through handling, then electronic transaction may be a prelude to the future of air travel beyond Covid-19.
As with pre-flight procedures such as online check-in, some transactions on board may be executed electronically.
Currently, most inflight entertainment systems already show the flight safety video and provide useful information about destinations and connecting gates for transfer passengers. This is an area that airlines can explore to expand on.
The future of air travel will be about making the experience less onerous.
So how about allowing passengers to place their inflight duty-free orders and meal preferences within specific time windows via this channel, reducing the often obstructive use of the meal trolley?
Indeed, one may ask why meal selection cannot be done pre-flight — a service which Qantas already offers — like seat selection. Pre-order also assures passengers they will get what they select.
What other changes can airlines adopt?
While waiting to board, passengers may use the time to complete landing forms instead of waiting for the crew to distribute them after take-off.
Most airlines are hoping the threat of Covid-19 will blow over by the end of May. Going forward, it should not be back to business as usual.
Airlines should seriously capitalise on how the threat is shaping air travel, innovate and introduce new ways to excite the passenger.
ABOUT THE AUTHOR:
David Leo is a published author and an aviation veteran, having worked in airline and airport operations for 30 years.