How to stop Indonesia's devastating forest fires from happening again
Indonesia's forest and land fires have reached a new level of global severity.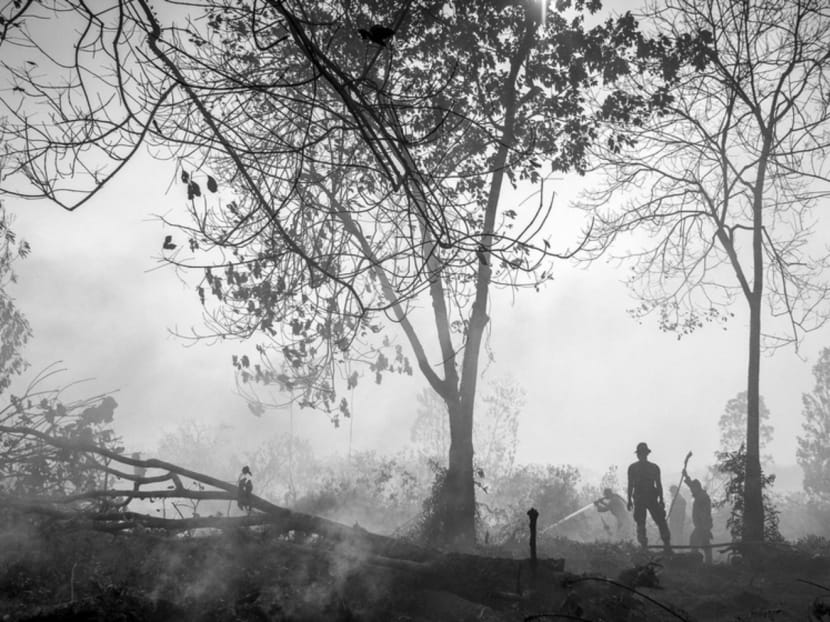 Indonesia's forest and land fires have reached a new level of global severity.
New analysis published over the weekend by Dr Guido van der Werf, lead scientist with the Global Fire Emissions Database, indicates that since last month, greenhouse gas emissions from the fires exceeded the average daily emissions from all United States economic activity. Extrapolating from Dr Van der Werf's estimates, these emissions are likely to add about 3 per cent to total global greenhouse gas emissions from human activities for the year. The emissions from fires so far this year are more than three times higher than expected by Indonesia's national planning agency.
The fires in Indonesia are set to clear land for agriculture or as a weapon in conflict over land.
Many of the fires are burning on carbon-rich peatlands and as a result, spew extremely large amounts of toxic smog into the air and climate-altering gas into the atmosphere.
The economic cost is huge, likely to exceed US$14 billion (S$19.6 billion). Firefighting costs are currently heading towards US$50 million (S$69.8 million) per week, paid for by Indonesian taxpayers at a time of slowing growth and severe stress on the national economy. The health impact of the smog has reached epidemic proportions both in Indonesia and neighbouring countries, with more than 300,000 people seeking medical help for respiratory complaints. Tragically, a number of children have died as a result of acute breathing difficulties.
Indonesia's neighbours are upset. Singapore, Malaysia and Thailand are calling for more action. Now, Indonesia's fire emissions are drawing the attention of United Nations negotiators as they focus on completing the critically important global climate agreement in just a few weeks in Paris.
To its credit, the Joko Widodo administration has accepted responsibility and apologised to the country's neighbours while also mounting a massive effort, with over 20,000 responders, to fight the fires. But a crucial lesson from the crisis must be heeded: An ounce of prevention is better than almost any amount of cure.
In other words, the costs of reducing the risk of future fire crises by taking preventative measures are far less than the costs of firefighting along with the damage to land, people and the climate.
We recommend significant financial investment and active leadership from President Jokowi to address the underlying causes of the fires in the most fire-prone provinces. What is certain is that the investment needed over several years is less than is being spent fighting fires just in the past month. To succeed, this must be accompanied with leadership from the President himself to ensure ministries follow through. Three priority actions should be fully funded and implemented by the Jokowi administration working in close partnership with Indonesian researchers, civil society and government agencies at the national and local levels. The provinces of Riau, South Sumatra, Central and West Kalimantan should be the initial focus of these efforts, as these areas account for the vast majority of the fires.
The first priority is to get serious about an existing, but stalled effort, known as One Map. This initiative, about which Mr Widodo has spoken positively, would reduce the current confusion over land and resource ownership and rights, where many conflicting maps are managed by different agencies. One Map aims to create one accurate, up-to-date, publicly accessible, online map overseen by the Office of the President. One Map has wide support from business and civil society, but is limping along as the President and his ministers have prioritised other development objectives.
Second, the boundaries determined through One Map should be consistently enforced, along with other key laws and regulations. Land-use sectors in Indonesia are notoriously poorly governed, as evidenced by several former governors and district heads now serving jail time, or likely to be doing so, following illegal land deals.
Illegal burning has been a central part of the picture, and we applaud the current efforts of Indonesia's law enforcement agencies to investigate fire crimes for the first time on a scale commensurate with the problem.
FOCUS ON PRIORITY ACTIONS
The strengthening and enforcement of regulations that protect peatlands, which generate the most potent emissions when burned, are desperately needed.
Special funds could be allocated to train and support elite national, mobile enforcement units, which would be kept clean of corruption and run by commanders scrutinised by a panel of independent observers, with additional oversight from the Corruption Eradication Commission (KPK) and the Executive Office of the President. Small, medium and large companies should all be held accountable before the law if they are found to be clearing land illegally using fire.
Third, and perhaps most importantly, the needs of poor farmers in the priority provinces, and more widely across Indonesia, require urgent attention. A significant portion of the fires started as legal small fires set by these farmers to clear their land. These thousands of legal fires across landscapes should be prevented through provision of access to alternative land clearing techniques and equipment, with low-cost financing through local microfinance schemes.
Poor farmers also need urgent help to clarify their land and resource rights, shift to higher quality crop breeds, and improve their use of fertilisers and other inputs. Training and outreach efforts are also needed for smaller companies that do not have the capacity of larger firms to quickly adapt their practices. Tax and other incentives could also be explored to encourage more sustainable land management.
The World Resources Institute, with staff in Jakarta and Washington DC, along with many of our partners, are prepared to help with the implementation of these steps. The current crisis should focus the country's leadership on priority actions that would greatly reduce the risk of future fires, while also helping raise incomes of poor farmers and reduce land conflict.
With improved land management, Indonesia can take advantage of the growing demand for sustainable agricultural commodities such as palm oil, cacao and coffee. In addition, it can reduce dangerous greenhouse gas emissions and help the country achieve its national development and climate goals. THE JAKARTA GLOBE
ABOUT THE AUTHORS:
Dr Nirarta Samadhi is director of World Resources Institute (WRI) Indonesia, based in Jakarta, and Dr Nigel Sizer is global director of the forests programme at WRI, based in Washington D.C.