A message from an early childhood educator to parents
I have been an early childhood educator for over 10 years and have worked with families of different backgrounds. Educators are there to guide the kids and care for their needs in school.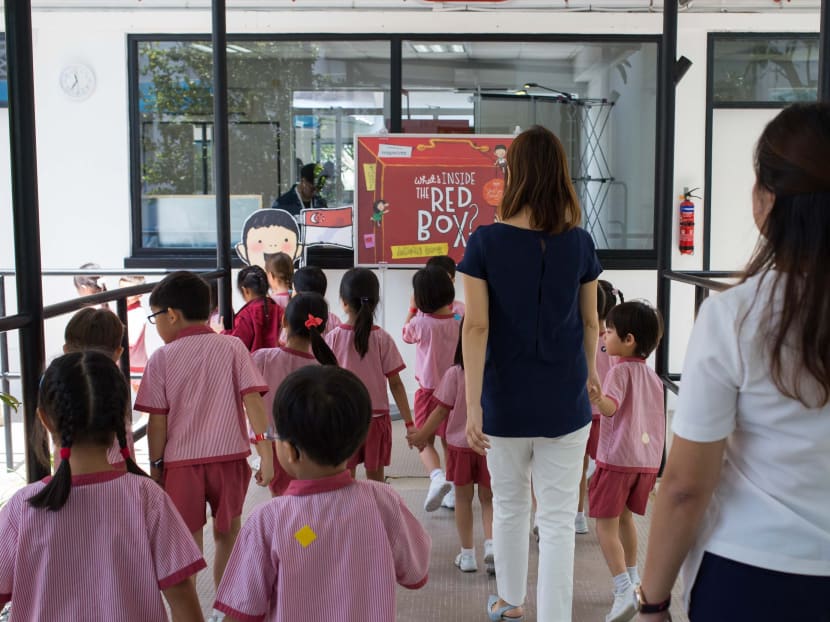 Dear parents of young children,
Like you, we want the best outcome for your children, we really do.
We are there guiding and caring for their needs in school.
We are there to encourage them to manage their big feelings.
We are there when they need a tear wiped or their mucus cleaned.
We are there to give a hug when your child falls and scratches their knee. We are there to share moments with parents that they might have missed. We are there to celebrate your children's first opportunity to speak to a group.
We are there helping your children navigate through this crazy pandemic with all the guidelines and measures that change through the phases.
We are there to ensure there is a routine in school that they can be sure of, thus making them feel confident, as they know what to expect.
We are there late at night, cracking our heads to plan meaningful experiences for your children and worrying about how we can support your children's behaviour so that they will find acceptance from their peers.
We are there because we hope that our best efforts will support the rights of children in having a good early childhood.
But are we there yet?
Maybe we can be there when parents realise that children have the best chance at success when they are raised in emotionally secure families and have good relationships with at least one or two people who are consistently in their lives.
Maybe we can be there when we acknowledge that the landscape of education is constantly changing as we prepare children for a tomorrow that is not going to be like today.
Maybe we can be there when we recognise that better outcomes for an entire generation can be achieved, when the entire society chips in to raise and educate our children.
Maybe we can be there when more families recognise teachers as partners in raising children, instead of treating them as vendors in a business transaction.
We are definitely moving in a positive direction and with more people on board, we will get there.
Yours in education,
A passionate early childhood educator
'YOU ARE THE EXPERT HERE'
I have been an early childhood educator for over 10 years and joined the industry when it was getting recognised for its value in shaping the next generation.
I had the privilege to work with families of different backgrounds. One consistency I noticed is that all parents just want the best for their children.
However, the definition of what is "best" might differ as it is based on their own upbringing, social circle and many other possibilities.
They might unintentionally neglect the fundamental needs of the child as no matter what kind of parents they are, children need to build emotional security to develop resilience. This will go a long way in supporting the child to manage any situation that comes their way.
Over the years, educators are also evolving in their teaching and delivery methods.
While they are more creative and confident in developing the skills and disposition that children need, they are increasingly daunted by the responses of parents.
In a role that has high responsibility, it is easy for educators to get burnt out, especially when values are misaligned amongst stakeholders.
In the early years of my teaching career, I was conducting a regular parent-teacher meeting with two parents.
They were at least a decade older than me, well-educated and successful people in their line of work.
There I was, in my second year of my career, full of self-doubt about my capabilities, tasked with sharing their child's progress in school and setting goals together for their child.
As the meeting went on, the parents wanted to seek my opinion on some behavioural issues at home and the dad respectfully said something along the lines of "... we are first time parents and this is not our area of expertise. You are the expert here and you spend a fair bit of time with my child in school too, do you have any strategies to help my child...?"
For me, that was such an empowering sentence that changed the way I saw myself.
It urged me to want to do more, seek new knowledge and support all the children under my care and their families better.
The trust and the willingness to work together propelled the partnership and it turned out to be a success story where all stakeholders benefited.
Although it has been many years since that encounter, this memory still encourages me in my moments of doubt.
I am sure many educators can relate to the countless times we have doubted our ability and decisions, especially when parents vent their frustrations on us. Many times, we do not get enough credit for our efforts.
I wish for better collaboration between parents and educators so we can get there together for our children that we hold so dearly in our hearts.
ABOUT THE AUTHOR:
Fish Kok Ziyu has been an early childhood educator since 2010. This piece first appeared in The Birthday Book: Are We There Yet?, a collection of 56 essays that tackle this question pertaining to Singapore.