I got retrenched weeks before Covid-19 hit Singapore. This is how I kept going
I was retrenched last November. Here, I would like to share how I went through several difficult months and a silver lining that I found — including a new job.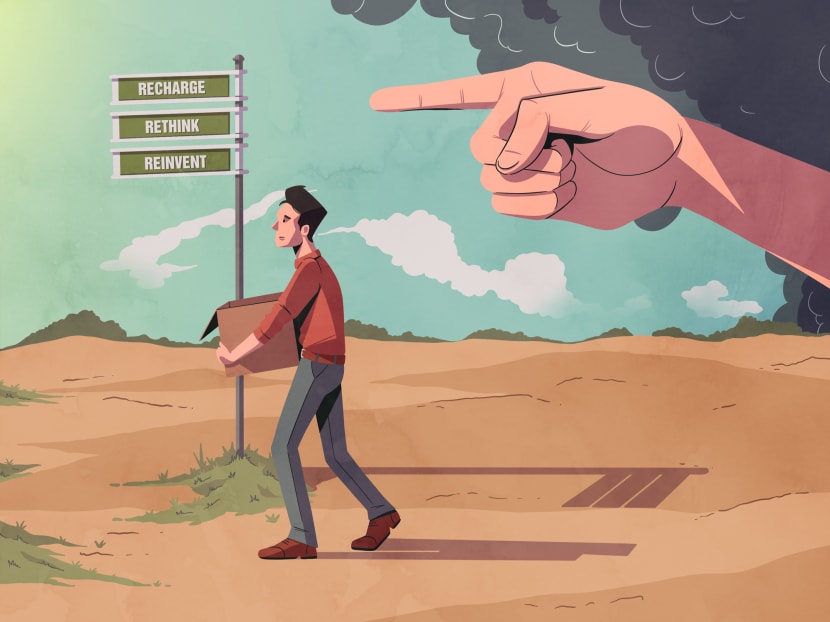 I was retrenched last November. Here, I would like to share how I went through several difficult months and a silver lining that I found — including a new job.
Hopefully, this will give you some inspiration and hope in an uncertain time like this.
Let me start with the disappointment I felt that afternoon when my boss gave me the pink slip following a "business decision" by the bank.
It felt cold and harsh. After almost seven years of service, I was told to leave immediately after my boss spoke to me.
The year-end timing meant no bonus for the work done in 2019 and the severance compensation was little comfort for the insecurity I felt.
In my 40s, I was jobless amid a worsening economic outlook. And that was even before the Covid-19 crisis hit.
I will never forget my 11-year-old son's reaction after I candidly told him the news that afternoon. His eyes welled up as the words sank in.
I assured him that things were going to be alright and reminded him to stay focussed on his studies and sporting activities. He nodded, but this was a life lesson that was ahead of his tender age.
To be sure, I had anticipated this moment for quite a while. 
The global regulatory scrutiny and media coverage on major financial institutions, including my former employer, were foreboding. These suggested a possible downsizing of the financial crime control function I was leading.
I had previously discussed the possibility of retrenchment with my wife, and we established a "doomsday" plan as early as 2018. That was perhaps why she was calm and assuring when I broke the news to her.
"We had discussed this. We just need to put the plan into action," she told me, stressing that "it (redundancy) is about the role, not you".
Her last comment was significant and gave me hope, especially in the initial few days when I had my moments of self-doubt.
But I knew I had to cast these negative thoughts aside quickly to avoid stumbling further into despair.
After a week, the initial feelings of negativity gradually gave way to an overwhelming sense of relief. I realised I could finally take a much-needed break to explore my options.
I reckoned that I should come up with a plan on how to take things forward. So here was my 3R plan.
RECHARGE 
I wanted to ease off from a hectic routine that had seen me put in almost 60-hour work weeks (including night conference calls, and weekends) for several years. Now, I could fully recharge so that I will be ready for the next chapter, both physically and mentally.
This means exercising more regularly and catching up on recreational activities that I didn't have time for, such as reading, assembling plastic model kits, and solo motorcycle rides.
RETHINK 
This was two-fold. First, I reviewed my career objectives and interests. Personally, I had been wanting to work in a non-bank environment, but remaining in a financial crime control function.
One obvious sector was financial technology or FinTech, which has gained prominence in recent years.
Previously, I had been too preoccupied with daily work to actively pursue my own interests. Being made redundant gave me that much-needed impetus to seriously explore this option and chart out a new direction for myself.
Secondly, to review and reflect on friendship and trust. Indeed, such times reveal who would stand alongside you in the trenches and support you. 
REINVENT  
During this period, I actively attended professional courses to keep myself occupied, and also out of personal interest.
The aim was to pick up new skill sets relevant to the financial industry and my field of work. I had already obtained a postgraduate specialist diploma in operational risk management a couple of years back.
But with the rapid developments in data analytics, machine learning, and regulatory technology, I used the start of this year to take up more professional courses in these areas under the SkillsFuture programme.
So for a few months, my daily routine consisted of dropping my children off at school, exercises, breakfast, before commencing reemployment-related activities.
Post-lunch and after the children returned from school, I would drive them to their sporting or enrichment activities. By evening, it would be family time. I kept to this routine so that I had minimal free time for my mind to wander off.
In spite of my best efforts, however, there were still brief moments when disappointment, frustration, or sometimes, dejection surfaced.
In the tightening job market, senior positions were few and far between. I submitted at least 70 applications for job openings I had seen on LinkedIn, the efinancial careers website and through referrals.
About 15 of them responded, with interviews set up. Hiring organisations called the shots, and some opportunities eventually turned to naught. 
After Singapore registered its first case of Covid-19 in January and the impact of the outbreak on the global economy became more apparent, I had to adjust my overall outlook and expectations. I was mentally prepared that I could be without a job for months.  
Thankfully, I finally managed to secure a new job in a FinTech company recently. It was a relief and blessing in times like this, but a bigger bonus is that this is a role that I had yearned for. 
My experience may sound like a fairy tale to some people, but I went through an emotional roller coaster. So, what kept me going?
First, self-motivation. I posted daily motivational quotes on social media as constant reminders to persevere, and engaged in activities I had previously neglected due to work commitments.
Secondly, family. 
My wife has always been there with words of support and encouragement as well as a listening ear. My two children remind me why I have to keep on trying and not to give up.
Thirdly, friends.
They constantly checked in to see how I was doing, and never ceased to encourage and remind me to keep the spirits up. 
One would be forever etched in my memory: "You need to remain strong. Your kids are watching. Very important for them to know how to deal with life's challenges, and learn what resilience really is."
I think this advice is particularly useful as we hunker down to face Covid-19.
This is likely the most challenging period of our lifetime. 
I now see friends trying to keep their businesses running, pilot friends grounded, one having had his work contract terminated, and many jobs on the line. 
These are the same friends who had stood by me earlier, but are now facing their own rough moments. I do worry for them but am hopeful they can muster all the perseverance and resilience to weather this crisis.
In the last six months, I had experienced some dark moments before the break of dawn. 
Singapore too can all bask in the morning glow once the Covid-19 crisis is over. And we will.
ABOUT THE AUTHOR:
Ken Tan is a father of two primary school-going children.